Honduras hobbling into World Cup qualifier vs. U.S.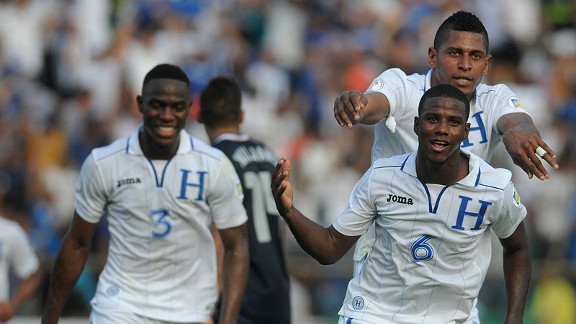 AP Photo/Fernando AntonioJuan Carlos Garcia, front, celebrates after scoring against the U.S. in Honduras' 2-1 home win Feb. 6.
SAN JOSE, Calif. -- For the last few days, the Honduras national team has practiced at the facility of the San Jose Earthquakes, the club of two Honduras players. The site has served as an oasis of sorts for Los Catrachos ahead of Tuesday's World Cup qualifier against the U.S. in Salt Lake City (9 p.m., ESPN/WatchESPN), with a lively gathering of fans showing up to voice their support with chants of "Hon-dur-as! Hon-dur-as!"

But no amount of positive energy from those in attendance can make up for Honduras'
extensive injury list. Maynor Figueroa will miss the match, while Emilio Izaguirre, Osman Chavez, and Oscar Boniek Garcia are struggling to get fit in time. While there is optimism that Izaguirre and Chavez will play, the same can't be said for Garcia.

-McIntyre: Challenge for Klinsmann

Saturday's training session was light, with an extensive game of soccer tennis proving to be the most strenuous activity. Before that, Garcia could be seen running on the side with a trainer, apart from his teammates, hinting at a greater level of doubt about his availability.

Throw in the suspensions of defender Victor Bernardez and holding midfielder Luis Garrido, not to mention the departure of forward Jerry Bengtson, who left the team following an argument with manager Luis Suarez over playing time, and you have a very shorthanded Honduras team that will be taking the field at Rio Tinto Stadium.

In fact, there is so much concern in the back, that Vancouver Whitecaps defender Johnny Leveron has been called in to bolster the pool of defenders. Outwardly, however, Honduras continues to put a brave front.

"We've still got guys that can come in and play in the game," Honduras midfielder Roger Espinoza insisted before Saturday's practice. "Just because they haven't started doesn't mean they're not strong. We have a very strong [back line] . . . we have very strong guys coming in. The guys that are injured, they're recovering right now and that's just like every team in CONCACAF. We're struggling through this, but hopefully they're back soon."

The return of Osman Chavez would provide a huge boost given the relative inexperience at center back of players like Juan Pablo Montes and David Velasquez. Los Catrachos can also draw encouragement from the play of Marvin Chavez, who performed well after coming on for Garcia against Jamaica.

Honduras' 2-1 win over the U.S. back on Feb. 6 -- when Bengston scored the winner -- would appear to provide a level of confidence heading into the match. But four months is an eternity in international soccer, a fact noted by Espinoza.

"It's been a while, and even though only four games have passed, it's a whole different U.S. team," he said. "They made some changes, and a few months have gone by. We were in Honduras when we played them last, and every team is a different team when they're at home."

In particular, the makeup of the U.S. defense has changed almost completely, with Omar Gonzalez the only likely holdover from the February match. Tactically, manager Jurgen Klinsmann has settled into a 4-4-2 that exhibits much more width than earlier in his tenure. The center of midfield appears to have more solidity as well, even in the wake of Jermaine Jones' concussion, as Michael Bradley and Geoff Cameron excelled on both ends of the pitch in the 2-0 win over Panama.

"Bradley, he's been improving, going from the German league to the English league to the Italian league," said Espinoza. "He's [seen] all styles of football, and he's one of the best defensive mids in CONCACAF. With Cameron, he's also been improving since he moved to the Premier League, so it will be very tough for me personally and the other players."

That's not to say Honduras' well of self-belief has run dry. The 2-0 win over Jamaica last Tuesday stopped a two-game losing streak. With Espinoza and Wilson Palacios manning the center of the Honduran midfield, flanked by Marvin Chavez and Mario Martinez, Los Catrachos have sufficient firepower to give the U.S. trouble.

"Every time you win, it changes everything," said Espinoza. "We had lost in Costa Rica, that was a big turnaround right away for us, and going back to Honduras and get the win over [Jamaica] it was very good for us. But now we have to be ready. Tuesday will be a lot tougher game. We come to the U.S. very positive-minded, but it's the same with them. Obviously they won their last two games, and they're on a high too."

And hoping to avenge last February's defeat.