Orlando City's upset of Sporting Kansas City has extra meaning
Orlando City has U.S. Open Cup glee.

The USL-PRO outfit, a club with MLS ambition and no shyness about showing it, beat defending U.S. Open Cup champions Sporting Kansas City 1-0 in Kansas City on Wednesday to advance to the quarterfinals of American's annual knockout tournament. The win was Orlando City's second in a row over MLS opposition, coming on the heels of a 3-1 home win over Colorado in the third round.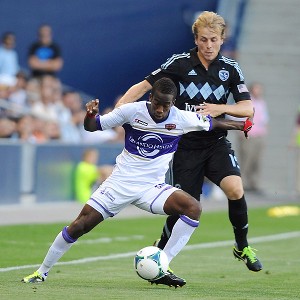 John Rieger/USA TODAY SpaortOrlando City's Kevin Molino vies for a ball against Sporting Kansas City's Seth Sinovic. Orlando's upset over its parent club and defending U.S. Open Cup champion came without four key players on loan from SKC.
Add the connections between Orlando City and Sporting Kansas City to the "giant killer" achievement of the win for the third-division club, and it's a wonder Orlando City didn't take off into the Midwestern air under their own power and fly themselves back to Florida.

A goal in the opening minute of the game from former Vancouver Whitecap and D.C. United striker Long Tan staked Orlando City to a lead they would never relinquish. But rather than a "smash and grab" performance that had them hanging on for dear life over 89 minutes, Orlando City head coach Adrian Heath says his team were the better side.

"We didn't really 'hang on,' truth be known," Heath said Thursday. "I thought we were the better team. On the balance of play, we deserved to win."

In attendance but not dressed for Orlando City in their bid to knock off one of MLS's best teams were four players on loan to the Lions from Sporting: Dom Dwyer, striker and current USL-PRO leader in goals; Jon Kempin, a 23-year old goalkeeper with five starts for OCSC; Yann Songo'o, a defender who has started all but one of Orlando's league games; and Christian Duke, a midfielder. The loans are part of a new MLS/USL-PRO collaboration meant to get young MLS prospects more playing team. Sporting and Orlando City are partners in the effort.

A mild controversy erupted over Sporting's decision not to allow Dwyer and his on-loan teammates to play in the match against their parent club. Despite the same policy existing in leagues around the world for loans, the decision was seen by some as well, unsporting.

"[It] probably gave the guys who could play a little bit of extra incentive," said Heath, addressing the exclusion of Sporting's on-loan quartet. "But people forget that the team we played last night broke every record in our league last year -- most goals, most wins, most points. We've got some good players and if we show the belief that I have in the group, I think we're capable of even going and winning another game in this competition."

Asked how the Orlando loanees felt about the proceedings, Heath suggested some "mixed emotions." It's Sporting that holds the contracts of Dwyer, Kempin, Songo'o and Duke, and it's Sporting that pays them. But they are also fully invested in Orlando City's effort. Regardless of their feelings, said Heath, the players will relish a chance to get back on the field in the next round of the tournament.

"I'm pleased for them," Heath shared. "Now they've got another chance to be involved in the competition. They all traveled with us, and they were all excited about the result, like everybody was."

While Heath himself is not involved in Orlando City's MLS ambitions beyond making the club look good on the field, there's a natural effect on his team. The buzz that results like the win over Sporting creates brings attention to Orlando City, something Heath knows is part of the process of securing a place in the top-division by 2015.

"The one thing [the players and coaches] can do is try to win games and gain some publicity, which we've done. We caused the probably biggest shock on the night, considering the team that [Kansas City] put out and I don't think an awful lot of people expected us to win the game. If we keep winning, it gets more and more publicity, not only around the country but in Orlando as well."

A win over mighty Sporting Kansas City of MLS, current cup holders, on the road in the fourth round of the U.S. Open is a hallmark win, especially for Orlando City. More than a matter of a smaller club beating a larger club, or a David slaying a Goliath, beating Sporting feeds into the club's ultimate goals.

Heath sees Sporting Kansas City as a perfect model for Orlando City, and while keenly aware of the club's ambitions on a day-to-day basis, remains focused on the only thing he can control: the product on the field.

"They're everything we want to become over the next few years," Heath said about Sporting Kansas City. "Great stadium, play good football on the field."

Long-term ambitions for the club aside, Orlando City moves on into the quarterfinals of the U.S. Open Cup with a chance to knock off another big club. Heath's club is gaining something of a reputation as a giant killer in the tournament, which leads to the very obvious question of whether Orlando City is good enough to win the whole thing.

"I think we are," stated Heath. "We respect everybody that we play, but we don't fear anybody. If we play to our abilities, we're capable of beating anybody."

With Dwyer, Songo'o and other loan players available when the Lions makes another trip north with upset on their minds, Orlando City will be at full-strength and well-prepared. That spells trouble for any MLS team that gets in their way.