MLS expands relationship with the You Can Play Project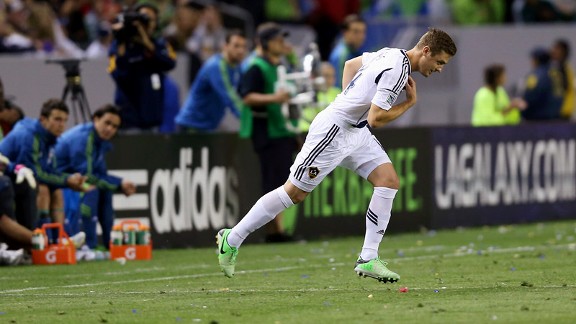 Jeff Gross/Getty ImagesMLS' affiliation with the You Can Play Project comes on the heels of Robbie Rogers' historic appearance last month with the LA Galaxy.
Last month, Robbie Rogers became the first openly gay male player to play in a professional team sport in North America. Now Patrick Burke, president of the You Can Play Project, is working to make sure that other gay players can avoid some of the struggles that Rogers dealt with when he made his sexual orientation public.

The You Can Play Project, an advocacy group that aims to ensure that athletes of any sexual orientation are treated with equality and respect, announced on Wednesday that it will team up with MLS and the MLS Players Union to provide education and training programs to the league's teams, staff, management, and players.

"We'll be able to provide anonymous, confidential resources to players who may have questions, whether it's about their own sexual orientation, whether it's about a teammate, a family member, whatever it might be," said Burke via telephone. "So a player in Robbie's previous situation, playing as a closeted player, would have an anonymous, confidential way to reach out to somebody who could help them with the struggles they might be facing. That's the biggest part of this really, that a player hopefully in the future won't have to go through what a player like Robbie or David Testo in the past did go through."

Burke added that the three organizations will also be working together to raise awareness of discrimination towards the LGBT community. There will be more videos from MLS teams, more events involving MLS players, and "You Can Play Nights" in MLS stadiums. This will be in addition to the league's "Don't Cross the Line" campaign against discrimination of any kind.

Prior to the announcement, the You Can Play Project had been working with MLS on an ad hoc basis, and had held meetings with players from the San Jose Earthquakes following Alan Gordon's suspension for using a homophobic slur on the field. But Burke indicated that Wednesday's announcement has been in the works almost since his organization's inception.

"At the point where we launched, they were right in the middle of launching the 'Don't Cross the Line' initiative, and one of the things we had to find a way to do was to find a way to merge those," said Burke. "Robbie certainly helps drive the discussion, gets the league to talk more about this issue, but this is something that MLS has had a real interest in taking a stance on before and this is us just trying to take it to the next level."

The timing of the announcement is interesting for another reason. Last month, MLS announced that they would be placing an expansion franchise in New York City, and that the team, called NYC FC would be co-owned by the New York Yankees and Manchester City. Manchester City's owner, Sheikh Mansour bin Zayed Al Nahyan, is also the Deputy Prime Minister of the United Arab Emirates, a country that criminalizes homosexual behavior.

When asked to what extent the expansion announcement -- and Sheikh Mansour's involvement -- influenced his organization's decision to partner with MLS, Burke said it "didn't have a real impact. The league dealt with the ownership on their terms, and what that would mean". But he expects that his organization's programs will resonate deeply in New York and NYCFC.

"We see New York City as obviously having an incredibly diverse population, with a fan base that we expect to include a great many members of the LGBT community," he said. "We believe that MLS and NYCFC will want to cultivate that relationship with their fans and with their players... Whatever fans want to come to the stadium where they're playing, any fan who wants to sit in the seats there, any player that wants to play on that club, they will be able to play free of harassment, free of intimidation, free of being heckled, and just be able to enjoy soccer for what it is."

That sounds like an approach that will not only play in New York, but in every MLS city as well.