Tampa Bay Rowdies aiming to recreate past glories
Can a cup victory mean more than a league title?

That depends. To Andrew Nestor, one half of the Tampa Bay Rowdies ownership, the answer is no: "For me personally winning the league was a bigger deal [than beating the Seattle Sounders]," he says. "It's a very long season, day in, day out. There's injuries, player movement and it's a very competitive league."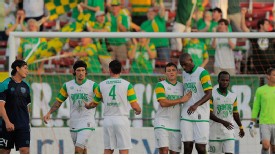 AssociatedThe Tampa Bay Rowdies celebrate a goal during their US Open Cup campaign
To coach Ricky Hill, their success in the last round of the US Open Cup is a fantastic sign of how far the franchise has come during his two years in charge. Besting a Sounders XI containing Obafemi Martins, Lamar Neagle and John Kennedy Hurtado was quite an accomplishment. Even more so when you consider Seattle's pedigree in the competition and that the Rowdies were missing three starters.

Yet for Nestor, their first championship since the league's rebirth will remain a permanent fixture in his memory: "That game, you could not have scripted a more dramatic championship match," he tells me excitedly. "Just the way the team fought through it, the atmosphere in the stadium, it's a night I will definitely never forget."

Formerly FC Tampa Bay, the Rowdies have a rich heritage. Nestor explained that acquiring that legacy was an important component of ownership strategy. It wasn't just about potential revenue; it was giving the club a foothold in the community. "The Rowdies were the first professional sports franchise in this area," Nestor said. "They had memorable personalities on the field and built up an incredible amount of good will. If you go down the street now and talk to people about the Rowdies, they all have memories, they can all sing the songs back from the '70s. That kind of attachment is very rare in this sport in the U.S."

Their name had even spread far past the shores of the U.S: "I remember as a 15-year-old at Luton, being aware of the Tampa Bay Rowdies. They were a global brand," Ricky Hill told me, his first experience with the club coming in the early '90s.

The Rowdies coaching staff has connections to the club's heritage as well. In addition to Hill, current technical director Perry Van der Beck is woven into the Rowdies tapestry. Beginning in the late '70s, Van der Beck played before sold out crowds alongside the likes of Rodney Marsh. In this way, Van der Beck is perfect to fill the role of club historian: "The actual first contract [I signed] was June 1, 1978," he says. "I came out of high school to play professional soccer in Tampa, Florida. They didn't have high school soccer here until 1980. It was very surprising to me how popular the game was here when I came."

Despite any associations with the club, Nestor stresses that it was talent that earned his coaches their positions. And, for the former U.S international, his goal is now to begin the early work towards one day producing another Rowdie with international caps to his name. "We wanted to be a club right the way through," he explains. "We had to focus on the professional team first and that takes time. We intend to work our way down with a reserve team, and then an academy. It just takes time."

With Nestor claiming it is "too early to say" whether the club would entertain a possible move to Major League Soccer, Wednesday's USOC tie will see them face off against an NASL alumni, the Portland Timbers, that has already undertaken that path.

The Timbers name is synonymous with the NASL of the 1970s. The club is famed for cultivating an intimidating atmosphere at home, but Hill will draw from his own experiences in England when he talks to his players: "It's a different scenario as we're away from home," he says. "Portland [has] a fantastic home record and fan base. It'll be a lovely experience. I played in many FA Cup ties where we were underdogs and managed to get through. Form, reputation, status, it all goes out of the window. I hope we can rely on some of the experienced guys to get us through the first 20 minutes then grow into the game from there."

One of those experienced players he had hoped to call upon was former Newcastle and Wimbledon striker Carl Cort. The 35-year-old will unfortunately miss Wednesday's game due to injury, but has still impressed his manager since arriving last year: "Between August and November, he was a major factor in us winning that championship," Hill says. "He fitted in superbly with the ethos and is a wonderful individual, a very conscientious young man."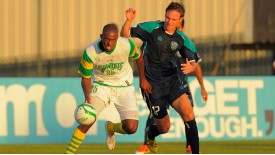 AssociatedCarl Cort in action for the Tampa Bay Rowdies
Cort arguably embodies the heart of the club's ethos -- hard work. Coaxing megastars to the NASL is not as realistic as it once was. Instead, they are attempting to cultivate a blend of veterans with desire and young developmental talent.

In Cort's absence, Hill is tipping another English import to shine. A two-time NASL Champion, Luke Mulholland has enjoyed a steady rise over the last two years. With Hill keen to see his player's potential come to fruition, he has already plotted Mulholland's future in his mind: "When I see him, he's got great ability as an offensive midfielder," he tells me. "I feel disappointed someone back home hasn't been able to give someone like that an opportunity."

Against Seattle, the Preston-born player augmented his reputation: "Luke didn't look out of place. I don't see why he wouldn't fit in with most MLS sides," Hill says. His desire to do right by his players, even if that means moving on from the club is admirable.

Yet in the immediate future, Hill is more focused on Wednesday's performance, where the team, not the individual, takes center stage: "If everyone does the simple things well then everyone can potentially look good on the night," he said. "I'm hoping our players can go out there and not be intimidated. We believe it is an art to be a footballer. You shouldn't be intimidated regardless of the opponents. I'm looking forward to the atmosphere and whatever happens put on a good performance."

Although Portland may be the favorites, you'd be naive to rule out a surprise from this burgeoning franchise.