Beasley experiences rebirth at international level
SEATTLE -- As DaMarcus Beasley sits down, his appearance is conspicuous, if for no other reason than he isn't wearing a single bit of bling: no necklaces, no earrings, no rings of any kind. This from a man who has his own line of jewelry.

"I'm getting ready for training," he explained. "But I don't wear much of it anyway. I'm getting old."

Beasley was joking in more ways than one. Not only does the 31-year-old have some miles left in his legs, but in the past few months he has experienced a rebirth at international level.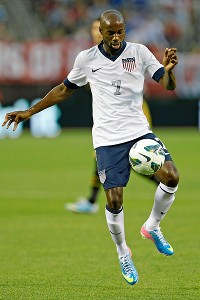 AP Photo/Tony DejakDaMarcus Beasley will make his sixth appearance for the U.S. this year in Tuesday's qualifier against Panama.
In 2012, the end of Beasley's international career seemed imminent. When he came on as a substitute in last August's 0-0 tie with Mexico, it marked his sole appearance for the U.S. national team that calendar year. He wasn't exactly a mainstay the previous two years either. He made only four appearances in 2010, three in 2011. He was the very definition of bit-part status, a far cry from the 2002 World Cup when he was thrust into the U.S. starting lineup against Portugal as a 20-year-old.

But 2013 has seen a complete turnaround in Beasley's international fortunes. Tuesday's World Cup qualifier against Panama at Century Link Field will be his sixth appearance this year, all of which have come while playing the relatively unfamiliar position of left back. Overall, Beasley has held up well. His ability to get forward has never been in question, but on the defensive side of the ball he has exceeded expectations with his tackling and tenacity. Even when beaten, as he was at times in the World Cup qualifier against Mexico, he has been able to recover and make big plays.

"Right now he's doing a tremendous job for the team," said U.S. manager Jurgen Klinsmann after Friday's 2-1 win against Jamaica. "As of today, he's locked in, and he deserves it."

Answering Klinsmann's call

It was prior to last March's World Cup qualifier with Costa Rica that Klinsmann found himself in a quandary. His top two choices at left back, Fabian Johnson and Edgar Castillo, were out injured, so he turned to Beasley.

"Klinsmann sat me down, and the conversation took 10 seconds," Beasley recalled. "He said, 'You're going to play left back.' I said, 'OK.' He said, "Do you feel comfortable?' I said 'Of course.' He said, 'All right,' and that was it."

Beasley delivered a stellar performance in blizzard-like conditions, one that helped the U.S. secure a critical 1-0 victory. It was a win that got the team's World Cup qualifying bid back on track after an earlier 2-1 road defeat to Honduras.

In an odd twist, the match was not the first time Beasley had played a World Cup qualifier at left back. During the 2010 qualifying cycle, Beasley spent a brief two-game spell in defense at the behest of then-manager Bob Bradley. Beasley insists he didn't resist the experiment. In fact he credits Bradley for getting him to hone his defensive skills when the two were with the Chicago Fire. But one gets the sense that his stint at left back didn't exactly fill him with enthusiasm either.

Four years on, Beasley is astute enough to realize that any starting spot on the national team is to be treasured, even if it means playing out of position. And while his attacking instincts are still razor sharp, he also has learned to revel in his defensive responsibilities.

"You get to be a bruiser sometimes, which is funny coming from me because I'm so small," said Beasley, who stands 5-foot-8. "You get to kind of throw your weight around a bit and tackle. You feel good when you win a tackle, or make a good play that stops a goal, so I'm enjoying it so far."

The contrast between Beasley and his fellow defenders is striking. On the one hand, he's the wise old head with over 100 caps, while a player like Matt Besler has fewer than 10. Then again, Besler knows the subtleties of playing in the back while Beasley is relatively new to the position. So who helps whom the most?

"I think we feed off of each other," said Besler at Sunday's training session. "I certainly help him with some things and he certainly helps me with other things too. Throughout the game there's a number of times where DaMarcus will yell over at me and say, 'You've got to do this and this.' Then I'll yell at him to make sure he's in the right position.

"But I've been very impressed with how well he's been able to adapt back there. We all know he has a ton of experience, but it's not easy playing outside defender, and he's done a very, very good job with the defending part of it so far."

Rebirth at Puebla

Beasley's international renaissance in many ways mirrors his career at club level. The Fort Wayne, Ind., native left MLS in 2004 for PSV Eindhoven, and while he enjoyed good spells with the Dutch giants, including a run to the semifinals of the UEFA Champions League in 2005, his career overseas suffered a steady decline. Injuries stunted his progress as he moved through several clubs. He finished off the 2010-11 season with four substitute appearances with Bundesliga club Hannover.

In dire need of a lifeline, Beasley signed with Liga MX side Puebla, and the change in fortunes was almost instantaneous. He went from not playing at all to playing every week, and the fact that more Americans were playing south of the border meant that Klinsmann and assistant coach Martin Vasquez were keeping a close eye on his performances.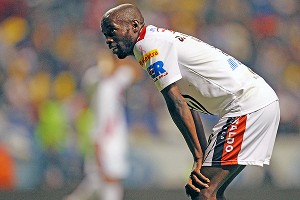 Marcos Delgado/Clasos.com/Getty ImagesWith Liga MX side Puebla, DaMarcus Beasley enjoyed much-needed playing time and was able to hone his international game.
"I owe a lot to [Puebla], from the coaches that I've had there to the presidents that I've had there, it's been a great experience for me," he said. "It's been like I started my career all over again. As a soccer player, if you don't play for a year, you've got to start yourself all over again because people lose confidence in you. But as long as you don't lose confidence in yourself, you'll be fine. I never did that, and when I got to Puebla, I was ready to go, I was ready to play. If I didn't make national team, so be it, but I was going to put myself out there again and show that I'm still here and I can play at this level."

Beasley's transition to life in Mexican soccer was eased on several levels. Mexico marks the sixth country that he has played in, so at this stage of his career dealing with the culture shock that takes place both on and off the field is a bit easier to deal with now than when he first arrived in the Netherlands.

"I remember my first three months at PSV," he recalled. "I was like, 'What am I doing?' I'm playing with guys like Phillip Cocu, Mark van Bommel, the stars of Holland. I thought I was out of my element a little bit. I was always confident I could do well there, but outside of football, the living part -- not speaking the language -- it was tough. It was tough being away from America."

That's not the case now.

"When I went to Mexico, the transition was easy," he said. "The house, the car, the phone, once that's sorted, you're pretty much good to go. I've always felt that having those things in the beginning taken care of, it makes it easy to settle in."

Another aspect of playing in Mexico that helped key his comeback was the style, one that he has long admired.

"I like to pass, I like to move, quick passing, make one-two's, stuff like that," he said. "I think that style suits me to a tee, that's stuff that I enjoy, and it's good that I'm in that kind of environment."

Of course, Beasley's club situation is now unsettled after Puebla put him on the transfer list. But he made it clear that staying in Liga MX is a distinct possibility, and that he may even end up back at Puebla.

"I'd say we're still in negotiations, and we'll go from there," he said.

He also stated that one place he won't end up is MLS.

"There must be [some hurt feelings] with them," he said. "I thought I left on good terms, but obviously not."

A fourth World Cup?

Not that Beasley is spending too many brain cycles worrying about his future at club level. His present status within the U.S. squad is more than enough to occupy his thoughts. He admits that the prospect of playing in a fourth World Cup is exciting, but he also knows better than to look too far ahead. His comeback is enough of a reminder that the makeup of the U.S. roster is in a perpetual state of flux.

"I'm not a guy that's a mainstay guy," he said. "I understand that, I know that, and it makes me more hungry, to make sure I play every game at a 100 percent level. I'm going to make it hard for Jurgen to make a decision if he wants to keep me or if he doesn't. It's in the back of your head. But I'm not thinking about the World Cup. All I'm thinking about is qualifying, and playing against Panama on Tuesday."

At which point, another chapter in an unlikely comeback will be written.

Notes:

• Midfielder Jermaine Jones is officially out of Tuesday's match. A USSF spokesman insisted that Jones, who suffered a concussion midway through the second half against Jamaica, would be examined Monday, and therefore had not been ruled out of Tuesday's match. But later in the day Jones announced on Twitter that he would definitely miss the match. At issue is the team's concussion protocol, that according to another spokesman comprises multiple steps. On Sunday, Jones was limited to riding a stationary bike. If he remains free of headaches, dizziness and other post-concussion symptoms, he can progress to jogging. If all goes well, then more intense training, and so on. There simply were not enough days to complete the entire protocol before Tuesday.

• It looks as if Panama will be missing a key player of its own. The Panamanian Football Federation announced on its Twitter feed Saturday that star forward Blas Perez was suffering from gastroenteritis and wouldn't be making the trip to Seattle. Now, CONCACAF is a region in which gamesmanship runs rife, and it seems a bit odd that Perez would be ruled out a full three days before the match, but that's the official word. If it turns out to be true, then that is a huge blow to Panama. Perez is a big target who holds up the ball well and has an uncanny ability to sniff out goals from nothing. Perez played 70 minutes of Panama's 0-0 tie Tuesday with Mexico before making way for Rolando Blackburn.

• When the team was prepping for its game in Jamaica, there was plenty of pregame chatter about the state of the pitch at Independence Park. Afterward, there was practically none. Funny how winning a match tends to obscure such issues.

Now attention has turned to the state of the turf at Century Link Field. The stadium sports an artificial surface, but in order to bring a World Cup qualifier to Seattle, one concession was that a temporary grass field would be used. The sod was laid down a week ago, and an MLS match between the Seattle Sounders and the Vancouver Whitecaps was played on the surface Saturday. The reviews were not positive. Vancouver defender Andy O'Brian was forced to leave the match with a hamstring injury, and there was plenty of speculation that the temporary field had something to do with it. Vancouver goalkeeper Brad Knighton certainly minced no words.

"Not to make excuses, but the field was ridiculously terrible," Knighton told MLSSoccer.com. "It's heavy, it's bumpy, the turf's coming up, and it's just a weird surface to play on. Anytime you put grass on top of turf you are going to get something like that."

The U.S. and Panamanian players will be the ultimate judge but a visual inspection confirmed much of what Knighton was talking about. If the surface doesn't play smoothly, then advantage Panama.