Besler and Gonzalez make case for the defense
KINGSTON, Jamaica -- Heading into Friday's World Cup qualifier against Jamaica, plenty of brows were furrowed over the recent performances of the U.S. defense, in particular center backs Omar Gonzalez and Matt Besler. The two previous games had seen the side concede seven goals, and the combined play of both defenders was all over the place, leading to questions about whether this was really the central tandem to lead the U.S. through the remainder of qualifying.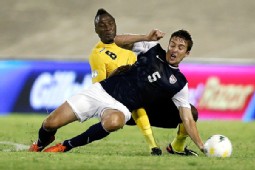 Winslow Townson/USA TODAY SportsMatt Besler battles for possession with Jamaica's Jermaine Johnson in Kingston
Fortunately for the Americans, both Gonzalez and Besler answered in the affirmative. True, the team's penchant for coughing up leads revealed itself once again, with the U.S. conceding the kind of set piece goal that has to be driving manager Jurgen Klinsmann to distraction. But this was also a match in which both center backs stepped up and made big contributions to the Americans' 2-1 win.

Gonzalez was his usual dominating self in the air, and the timing of his tackles was reminiscent of his lights-out performance against Mexico in March. Besler stepped toward entry passes with tenacity and read the game superbly. He also deftly outmuscled Jamaica forward Jermaine Beckford when the two were in a footrace late in the match.

So, what was the key to the turnaround? Simply put, they did their homework.

"I think both [center backs] were very well prepared," said Klinsmann at his postgame news conference. "They knew what the game would look like. We talked with them; we showed them images; they were prepared for the long balls. They both were going for second balls, and I think both did a really good job handling that."

Short memories helped, too.

"We looked at both games on film, we talked about them and we moved on to the qualifiers," Besler said. "The qualifiers are what it's really all about."

Besler and Gonzalez also shepherded right back Brad Evans through a difficult first half when the speed of Jamaica's Garath McCleary and O'Brian Woodbine stretched Evans to his absolute limit. Evans provided a steadier presence in the second half and of course, popped up for the killer goal.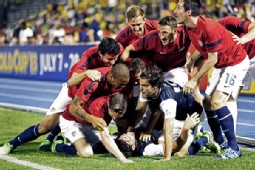 AP Photo/Andres LeightonAn improved defensive performance helped the U.S to an important win against Jamaica
The Americans' defensive partnership also had difficulties dealing with Jamaican forward Jermaine "Teddy" Johnson, but managed to keep the Reggae Boyz at bay and coped with the pressure put on them by making good decisions on the ball.

"That was Jamaica's game plan," Besler said. "They came after us; they didn't give us a ton of time on the ball in the back. But I think we handled it well. I think our choices tonight were good, of when to play and when to clip the ball into the corner."

Of course, much will be made of Beckford's equalizer from a set piece. From replays, it looked as if it was substitute Eddie Johnson who lost his marker, but it also looked as if Beckford and several teammates were offside. Then there are questions as to whether goalkeeper Tim Howard should have claimed the cross.

"It was a weird play on the goal. We were trying to hold our line and keep them offside because they had a bunch of guys offside," Gonzalez said. "When they hit it, no one really dropped, and there were a lot of free guys in the middle. I don't know if they were offside or not, but I think we can do better and that's something to work on."

Other facets need attention, as well. Gonzalez's distribution remains a concern, and he did allow Rodolph Austin to slip behind him for a clear shot at goal. Besler had a wobbly moment of his own when he coughed up possession in his own penalty area in the second half when clearing the ball would have been preferable.

But overall, it was a pair of performances that showed much more consistency.

"Me and 'Bes' together were pretty solid on the night," Gonzalez said. "There's a lot of room for improvement, but we're on the right foot."

And heading into Tuesday's match against Panama with three more points.