U.S. scores unlikely stoppage-time winner over Jamaica
KINGSTON -- The U.S. men's national team has made a habit of squandering leads in road World Cup qualifiers. Friday proved to be no different. Only this time, it was the U.S. that had the last word.

Just moments after conceding an equalizer to Jermaine Beckford, U.S. defender Brad Evans scored a goal of his own in stoppage time to give the U.S. a 2-1 victory and three priceless points in the standings. Jozy Altidore's goal put the U.S. ahead in the first half, and the U.S. looked poised to see out a 1-0 win before the game's dramatic final minutes.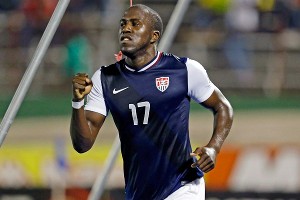 AP Photo/Andres LeightonJozy Altidore scored the game's first goal in the 30th minute.
The victory, the Americans' first in a World Cup qualifier in Kingston, was immense because it gives them seven points in their first four qualifiers, three of which have been on the road. The Americans struggled for most of the night to cope with the speed of Jermaine "Teddy" Johnson, as well as the incisive runs of Rodolph Austin. But it seemed that whenever one of the Reggae Boyz threatened, an American defender was there with a last-ditch tackle or deflection. Both Omar Gonzalez and Matt Besler enjoyed bounce-back games from Sunday's friendly against Germany. Aside from one ill-advised touch by Besler in the second half, the two showed a consistency that had been lacking in previous matches.

Evans delivered a bounce-back performance all in one game. The first half he struggled mightily to deal with Jamaica's pace and almost looked overwhelmed at times. But he recovered to defend capably in the second half and, of course, delivered the all-important goal.

The match began with the U.S. applying high pressure in Jamaica's half, and the Americans nearly went on top when Michael Bradley hit the post with a long-range blast. The U.S. was also determined to prevent Marvin Elliott from carrying the ball out of the back, and this approach flummoxed the home side in the early going.

But the Reggae Boyz soon adjusted and went about attacking the flanks with abandon. Evans, making his second consecutive start at right back, was given special attention. Garath McCleary and O'Brian Woodbine continually ran at Evans, especially when they were set up with long diagonal passes that left them in one-on-one situations. As a consequence, Jamaica was in control starting around the 15th minute, and Tim Howard had to be sharp to parry away a Jermaine Johnson blast in the 17th minute. The home side continued to carry the momentum as the U.S. wide midfielders offered insufficient defensive support to their fullbacks.

But the gamble -- if that's indeed what it was -- paid off in the 30th minute, as Graham Zusi found space down the right wing. His inch-perfect cross was nodded home by Altidore, marking the second consecutive game this duo had teamed up for a goal.

Jamaica continued to threaten, and in the 38th minute the post came to the Americans' rescue. Rodolph Austin latched onto Ryan Johnson's clever layoff, but with only Howard to beat he side-footed his shot onto the upright.

The second half featured more attacking by the home side. Jermaine Johnson continued to threaten with his pace, getting around DaMarcus Beasley twice, but his deliveries were usually off-target.

The U.S. suffered a blow in the 59th minute when Jermaine Jones was forced to leave the match with a concussion, replaced by Geoff Cameron in a straight swap.

Jamaica made a pair of substitutions in the 68th minute. It was something of a surprise when Jermaine Johnson was replaced by Theo Robinson. No question, the U.S. defense was only too happy to see the back of the Jamaican forward. Jermaine Beckford was brought on a few minutes later for Jermaine Hue.

A frantic game began to settle down at this point, as the Americans enjoyed a few more spells of possession while Jamaica clearly missed Johnson. Besler's aforementioned shaky touch nearly created a chance for a Jamaican attacker, but the ensuing cross was off-target.

But with time winding down and the U.S. appearing to be headed for a historic victory, Jamaica equalized from a trademark set piece. Beckford's header sent the home crowd into delirium.

It didn't last. Bradley's quickly taken corner found Evans, who turned and fired home.

Player ratings: (0-10; 10=highest)

G Tim Howard, 5 -- Delivered a spectacular save from a Jermaine Johnson piledriver in the first half, and had to be alert to save from Johnson at the near post in the second half. Questions will have to be asked about whether he should have come out to challenge Beckford on the goal.

D DaMarcus Beasley, 6.5 -- Held up well, and made some critical clearances in one-on-one situations, be it in the air or on the ground. Struggled to contain Jermaine Johnson early in the second half, but then recovered.

D Matt Besler, 7 -- Sharp with his distribution and did well to step hard to the ball when Jamaica tried to exit out of the back. His reading of the game was superb, and he did well to muscle Beckford off the ball in one duel. Had one shaky touch, though, which almost created a chance for Jamaica.

D Omar Gonzalez, 7 -- Was dominating in the air and was sure in his tackling. Most importantly, he was much more consistent and remained mistake-free.

D Brad Evans, 6 -- Yes, he was given a torrid time by McCleary and Woodbine, as he couldn't cope with either player's pace. His passing left something to be desired as well. That said, he did improve in the second half and his goal is one he'll never forget.

M Fabian Johnson, 5 -- Had opportunities to do some real damage, only for his touch to let him down. Left Beasley to defend two players too often.

M Michael Bradley, 6.5 -- Hit the post early and was tidy enough in possession, but seemed off his usual game defensively, as he was beaten off the dribble too often. Picked up his play in the second half, however.

M Jermaine Jones, 6 -- Delivered some crunching tackles at key moments and was one of the better passers on the night, but didn't always keep track of Hue and Austin. Was forced off with a head injury in the 59th minute.

M Graham Zusi, 6 -- Was a menace in the attacking half with his crossing, but needed to give Evans more defensive help in the first half. Started to track back more in the second.

F Clint Dempsey, 5 -- His touches around the penalty area weren't as sharp as they normally are, but took a ton of abuse. Dropped into midfield when the U.S. needed some possession.

F Jozy Altidore, 6 -- Took his goal with aplomb. Would have liked to see a bit more physicality, but he chased and harassed the Jamaican defense well.

Subs:

M Geoff Cameron, 6 -- The U.S. settled down a bit upon his entry into the match, as he sat back in support of Bradley.

M Edgar Castillo, 4.5 -- Defended capably, but should have done better with his pass on one counter.

Eddie Johnson, 4 -- Had a late chance to threaten on a one-on-one, but didn't do well with it and was complicit in failing to mark Beckford on his goal.