U.S. can set things straight against Jamaica
KINGSTON, Jamaica -- Whenever the subject of September's 2-1 loss to Jamaica is brought up, the upbeat veneer on Jurgen Klinsmann's face disappears for a bit. It's almost as if the U.S. manager can't believe that a Jamaica side so reliant on set pieces somehow snagged a victory against his side.

"[That defeat], it still sits in the stomach," Klinsmann said during a roundtable with reporters on Wednesday.

On Friday, the U.S. will have a chance to put things right when they take on the Reggae Boyz in a World Cup qualifier at Independence Stadium, aka The Office. The hope is that the U.S. will not only claim a victory in Kingston for the first time in team history, but also take some firm strides toward qualification. This match finishes a stretch of three road games in four qualifiers, and a win would give the Americans a healthy seven points, with home games against Panama and Honduras approaching.

"It's time to get down to business," U.S. captain Clint Dempsey said during his own media session Thursday. "It's good to get down here and get acclimated. ... These three games are crucial. You want to be in a good position in the table [after these three qualifiers] so you're not stressin' come those last four games."

How Jamaica Can Hurt the U.S.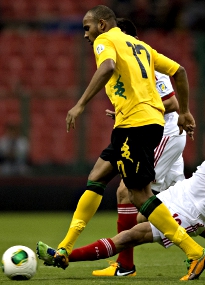 GettyImagesRodolph Austin was man of the match the previous time the U.S. faced Jamaica.
The game plan Jamaica used in September was simple: Take a physical approach to winning the midfield, strike in transition where possible, and earn free kicks in dangerous spots. In fact, the Reggae Boyz were so physical that Klinsmann said they were "even brutal in certain moments."

Yet Jamaica has undergone a considerable transformation in recent months, some of it intentional, some of it situational.

Injuries, absences, and an overseas recruitment drive have resulted in Jamaica manager Tappa Whitmore revamping his roster. In Tuesday's disheartening 1-0 home defeat to Mexico, Whitmore fielded just three players who had been in the qualifier win against the Americans.

In fact, much of Jamaica's vaunted speed is nowhere to be found. A spokesman for the Jamaican Football Federation confirmed that Jobi McAnuff wouldn't be available due to the birth of his child. Omar Cummings, Jermaine Johnson and Dane Richards all are out injured.

That said, there is still enough skill and pace to unsettle the Americans. Garath McCleary provided his share of dangerous moments against Mexico, and if he can get himself isolated against the U.S. right back -- be it Brad Evans or Geoff Cameron -- that could pose problems for the U.S. defense. He also showed against Mexico a penchant for running into blind alleys when double- or triple-teamed, so providing available help to the outside backs will be critical.

"We just have to keep them in front of us, and not let them get behind us with one run," U.S. defender Omar Gonzalez said on Wednesday. "We need to get as close as possible without getting too close to get burned."


---
More coverage:
• Carlisle: The maturation of Jermaine Jones
• USMNT blog
• U.S. defensive woes
• U.S. vs. Jamaica
• Tim Howard's take

---
Another player to watch out for is Leeds United midfielder Rodolph Austin. It was Austin who delivered a man of the match performance against the U.S. in September, including the equalizer in that match. More importantly, his running and passing out of midfield helped Jamaica carry the game after falling behind to Dempsey's early goal. On Tuesday, Austin often pushed up alongside Jermaine Hue, meaning U.S. midfielders Michael Bradley and Jermaine Jones will need to remain wary of the Jamaican duo's playmaking ability.

Yet for all of the talk of Austin's ability from the run of play, set pieces remain Jamaica's biggest weapon. Ryan Johnson, along with center backs Adrian Mariappa and Daniel Gordon, remain huge targets, and it was following set pieces that Jamaica had their two best chances, only to find Mexico keeper Jesus Corona in inspired form.

Of course, set pieces have been a problem area for the U.S., with Germany netting their first goal on a corner in Sunday's friendly. That will put a premium on center backs Gonzalez and Matt Besler doing their utmost to body up against Jamaica's aerial threats.

That said, the U.S. is plenty familiar with Jamaica's style and approach.

"It's an opportunity to see what it's like playing in some of these games where the field conditions might be a little bit bumpy, dealing with the humidity, the physicality, the athleticism that Jamaica has," Dempsey said. "And everybody's even more prepared than they were before."

How the U.S. can get at Jamaica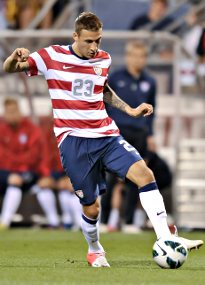 GettyImagesU.S. midfielder Fabian Johnson should have plenty of opportunities to do damage.
The Americans' biggest advantage just might be between the ears. Tuesday's result has put the Reggae Boyz in desperation mode, at the bottom of the Hex table. A loss Friday and Jamaica will have secured just one point from three home games, which essentially would spell doom for their qualification bid.

"[Jamaica is] there with their backs against the wall," Klinsmann said. "They have to [win] really badly on Friday night, which leads us into a huge opportunity that we have here."

In terms of the run of play, the U.S. would appear to have the kind of weapons that can unsettle Jamaica's defense. Jamaica's back line has undergone almost a complete overhaul because of injuries to players such as Jermaine Taylor (shoulder). Against Mexico, that resulted in Jamaica spreading out their center backs and letting midfielder Marvin Elliott carry the ball out of the back. Whitmore also was forced to start 18-year-old Alvas Powell at right back. The youngster held up well for 45 minutes, but the second half saw him badly exposed, with midfielder Jevaughn Watson providing little defensive help.

Whether Whitmore takes a similar approach or opts for different personnel remains unknown. Either way, U.S. left midfielder Fabian Johnson, assuming he's recovered from the hamstring tightness he had against Germany, should have plenty of opportunities to do damage. He also could opt to tuck inside and let left back DaMarcus Beasley get forward as well. Attacking that space also could serve to free up Dempsey and Jozy Altidore in central locations.

In terms of the midfield battle, the personnel at Klinsmann's disposal have tilted this matchup in the Americans' direction. The aforementioned Austin was highly effective in September, but Bradley wasn't on the field that day, whereas he will be on Friday. His partnership with Jones, one that possesses equal amounts skill and steel, looks to be exactly what the U.S. needs to keep Austin and Hue under control.

"You know that you have to be ready to come in and compete with them, that's the first thing," Bradley said. "You have to earn the right to play with the approach you take onto the field. From there, it's like any game, trying to find a good rhythm with the ball, trying to be mobile in a way that we're putting them under pressure. And doing things in a way that we're imposing ourselves on them."

If the U.S. is successful in this area, it could make for an easy day at The Office.