The unconventional captain
Clint Dempsey is the first to admit he is not a conventional captain. "I don't really talk much on the field," he acknowledges, "I'm not that motivational speaker kind of guy, but in games when you need it most, no matter who the opposition is, I'll try to step up and be someone who makes a difference."

Dempsey's "lead from the front" style is very American. George Washington was reputed to advance so close to enemy lines, his own horse would shake and tremble. Yet Dempsey admits he was "a little surprised" when coach Jurgen Klinsmann called to invite him to captain the team.

"I told him I was ready for the responsibility and the challenge, but it's not something I ever really tried to get," he said. The Tottenham Hotspur player was not the only one caught unaware. Though the jettisoning of longtime captain Carlos Bocanegra was as expected as Ned Stark's execution, the names of Tim Howard, Michael Bradley and Jermaine Jones were mooted loudest as replacements were debated. The Texan appeared an outside bet. Just four months earlier, Klinsmann had vented on the pages of The Wall Street Journal, "[Dempsey] hasn't made s---."

---
More coverage:
• Carlisle: The maturation of Jermaine Jones
• USMNT blog
• U.S. defensive woes
• U.S. vs. Jamaica
• Tim Howard's take

---
When Dempsey was awarded the permanent captaincy last week, the coach was asked to explain his sudden U-turn. "The other players look at him and see this kind of hunger," he explained after Sunday's 4-3 win over Germany in which Dempsey struck twice. "They see his drive. They also see the moments when he gets upset. This is really important for our own players to get that hunger and drive, to push yourself."

I sat down with Dempsey in Cleveland last week to discuss that hunger and discover how he has adapted to his sudden, new role on the national team. With three crucial World Cup qualifying games in quick succession, beginning Friday night in Jamaica, our candid conversation about leadership style and philosophy offered hints of the United States' approach as they prepare to slice through the gut of the Hex.

We began by discussing the centrality and impact of captaincy itself. In some nations -- England for example -- the appointment of a national team's captain catalyzes more public debate than a prime ministerial election. In others, like Italy, the armband is often inherited by the most-capped veteran on the field. Dempsey admits he is unsure how important the captaincy is within America's soccer culture, then reveals exactly where it fits in his own hierarchy of values.

"It's an honor but it wasn't something I always dreamed of as a kid ... not at all," he says, pausing for a beat as the veins in his head bulge. "I want to win. Winning is more important to me than being captain."

Winning is something the U.S. has been able to do in Dempsey's short tenure. Under Klinsmann, the USMNT result pattern has been erratic. The forward first inherited the captaincy on a temporary basis after the team wilted impotently in the heat of Honduras.

Thanks to his 16th-minute strike, the U.S. proceeded to snowshoe to victory against Costa Rica in Denver in March, then gutted out a goalless draw in the deathtrap of the Azteca. Flippantly, I joke that percentage-wise, Dempsey already ranks as one of the nation's most successful captains. "I guess, right?" he laughs, before reinforcing the claim with mock pride as he remembers that he had also captained the team under Bob Bradley with the game ending in a draw.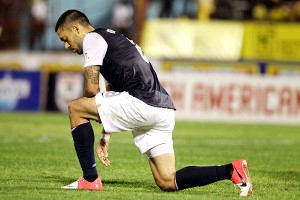 no_source / Marc Serota/Getty ImagesClint Dempsey shows the U.S. disappointment after September's 2-1 loss in Jamaica.
I challenge Dempsey to describe how it feels to wrap the U.S. captain's armband around his arm before a game. "As you put it on, you just feel more responsibility," he admits. "There's more pressure but at the same time, it gives you more confidence. It lets you know that your teammates and coach believe in you and you want to go out and do that justice."

That feeling mellows after kickoff. "You're aware of it more in the beginning of the game but once you are on the field, you don't see yourself as higher than the other players," he explains. "We're all in it together." Singling out Bradley, Howard and DaMarcus Beasley by name, the new captain declares, "I don't see this team as just having one leader. We have a lot."

True as this may be, Dempsey's play stands out among all those who pull on a national team jersey. No other player can match the ever-present 810 minutes he has played in the past nine qualifying games. The free-shooting forward has scored 13 of the team's 25 goals in the games he has played under Klinsmann, netting five of the eight U.S. strikes in 2013 alone. A dominance that suggests why, in a squad shorn of Landon Donovan, Klinsmann is doubling down on Clint.

For his part, Dempsey admits he is adapting to his new off-the-field role within the team infrastructure. "You try to be the voice for the players and bring what they are thinking to the coach," he explains. "You want the boys to feel like you have their back but at the same time you want the manager to know you have his back as well. There is a gap to be bridged and I have to play that intermediary role."

As I listen, I marvel aloud at the level of enthusiasm Dempsey is able to muster at the end of a grueling season in which he played 43 games for Spurs. Asked how he is able to return home while maintaining his focus and energy, the captain is quick to respond. "Representing your country is always an awesome thing," he says with real zeal. "Growing up I did not see a lot of club football. I only watched international games. World Cups with Maradona's Argentina, Valderrama's Colombia, or Tab Ramos and Claudio Reyna's United States."

A big grin covers Dempsey's face as he admits, "When I was a freshman in college I would watch Landon Donovan play for the U.S. and hope one day I could try and get to that level." The opportunity to fight for a place in the World Cup feels especially sweet after the frustration of a Premier League year in which Dempsey's Tottenham missed a Champions League place by a point.

When asked to assess his own season, Dempsey becomes somber. "I wouldn't say I had a great year," he admits. "I felt like I gave everything ... that the team gave everything." He takes a deep breath and pushes on. "I had a slow start but I ended up with maybe my third-most successful year while I have been in Europe -- and my best in a season when I have come to a new club. For me it is always about trying to push to the highest level possible I can play at; hopefully we will do better next year."

With the midday sun lighting up the room, Dempsey's features appear drawn, even gaunt, as he contemplates a run of five international games in 21 days. His sacred break time beckons. Dempsey tells me of his plans to return to Texas to spend time with his parents before heading to his house in North Carolina for some "serious fishing time."

"I don't really touch a ball that much in that time," he says earnestly. "I like to unwind, relax and chill." If all goes to plan, Dempsey will have earned his vacation. The crucial nature of these three qualifying games and the goal of seven points most are targeting is not lost on Dempsey.

"Depending on how we do in these three games, we can put ourselves in a great position to qualify or can leave us facing a nail-biter. Hopefully we won't be relying on other teams to do us favors because you know how that goes," he admits while shaking his head slowly. "I experienced that this year with Spurs this season. You don't want to rely on others to do favors for you. You want to have your destiny in your own hands."

Dempsey has drifted off to the disappointment cloaking the end of Tottenham's season. To bring him back, I ask for a preview of what he will say to his team in the locker room at National Stadium in Kingston on Friday night. Quickly looking left and right, he tightens his hands together in his lap and is suddenly present and alert once more.

"Go out and be confident," he declares, as his eyes lock on to mine. "Play how you know you can play. Don't worry about making mistakes. Everyone's gonna make them. Just be confident. You're here because you're good enough to be here. So, go out and show that."

Follow Roger on Twitter: @rogbennett