The maturation and adaptation of Jermaine Jones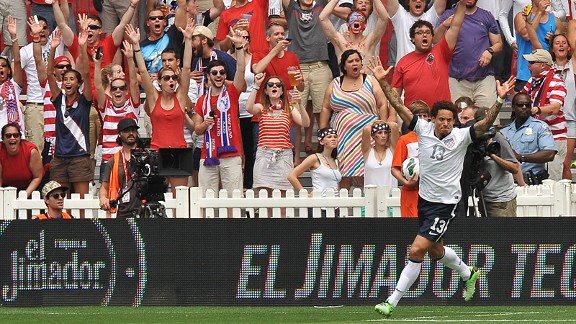 GettyImagesJermaine Jones has come a long way since joining the U.S. national team, evolving from liability to leader.
KINGSTON, Jamaica -- There are many layers to Jermaine Jones' American dream. There was the reconciliation with his American serviceman father after 20 years of silence. There's the Los Angeles house he now owns so he can be near his father's family. Then there is Jones' role as a leader and key performer with the U.S. men's national team -- and what he hopes will be an appearance at next year's World Cup.

As the U.S. prepares for Friday's World Cup qualifier against Jamaica, it is Jones' last ambition that is coming into sharper focus. Ever since joining the U.S. side two and a half years ago, Jones has struggled at times to fit in. Chemistry with his teammates, not to mention his overall performance level, seemed to come and go. Meanwhile, his play with club side Schalke appeared to be several notches higher.

But 2013 has witnessed a steady ascent in Jones' international form. His play has become more consistent while the image of his snow-dusted hair in a March World Cup qualifier against Costa Rica, teeth gritted due to an ankle injury, has bordered on iconic. Time and time again Jones has delivered the kind of physical play that U.S. manager Jurgen Klinsmann values, even if it means a steady diet of yellow cards. And with Michael Bradley by Jones' side, the U.S. has the kind of tough and skillful midfield pairing that will make opponents take notice.

"It's a constant battle of who is intimidating who, who controls who, on these fields," says Klinsmann during a roundtable with reporters. "Especially in central midfield, that's the heart of every team. When you play against a guy like Jermaine -- and also Michael growing into this role -- you want this to happen. You want the other side to understand, 'Shoot, with these two guys, or a guy like Jermaine, I can't fool around. I go into the grind.' [Jones] is good at grinding people."

And what of the yellow cards? In a World Cup in which players are suspended for accumulating just two cautions, discipline is placed at a premium. Can Jones control his tough-tackling impulses?

"I think [Jones] went through a couple of learning processes there already," says Klinsmann. "I think he understands when to step back now, and keep himself focused and under control. Certain yellow cards it is just the nature of it, because there are a lot of tactical fouls that actually help the team. And you risk that you pick up the yellow. But if don't do them, you get caught on a counter break and you just concede a goal."

Even as Jones settles into a chair at the team hotel he cuts an imposing figure, with his chiseled 6-foot frame and tattoos everywhere. Yet when he's asked how he developed his playing style, he's a bit stumped. Jones started out as a forward in his younger days but gradually slid back into a central midfield role. While he admits that there were players he liked watching growing up, he insists he didn't pattern his game after anyone. What seems clear, however, is that Jones' style was shaped by his environment, the Bonames district of Frankfurt. Klinsmann once remarked how rough a neighborhood it was. Jones doesn't dismiss that characterization entirely but adds that the reality of living there was a bit different that its image.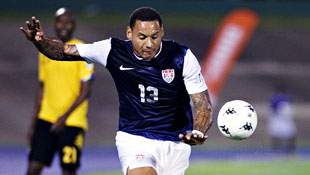 no_source / Marc Serota/Getty ImagesJones' leadership and power in midfield is derived from years of playing tough, competitive street soccer back in Germany. "We always played for something," he said.

"People who are there who look in from outside, they say, 'Yeah, it's a tough neighborhood,'" he says during an exclusive interview. "It's my town where I grew up, and was loving it. I have a lot of friends from there. It's always nice to come back there. It's like a big family. My mom, she still lives there with my brother and sisters. I see it as a good town, I don't see it like other people."

But in terms of soccer, Jones was very much a product of the street. He recalls playing soccer tennis over clotheslines and five-versus-five on paved surfaces, often against older players. These were not idle kick-arounds, either. There were stakes involved.

"We always played for something, it was never that we played for fun," he recalls. "Sometimes the younger kids, if you were good, they would play with the older guys. The big guys would put in money. I was always in good teams, they wanted me. I didn't need to pay anything. If we won, they don't give us money, but sometimes they'd give us candy or a coke."

Jones soon found himself rising through the ranks of German soccer and cultivating a bad-boy image. But his American dream still burned, even through some difficult times. His parents divorced when he was very young and living in the U.S., and he and his mother soon moved back to Germany. After some 20 years had passed, he tried to track down his father but failed to locate him. His wife, Sarah, had better luck and late one night before a league match, out of nowhere, he received a phone call from his father.

"I told him, 'First, thank you for calling me, but it's the night before a game, I need to be focused, I need to sleep,'" he says. "I hung up and thought, 'Is that true? He called me 20 years later.' We talked a lot more in the next days, and kept in better touch. I remember meeting him for the first time in Miami. Now I'm happy my children can see their granddad and everything. It was important for me, too."

Jones has since bought a house in Los Angeles, the better to maintain contact with his father, who also lives in the area. But the purchase was also borne out of a desire to reconnect with a country that he lived in just briefly as a child. Jones adds that he was too young to remember much of that period, one spent living in Chicago and Greenwood, Miss., as he was only 3 years old at the time. But even without memories, his American half couldn't stay buried.

"It's always inside of me. I was born in Germany but I'm half American," he says. "I always said, 'When I get this money [from soccer], one day I want to live in L.A.' This is my dream. This is why I buy this house with my family."

By opting to play for the U.S. national team back in 2010, the connection to his father's country became unbreakable, yet assimilating into the team had its share of hidden obstacles, most of them on the field. Growing up in a soccer-mad country like Germany, the style is more homogeneous, the soccer knowledge more ingrained. But in the U.S., Jones noticed some gaps in his teammates' soccer education, something for which he wasn't quite prepared.

"You have a lot of players on the U.S. team that play in Europe," he says. "But there were players from MLS, too. Sometimes, you have it in your mind, OK, you want to play this ball, but the guy doesn't run. He waits for you to play it, but he needs to run first. Then I start to think, 'Maybe I need to help, so we can go on and play better and go faster.' This is what I tried to do on the field."

Then there are the peculiarities of playing in CONCACAF, which did plenty to knock Jones out of his comfort zone.

"It was definitely a shock. The first time when I played my first game [in qualifying], I was like, 'Whoa, damn. It's not like Europe or the Bundesliga,'" he says. "In those games, all the stadiums are good, the pitch is good. When you come to places like Jamaica or Honduras, the pitch is not good. Then you have the air, it's hot every time. It's not easy to play."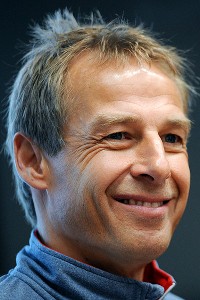 Arne Dedert/AFP/Getty ImagesU.S. coach Jurgen Klinsmann has been pleased with Jones' steady growth, noting that in CONCACAF's physical games, Jermaine "is good at grinding people."

"When I go back to Germany, they ask, 'How can you lose in Jamaica? How can you lose in Honduras?' I say, 'Trust me; it's not easy to play.' Now, after the last game against Germany, I ask them, 'Eh, what do you say?' They're like, 'Oh man, it's too hot. I'm happy to play in Europe.' I say, 'Yeah, you see?'"

As it stands, Jones' adaptation now looks to be complete. He was one of the best players on the field in Sunday's 4-3 win over Germany, but when it's suggested that he's near his peak, Jones demurs. He points out the fact that the U.S. has blown leads in four of the five road qualifiers this cycle, and that everyone, himself included, can give 10 percent more, especially in terms of game management.

"When I see these games, when we lose, we always go in front, we always make the first goal," he says. "Then we try to go on, go on, go on. The other teams make counterattacks and kill us and we lose the games. When we play road games, we need to be smarter. When we make the first goal, sit back, play, let the ball go. Let them run, let them feel the hot air."

If the U.S. follows that plan on Friday, then they'll be one step closer to qualifying for the World Cup. And another chapter in Jones' American dream will be that much closer to completion.

Notes:
• Terrence Boyd doesn't have as many tattoos as Jones does, but he's catching up. And one of his latest additions shows how he's pledging allegiance to the U.S. cause. Back in March, he had the image of an American flag tattooed to his right forearm.

"Not even talking about soccer, I'm a huge fan of the States," he said during a roundtable with reporters. "I just love it, so I just love to represent the States. There's just things on my arm that really mean a lot to me, so I just had to get this on my arm."

• According to a team spokesman, Herculez Gomez sat out training for another day due to a knee contusion. His absence makes his already slim hopes of participating on Friday recede even further. Gomez, who just signed recently with Club Tijuana from Santos Laguna, had been carrying the injury since the end of the Liga MX season.