Behind the alleged discrimination at Chivas USA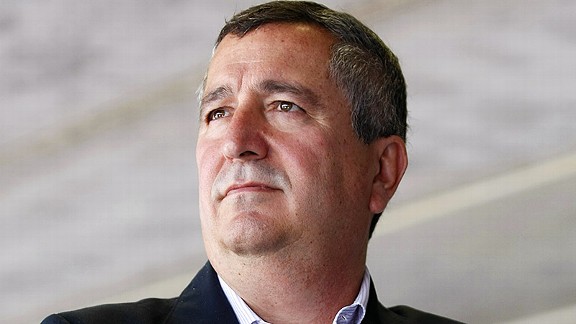 Gerardo Zavala/Getty ImagesThe remarks of Chivas USA owner Jorge Vergara at a November meeting with club employees set off a chain of events that ultimately led to the firing of two youth team coaches.
On Nov. 13, Dan Calichman was preparing to put the club side he coached, the Chivas USA U-18s, through its paces, but the vibe surrounding the session was all wrong. Rumors were swirling among his fellow academy coaches that, earlier in the day, team owner Jorge Vergara had called a meeting of the club's employees. During that meeting, Vergara allegedly identified the non-Spanish speakers in attendance and told them, "If you don't speak Spanish, you can go work for the Galaxy, unless you speak Chinese, which is not even a language."

Later that day, Calichman was approached by Chivas USA director of coaching Ted Chronopoulos, who confirmed that the rumors were true.

"I was in disbelief," Calichman said by telephone. "I was like, 'There's no way that the owner really said that.' It caused a crazy environment out [on the practice field]. From that day on, coaches were scared that if they didn't speak Spanish that they were going to be fired."

A toxic environment

Over the next four months, Calichman's worst fears were realized. He describes an atmosphere that grew more poisonous and reached a tipping point when Chivas USA president Jose David allegedly instructed Chronopoulos to gather data about the ethnic background of players in the team's academy as well as the players' parents.

"We were on winter break during that point, but I decided then that I was going to file an internal complaint because this isn't OK," Calichman said. "This kind of behavior isn't OK. I filed an internal complaint into human resources on a Friday and was later that day told to go into a meeting on Monday."

Chronopoulos, who couldn't be reached for comment, did the same. Yet when Calichman met with David and human resources manager Cynthia Craig, an odd dichotomy took place. According to the details of a lawsuit filed by Calichman and Chronopoulos, Craig insisted that their charges would be investigated, as is required by California law. David could talk only about how the club needed to go back to its Mexican roots and eventually conceded that neither Calichman nor Chronopoulos would be part of the team's plans going forward.

"[Chronopoulos and I], we were like, 'My god, why is this not based on what we've done?'" Calichman said. "We had done so well for Chivas USA and put the academy No. 1 in Southern California. My U-18s had made it to the final eight in the country. We kept looking at each other like, 'Are any of our accomplishments going to matter?'"

As it turned out, they didn't. The pair were suspended from their coaching duties that day and officially fired two months later. Last week, the coaches filed a discrimination lawsuit against Chivas USA, claiming that they were fired because they are not Latino.

The Chivas philosophy

Chivas USA are affiliated with Mexican club C.D. Guadalajara, also known as Chivas. Since its founding in 1906, the parent club has signed only players who are Mexican or have Mexican-born parents. In addition to owning the Guadalajara club, Vergara owned a 50 percent stake in Chivas USA. This past August, he bought out his partners and assumed total control of the MLS club. He soon thereafter stated that the USA club was going to "return to its Mexican roots" and would make extensive use of Mexican and Mexican-American players.

What has ensued is a borderline fire sale in which Latino players have come in and non-Latinos have been shipped elsewhere, usually for what is perceived as pennies on the dollar. On May 14, Chivas USA overpaid spectacularly to acquire utility man Gabriel Farfan from the Philadelphia Union, giving up allocation money and their first-round draft pick in next year's MLS SuperDraft, which is likely to be the No. 1 selection.

This approach led to concern in some quarters that Chivas USA, and by extension MLS, would be sued. But in terms of their roster, Chivas USA always had an ample amount of cover. All player contracts are owned by the league, and because the players Chivas USA got rid of found employment with other teams, a charge of discrimination would have been nearly impossible to prove.

Yet if the policy has seeped into the hiring of youth coaches, the club is on much shakier ground. Because of the pending litigation, neither Chivas USA nor MLS would comment for this story. Chivas released a statement in English and Spanish addressing the suit, but the versions differed significantly. The Spanish version stated that the club stands against discrimination based on, among other things, culture, language, ethnicity or nationality. The English version made no mention of these traits.

Regardless, what has transpired with regard to Calichman and Chronopoulos is a stain on the club and, by extension, the league.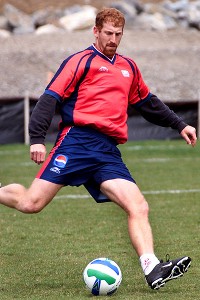 Barry Chin/The Boston Globe/Getty ImagesDan Calichman, seen in a 2000 photo as a member of the New England Revolution, was fired as coach of Chivas USA's U-18 team in March.
"Ever since I was young, [I was taught that] you're judged on your merits, and that's what things should be based on," Calichman said. "Yeah, it blows my mind that, because I'm not Mexican or Latino, all of a sudden I'm out of a job with no concern for what I've accomplished or what I've done."

The winding path to Chivas USA

The irony is that Calichman and Chronopoulos ended up at Chivas USA by happenstance. The two first crossed paths in 1999 when they were teammates with the New England Revolution. They reconnected when the U.S. Soccer Federation's Development Academy was just getting off the ground in 2007 and they were both coaches with Los Angeles-based LAFC. In an effort to make the Development Academy teams of LAFC fully funded, the New York Cosmos were taken on as an investor and the teams were rebranded Cosmos Academy West.

But just three months later, the funding dried up. In his role as director of coaching, Chronopoulos approached Chivas USA to see whether they would be willing to incorporate his teams into the club, even though Chivas USA already had academy teams competing in the same division. In August 2011, Chivas decided to bring Chronopoulos' outfit into the fold. In the process, Chronopoulos replaced Sacha van der Most as the club's director of coaching.

"The product that was at Chivas USA prior [to Chronopoulos'] arrival was inferior to what Teddy brought to the table," said Barry Ritson, the executive director of coaching at L.A. Premier, who coached under Chronopoulos at Cosmos Academy West. "That's not a slant on Sacha, but Chivas USA made a conscious decision to replace Sacha with Teddy Chronopoulos. In doing that, they acquired some fantastic young players."

In the process, the reputation of Chivas USA's academy grew. For the 2011-12 season, the USSF graded each of the 77 Development Academy clubs in terms of style, training, expenses, respect and administration. According to statistics compiled by TopDrawerSoccer.com, Chivas USA were tied for the fourth-best program in the Development Academy.

"The professionalism of what Teddy brings is evident in the U.S. Soccer Federation evaluations of the academy," Ritson said. "It's ridiculous. They are the highest-ranked academy in Southern California by a long way. That's the work of Teddy Chronopoulos."

As for Calichman, Ritson coached alongside the former U.S. international in his time at LAFC and holds him in high regard.

"From a reputation standpoint and from a character and integrity standpoint, [Calichman] was viewed as a top professional," Ritson said. "He's a hardworking family man who loves the kids and is passionate about the game. He wants things to be done in the right way in terms of the coaching and the integrity of the environment."

Now Chronopoulos and Calichman can only look on from afar at what they helped build. Adding to the long list of incongruities, van der Most is back in charge of Chivas USA's academy.

The case

So how strong a case do Calichman and Chronopoulos have? That depends on whom you ask. Since Calichman was fired, he has been replaced by Fox Soccer Channel analyst Keith Costigan as Chivas USA's U-18 coach. Costigan is Irish, which would seem to undercut the argument that ethnicity was the basis for the firings.

"If Chivas USA is all Mexican, [the plaintiffs] have got a great case," said ESPN.com legal analyst Lester Munson. "If [Chivas USA] start hiring an Irish guy, that hurts them, there's no question."

Gregory Helmer, one of the attorneys for Calichman and Chronopoulos, countered that it doesn't matter what Chivas USA did after the firings. What's important is what the two coaches were told by David about the club's desire to return to its Mexican roots.

"In employment law parlance, that represents direct evidence of discriminatory intent," Helmer said. "I don't care who the employer is. If they call an employee into a meeting and announce that they are to be disciplined and fired and they are told it's because the company is going back to its ethnic roots or cultural roots or racial roots and that employee doesn't fit in with that design, then that is direct evidence of a discriminatory animus. We know why Mr. Calichman was fired."

Then there is the issue of language and whether that can be used as a requirement of employment. Calichman indicated that the players he coached all spoke English, so the issue of language never came up. Helmer contends that the argument is a nonstarter.

"Chivas USA would have to show that language is essential, absolutely necessary," he said. "This is a club that has been in existence since [2005]. Perhaps they haven't had the success they'd like to enjoy, but that's not because someone speaks Spanish or they don't. You just have to look at their neighbors, the L.A. Galaxy, who have players from diverse backgrounds and no language requirements at all, and they've gone on to great success."

Where the case appears to be strongest is with regards to retaliation. The fact that Calichman and Chronopoulos both made claims of harassment can be corroborated, as can the fact that they were fired after doing so.

"Discrimination cases are always 50-50 -- he said, he said -- you never know how they're going to come out," Munson said. "But retaliatory discharge is always a good position to be in. If there's a jury trial, jurors tend to be sympathetic to somebody who has been fired for asserting a legal right, for writing the letter or asking about the investigation before they got fired in March. That's the kind of [argument] that a jury would be willing to consider and maybe make a nice award of damages. Just a simple discrimination case, I don't think so. But coming back after them, that puts [Chivas USA] in a different category. That just makes them look like a nasty kind of bully."


---

More on racism in football
• Issue demands sport's attention
• Racist tag weighs heavy on Zenit
• Roundtable: The front lines of racism
• Level playing field for managers in the Prem?
• Behind the alleged discrimination at Chivas USA
• An American perspective
• Not-so-beautiful side of Brazilian football
• Video: Racism in football
• Managers and the issue of race
• Video: Altidore copes
• Chivas cling to national identity


---
The likely outcome

Munson contends that, nine times out of 10, these kinds of cases are settled, with the plaintiffs getting a sizable payout accompanied by a confidentiality clause to keep the details secret. In the coming months, the key players will give their side of the story and evidence will be gathered. At that point, settlement negotiations likely will begin. The process could be long, however. Munson said the whole process could take as long as three years.

That prospect doesn't deter Calichman at all.

"This is principle," he said. "This is a wrong that was committed, and I feel strongly about this. I feel like we're making a statement and telling a story that needs to be told. I will go with it and tell everyone until the day that it's over. If it lasts three years, it lasts three years. This is a wrong. There's no place for this kind of discriminatory behavior in MLS.

"Let's not forget, I love MLS. Teddy and I gave good years of ourselves to MLS, and I think we were wonderful ambassadors. L.A. deserves better than this, I feel. There's just no place for it. I will go on as long as it goes."

Jeff Carlisle is a columnist and reporter for ESPNFC.