Impact, Revs make statements with big wins
MLS in Week 14 brought with it a pair of what might rightly be called "statement games."

-- Power Rankings, Week 14

Statement games help us get a handle on just how good (or possible, not good) a team is when questions over its credentials arise. Being in first place a third of the way through the season might not mean much if most of the points collected came against the league's bottom half, or the style of play employed to get to that standing fails to convince. Perception that a team is "overachieving," or that its success is down to a bit too much "luck" makes statement games the best way to judge whether a team is a legitimate contender for postseason glory, or a counterfeit operation bound to flame out when the competition gets fierce.

The "statement game" equation goes something like this:

Team-of-questionable-credentials-despite-good-league-standing (Team A) vs. Good-team-everyone-recognizes-as-good (Team B)

If Team A beats Team B, particularly on the road or by overcoming a special extra bit of adversity, then we have a "statement game."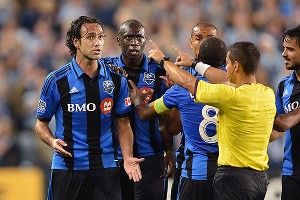 Peter G. Aiken/Getty ImagesAlessandro Nesta's decision to head butt against Sporting Kansas City may be questionable, but the scrappy Impact's quality is not.
Montreal shouldn't really be questioned this far into the season and leading the league in PPG as they are, yet their win over Sporting Kansas City still had an edge of "something to prove" about it. The game itself was a rough, physical affair featuring the dismissal of Montreal head coach Marco Schallibaum just before halftime for arguing a penalty committed by Alessandro Nesta, a red card issued to Nesta for a head butt and the general type of fight and scratch that is a hallmark of both teams. The Impact scored twice in the second half, playing toe-to-toe with Sporting the whole way, to escape with three points and further validation of their first place credentials.

Montreal's last trip to Kansas City ended in a 2-0 defeat that left the Eastern Conference -- regardless of the standings -- still the presumed dominion of the preseason favorite, Sporting. This time around (noting that Sporting was missing two of their first 11 in Matt Besler and Graham Zusi), Montreal declared to the rest of the league that they're in the battle for the long haul.

Or until their aging roster breaks down, whichever comes first. It was certainly a statement, even if there's still a little room to doubt.

It's almost impossible to make a bigger statement than a five-goal thrashing of the two-time defending champions, no matter where it happens. So yes, the Revolution took down the Galaxy on their (artificial) turf at Gillette Stadium, and yes, the Galaxy played without Robbie Keane and Omar Gonzalez; nevertheless, the Revolution's dismantling of the Galaxy and its defense makes a loud statement about New England's talent.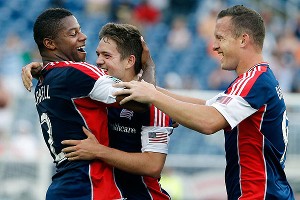 David Butler II/USA TODAY SportsThe Revs didn't start the season strong, but their current play should scare anyone in MLS.
It took a few months for the roster to gel, but now that it has, Jay Heaps has a team that should scare anyone, from the defending champs on down. The reversal in fortunes in New England is nothing short of stunning, capped to this point by Sunday's win: Through their first 10 games, the Revolution scored a total of six goals. During their current three-game winning streak, they've scored nine.

The Revolution's statement comes with plenty of caveats. Unlike Montreal, the Revolution haven't won much previous to this recent run. Some of their success is down to the emergence of 18-year old Diego Fagundez, a talented player who might be subject to inconsistency based on his youth. An injury or two -- like to striker Saer Sene, who is just back in the starting lineup after missing most of the season -- could halt their momentum. The Revs' attack, perhaps more than most, seems to be delicately balanced and prone to breaking down. Three wins in a row is a good start.

The win over L.A. is a statement that the Revolution can play good soccer. For any further conclusions, they'll need to keep up their winning ways and take the next opportunity to make a statement.