U.S. Notebook: Kljestan back in?
Ever since Jurgen Klinsmann was named U.S. men's national team manager, midfielder Sacha Kljestan has been forced to play a waiting game.

It seemed that no matter how well he played for club side Anderlecht, he was always an afterthought to the U.S. boss. Yet Kljestan is back on the squad, and with the likes of Landon Donovan and Brek Shea unavailable, there is a real chance that he could see some minutes Friday.

"I don't think there's anybody more ready or willing to make a statement than myself," Kljestan said. "If I get a chance, I'll make a difference and I'll help the team."

Kljestan has long been a versatile player, capable of manning any of the midfield positions. His experience from the previous qualifying cycle will have him well prepared. As for the waiting, Kljestan said it has been difficult at times -- in the past, he has tweeted his displeasure at not being selected -- but it provided him with some valuable perspective.

"After being disappointed the first few times, I thought, 'If I'm not part of [Klinsmann's] plans, then I'm not part of his plans,'" Kljestan said. "I've played 35 times for my country, and that's a hell of a lot more than many people can say. ... If that was my last one [against Italy], then so be it. I'm not going to cry and be sad about my career. I'm still proud of my career. But hopefully I've got a lot more games to go with the national team."

Boca sees progress, maturity in Johnson: Whenever the U.S. national team gets together, it can sometimes feel like a class reunion. This is especially true when then there is a long gap between appearances for a player.

Carlos Bocanegra and Eddie Johnson were teammates when the two players were on the books of EPL side Fulham in 2008. Bocanegra said he has seen clear signs of progress in Johnson's game since those days at Craven Cottage.

"He's a more well-rounded player," said Bocanegra of Johnson. "I think when he was over in Europe and with [Fulham], he was an out-and-out striker. 'I just score goals. I just score goals,' and that's it. You want that from a striker, but sometimes on this team, you need the striker to chase defenders down as an attacker and get in a better spot defensively to be the first line of defense for the team.

"You can see he's matured a little bit as a player, and you can see in the trainings, a few of his runs and running along the line and his timing, it looked good. ... A few things like that I saw were different. The old Eddie was just scoring."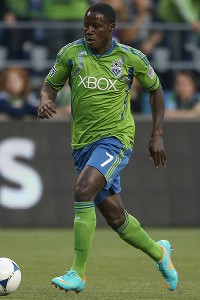 Otto Greule Jr/Getty ImagesCarlos Bocanegra has seen plenty of improvement in Eddie Johnson since their days together at Fulham. Can Johnson now help the USMNT in World Cup qualifying?
Cameron happy to be Stoke's Swiss Army knife: Versatility is one of those traits that is always prized by coaches but can still be something of a curse for a player. The upside is that playing different positions can be a great way to earn a coach's trust. The downside is that the player never makes one position his own, and when an injured or suspended colleague returns, its back to the bench for Mr. Versatility.

So far in Geoff Cameron's maiden EPL voyage, he has already lined up at center back, center midfield and right back. Yet the former Houston Dynamo defender -- or was it midfielder? -- is thinking of the advantages.

"It's given me an opportunity to look at it from a different perspective," he said of his time spent on the flank. "Playing right back has helped me as a center back. Maybe there's a situation in a game where I'm telling [the right back] to go, and he doesn't go. Then I can realize, 'Oh, this is the situation,' because I've been there before."

For the moment, Cameron's ability to adapt is keeping him on the field.

"I'm playing, I'm fit, and that's the way I want to keep it," he said.

MB's adaptation: Michael Bradley's qualities are numerous, but among the more underrated aspects is his ability to adapt to new surroundings. It's a trait that covers so many areas: picking up a new language, assimilating to a new culture and adjusting to different styles of play. He started in the Dutch league with Heerenveen, moved to Germany with Borussia Moenchengladbach and, after a disappointment with Aston Villa, revived his career in Italy, first with Chievo Verona and now with Roma.

Given how many clubs and countries Bradley has been to, does the process ever get easier?

"In a perfect world, would you be able to play for one team your entire career, be a guy who grows up in a place and plays your entire career for one club? You would," Bradley said. "Unfortunately for us as Americans, that's not real possible at the moment. So your goal is to play at the highest level and get to the top and the best clubs. You're trying to move yourself up the ladder, trying to take every opportunity that comes your way.

"The part about switching teams is a challenge. You try to prove to everybody as soon as possible that you're a guy who is going to be a big important player for that club. There's no telling how long that takes. It can happen right away. It can take a few weeks, months. It could take a season or two. But like I said, I'm committed to doing that.

"The opportunity now at Roma now is a great one. It's a massive club. Great support, great tradition. I'm determined to show, to prove to everybody that I can be a big player there."