Klinsmann playing catch-up with old friend Low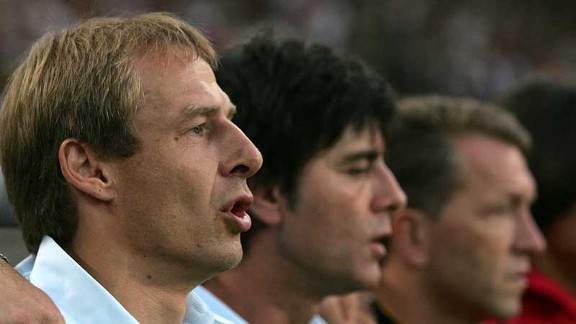 PA PhotosJurgen Klinsmann and Joachim Low put the emphasis to attack when taking charge of the German national team
WASHINGTON -- In 2004, Jurgen Klinsmann tabbed Joachim Low to be his No. 1 assistant with Germany's national team, and together the two helped begin a transformation of the side.

Nine years later, the coaches find themselves in very different places.

Low is in charge of a rampant Germany team, and Klinsmann is attempting another makeover, this time with the U.S. national team.

-Press pass video: Germany awaits USMNT
-Rummenigge: Germany can win World Cup

Yet with the sides set to square off at RFK Stadium on Sunday (2 p.m. ET, ESPN2/ESPN3/WatchESPN), it's also clear that a very different kind of transformation has taken place with regard to both coaches.

Low is highly regarded, and were it not for the unquestioned brilliance of Spain, he might very well have led Die Mannschaft to more trophies. Meanwhile, Klinsmann has seen his reputation take some hits. His stint with Bayern Munich was widely criticized, and his tenure with the U.S. has been strewn with potholes, with the promise of more attacking verve yet to materialize.

It makes for an interesting contrast, yet when asked to explain these diverging fortunes, Low instead offered a spirited defense of his one-time boss.

"[Klinsmann] will do what he had done; introducing new ideas, fresh ideas, and fresh approaches to the game," Low said Saturday. "Having been world champion, European champion, he's been privileged to train with various coaches -- Luis Cesar Menotti, Arsene Wenger -- and he was a coach himself with the German national team and with Bayern Munich.

"So he has accumulated a wealth of experience and know-how. Couple this with the courage to effect change and introduce a lot of new ideas that will do U.S. soccer a lot of good in the future."

The coaches remain close friends. They even managed to spend time together Friday night at the U.S. hotel, swapping stories about Klinsmann's life in the U.S., the state of MLS and the good times the two shared with Germany.

Yet none of that can obscure the fact that U.S. progress has been slow to materialize. The tough 4-2 defeat Wednesday against Belgium only reinforced this notion, even as Klinsmann is well aware of the realities facing his team.

"What we're trying to do is we're trying to raise the bar, one step at a time," he said Saturday. "Sometimes it's two steps backwards but then hopefully three in the right direction. It's very different [to Germany] and you shouldn't compare it. I'm very happy and proud of that work.

"It's a development that comes with some hiccups. I think we have a way to go, as I've always said, to catch up with the top ten, the top 12 in the world. But everybody's willing to put enough hard work in there and everybody's willing in the country to make a lot of changes, and hopefully we get where we all want to get to. I think we're on a good path."

A good performance against Germany, even in a loss, will provide some tangible proof. The same is true of the three upcoming World Cup qualifiers. And while much concern remains about the team's attack, getting the defense on track remains priority No. 1 on Sunday. The loss to Belgium included a timid defensive effort that will need to change Sunday. Otherwise, another heavy defeat is in the offing.

"We definitely have to be far more compact, far more connected, closer to the players on the field to not allow them to play penetrating balls, not allowing them to calmly build up their game, switching sides too quickly," said Klinsmann. "On many occasions we were just too far away from the ball, from certain players from Belgium."

To that end, the U.S. has spent plenty of time poring over video to take stock of their mistakes. Ever the optimist, Klinsmann also showed the team video of the Costa Rica win and draw at Mexico in bid to remind the team that the task is doable.

"We were right on their toes," he said. "We didn't allow them to build up their game. We denied all the penetrating balls, the vertical balls that you don't want to see. The bottom line is we need to become more consistent. We need to become more consistent in our performances. We can do it if we're all right there, if we're sharp in our minds."

To that end, it appears Klinsmann will alter his back line. If Saturday's open practice is anything to go by, it looks as if the U.S. will trot out a back four of DaMarcus Beasley, Matt Besler, Omar Gonzalez, and Brad Evans.

The reuniting of Besler and Gonzales makes some sense given the success the two have had in the past. The wild card, of course, is Evans, who has only played in the position sporadically at club level and with the U.S. side. It leaves one to wonder if Geoff Cameron's days as an outside back -- at least at the international level -- are on the wane. It also raises questions as to where Michael Parkhurst fits into Klinsmann's plans.

With three critical qualifiers coming up, the time for experiments has long since passed, but putting Evans at right back would seem to qualify as such.

Of course, all that matters is that the end product improves. If Klinsmann can accomplish that against a quality side, then perhaps his change in fortune as it relates to his former protégé will begin to swing back in the other direction.

Notes

-German forward Miroslav Klose is on the verge of an impressive record. He needs to score just one more goal to equal Gerd Mueller's record of 86 with Die Mannschaft. Klose called the possibility of equaling Mueller a "fantastic feat." Low was a tad more expansive.

"Muller's (record), it seemed unbreakable for 40 years," he said. "The truth is, it's never really been an issue for the national team. We don't really go for these statistics. I don't think that's true for Miro. Having said that, of course it will be extremely nice, extremely pleasant for him to achieve that on a personal level. If you look at his overall record for the national team, that is admirable enough. ... I think sooner or later he will break the record because he's got many more matches in him."

-Another change Klinsmann looks set to make is the inclusion of Fabian Johnson at left midfield. Johnson has spent the vast majority of his time in a U.S. shirt playing left back, but with Beasley showing well there in recent matches, and with the U.S. attack struggling, Johnson looks set to move closer to the opposition goal.

It's a move that the Hoffenheim man welcomes, especially since he has been playing there at club level the latter weeks of the German season. "Midfield just makes it fun to play offense and try to score ... everyone wants to score a goal, or at least try it," he said. Johnson is also looking forward to partnering with Beasley on the left side. "If he goes forward I can defend, and the other way around," he said. "It will be a good opportunity for us.

-It looks as if one player who won't be available against Germany is forward Herculez Gomez. The Santos Laguna forward spent most of Saturday's session sitting on the sideline with an ice pack on his knee. That likely means another opportunity for Jozy Altidore, who reportedly departed the Belgium match at halftime because he was not feeling well. The only other player not to participate in the full practice was defender Edgar Castillo, who was reduced to running on the side after playing 90 minutes for club side Tijuana in its Copa Libertadores defeat to Club Atletico Mineiro on Wednesday.