Grades: U.S labors vs. better Belgium
The U.S. men's national team was given a soccer lesson against Belgium on Wednesday night, falling to the Red Devils 4-2 and showing few signs that it's ready for the World Cup qualifying road ahead.

A second-half double from substitute Christian Benteke and a header from Marouane Fellaini staked Belgium to a 4-1 lead after Kevin Mirallas and U.S. defender Geoff Cameron traded first-half goals. Clint Dempsey then finished off the scoring with a late penalty.

The two goals were the most the U.S. had scored in a match this calendar year, but U.S. manager Jurgen Klinsmann will take little solace in that statistic. Rather he'll be highly aggravated at the individual errors that plagued the Americans' defense. Three of the four goals could be chalked up to poor defending, evident on a night when DaMarcus Beasley was one of the better U.S. players. The rest of the back line seemed slow to react and made the kind of poor decisions that will be punished just as much by CONCACAF opposition as they were by Belgium.

Bennett: What we learned
Video: U.S. vs. Germany preview
Video: Defensive struggles
Report: U.S. struggles vs. Belgium

The fact that the U.S. was missing the likes of Michael Bradley and Fabian Johnson will provide the team a smidgen of comfort. Bradley's tenacity in midfield will be especially welcome, although Jermaine Jones enjoyed a solid match.

The U.S. faces Germany in four days time. In the interim, Klinsmann's squad can expect to spend plenty of time on the practice field working on the defensive side of the game.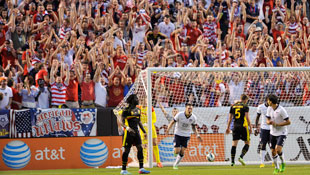 David Richard/USA TODAY SportsGeoff Cameron did score for the U.S. but didn't show enough on defense in a losing effort.
Player ratings: (1-10; 10=best)

G -- Tim Howard, 7: Received little help on the goal but was otherwise solid in his handling and decision-making. Produced an outstanding save from Romulu Lukaku that he touched around the post.

D -- DaMarcus Beasley, 6.5: Beasley celebrated his 100th cap in style, getting forward at times and defending capably -- especially in his duels with Lukaku. He was beaten on Benteke's second, but overall he was a bright spot on the night.

D -- Clarence Goodson, 4.5: Connected his passes well but wasn't always on the same page with Beasley and Gonzalez. His ill-advised step set the stage for Mirallas' opener.

D -- Omar Gonzalez, 3.5: Was culpable on two goals, as he was slow to react on the first and had a poor touch to De Bruyne set up Benteke. It's absolutely critical that the peaks and valleys in his game be smoothed out.

D -- Geoff Cameron, 4: On a night when he scored his first international goal, his defending left much to be desired. Like Gonzalez, he was slow to react on the first goal and didn't look comfortable at all in his one-on-one defending.

M -- Brad Davis, 5: Had a telling cross early, but was otherwise far too quiet. Overall it wasn't the kind of performance to move him above the other wide midfield options.

M -- Jermaine Jones, 7: Jones was very impressive in a holding role, whether it was with his distribution or his tackling. Failed to pressure the ball on Benteke's second goal, but would still like to see him in that spot again, even when Bradley returns. Grabbed his customary yellow card late.

M -- Sacha Kljestan, 5.5: Didn't play badly and proved capable of playing the simple ball, but was unable to deliver the kind of telling passes needed to unlock Belgium's defense. Left Jones to fend for himself defensively a bit too often.

M -- Graham Zusi, 5: Started the match strong by delivering an excellent cross for Cameron's goal and then did some stellar work on the defensive side of the ball. That said, he faded late in the match and was outmuscled by Fellaini for Belgium's third goal.

F -- Clint Dempsey, 5.5: Took his penalty well and set the table for Altidore early with a fantastic cross. Provided his usual stellar work rate, but was largely held in check by Belgium's defense.

F -- Jozy Altidore, 4: During the first 25 minutes, Altidore couldn't complain about a lack of service but too often his touch let him down. Then he began to retreat to the wings instead of staying central. He couldn't really complain about getting pulled at halftime.

Subs:
G -- Brad Guzan, 5: Was left badly exposed by the U.S. defense but still didn't look as secure in his handling as he had in past games.

F -- Eddie Johnson, 6: Won a dubious penalty, but more importantly took up some aggressive attacking positions. He provided a spark.

F -- Terrence Boyd, 4: Failed to clear the corner that led to the third goal and added little to the attack.

M -- Brad Evans, 5.5: Brought some good energy to the midfield and nearly latched on to a Johnson cross late.

D -- Matt Besler, 4: Didn't fare much better than his fellow centerbacks as he was beaten on a long ball for Benteke' second and took a bad angle on another attempt. Fortunate not to get whistled for a penalty.

M -- Stuart Holden, NR: Just seeing Holden take the field was a welcome sight after his long injury layoff.