Roundtable: The front lines of racism
These days, it seems soccer-related racist incidents pop up with depressing regularity. From John Terry to Luis Suarez to the racist abuse suffered by U.S. international Jozy Altidore as well as AC Milan midfielder Kevin-Prince Boateng, the topic always seems to be on low simmer only to eventually boil over into something more overt.

The reality, of course, is that much like society in general, racism has long been a scourge on the game of soccer. So ESPNFC.com sat down with a cross section of past and present players to see what their experiences have been, how they dealt with racist incidents and whether they feel the fight against racism in the world of soccer is succeeding and what else can be done.

The group includes former St. Pauli, Feyenoord and Chicago Fire defender Cory Gibbs, former Hertha Berlin, Nuremburg and D.C. United midfielder Tony Sanneh, Colorado Rapids forward Edson Buddle (formerly of 2. Bundesliga side Ingolstadt), Seattle Sounders defender Djimi Traore (formerly of Liverpool, Portsmouth, Monaco and others) and current AZ Alkmaar forward Jozy Altidore (formerly of the New York Red Bulls, Villareal, Hull City and Bursaspor).

Recalling incidents of racist abuse

Gibbs: The most racism that I have encountered was my first two years in Germany with FC St. Pauli. It was mostly when we were playing in [the former] East Germany; Cottbus, Rostock and those type of areas. It was pretty bad, it got out of control; monkey noises, throwing banana peels, all that good stuff while we were playing. A lot of African players that we had on our team really weren't that affected by it, to be honest. It kind of affected me, coming from the U.S., and I was just out of college. You're experiencing stuff that you'd only seen in movies. You witness it firsthand.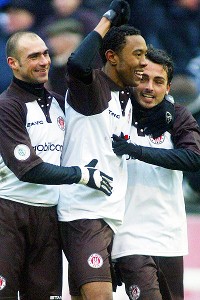 Moritz Winde/Bongarts/Getty ImagesFresh out of college, Cory Gibbs admitted to being affected by racist chants in the old East Germany during his time at St. Pauli.
To be honest with you, it hits me clear as day when I think about Cottbus. It's such a tight, tight stadium. You'd walk in and you just felt the tension, and the racism. ... When you walk out of the tunnel, the fans are so close where it throws you off, it honestly does. It hits you before the game even starts. It's one of those things where I didn't let it get to me too hard. It shocked me, but I was able to brush it off right away and do what I had to do. I'd just refocus and think about what I had to do. Then after the game, you're like, "Man, did that just really happen?"

Buddle: I was warming up in Munich, we were playing 1860 Munich, and a bunch of fans were making the monkey noises. I thought it was funny at first, but then I put two and two together. For me, I don't take it that personally. It was kind of surprising, though. I thought I would hear that in a smaller city in Germany, but it was actually in Munich.

Traore: I think it was when we went to Russia with Liverpool, in the Champions League, something like that. I started the game, and during the 90 minutes, [the abuse] was nonstop. At the end of the day, we won, I played well, but to be honest, it's not a nice experience to play that kind of game. Back then I was able to handle it, but some young players it can turn their head. But at that time, the manager and the players around me helped me a lot. That makes a difference.

Altidore: [The monkey noises at Den Bosch] were just really surprising, and a bit disappointing, because I've had a good stay in Holland, I haven't had any problems with anybody. It was definitely tough to swallow in a sense because it was surprising and most everyone has been so nice, so it definitely was disappointing.

Video: Jozy: 'I had to be the bigger man'

At first, I think I was a little bit just surprised, I really didn't want to believe it. And then there was a time where it was just clear that it was intended for me.

Sanneh: The first time I heard racist chanting was when [Hertha] were playing Rostock at home. They had this one really dark-skinned Nigerian, who was pretty much their best player as well, and it was just really disheartening because our whole stadium got into it. You kind of thought, 'This is what they think of me as well.' Although they might be cheering for me, you knew they didn't really support you as a human being. That was hard to hear at home.

A hard part for me in Nuremburg was there was definitely a neo-Nazi section there still. It was very much around. In Nuremburg, I had a long injury and I came back, and after not playing for a full year it was kind of like a big deal for me. What helped my recovery was when I first went on after not playing for a year, the neo-Nazis really started to boo me when I came in and I had overcome a major injury. Then I chased down a player on the other team and the rest of the stadium went above and beyond the normal applause. This was their chance to show their appreciation and that they weren't with [the neo-Nazis]. They talked about it a lot in Nuremburg; that sprint. It was a special moment for me because it also showed that it was the minority, not the majority that are making the bad noises. There are people here that support you and the club.

To confront, or not to confront

Buddle: [In Munich], I just stopped what I was doing, looked over, and smiled. Once I did that, they stopped. They were a bunch of kids, teenagers. It was quick, it wasn't like they were doing it for a long time. It wasn't like it was a whole sideline of fans. It was just a handful of kids.

I was kind of prepared for it mentally. My dad told me certain players would say certain things to throw you off, so I was mentally prepared for it, as well as the monkey chants. I was prepared for it in my head. I want to win personally, so I'm not going to let that mess me up.

Sanneh: At away stadiums I've had situations where I reacted to it. One time they were making monkey noises and I just turned to the fans and I was like, "You tried to take over the world once because you thought you were better than everybody else, and you failed. You were so stupid you tried it again. Now you're making fun of me because you still think it. Heil Hitler." That quieted them up. In Germany there's a certain shame still within the generation of being associated with [Nazism]. But it's actually illegal to say that.

It was a small stadium. You're warming up, it's very intimate, and they're right there. There was a group that was giggling and making monkey noises every time I ran by. After a while it was like, 'OK, I'm going to say something.' After that the whole section was quiet.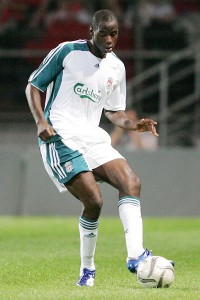 Alexander Heimann/Bongarts/Getty ImagesAt Liverpool, Djimi Traore relied on the support of his managers and teammates to weather racism on the pitch.
Traore: No, I never reacted. For me, if you start to notice, if you talk to them, you make them more important. Ignore them, just play your normal football and keep your focus. And sometimes it gives me more hunger, you want to play well.

Racism off the field

Gibbs: We were about to enter a nightclub in Hamburg [home of St. Pauli], and they're like, 'No, no, you can't go in.' It's one of those things that really struck me. That shocked me more than on the pitch to be honest with you. My money is as good as anybody else's but because of my skin color I can't get in. It just really struck me. You know why? It's because you're in the city and you drive by the nightclub and that's the first thing you remember. The people that did that to you, you see them, and you think, "Yeah, that really did happen."

We were out with teammates. It's funny because it was, "You can go in, but the rest of your friends can't come in." It's one of those where you go, "What?" It really sticks with you.

Sanneh: In Germany the laws are different. You can pull people over for any reason. I'd see police following me in my Mercedes, and I'd pull into a grocery store just to joke around with them and do laps in parking lots and watch the cops follow us around. Finally I'd get upset, pull over and get out of my car and ask, "What's going on?" Their excuse would be, "You guys look kind of young driving such a nice car." I'd be like, "Do you mean young and black or just young?"

Is racism declining? Is the climate getting better for players?

Traore: I think it's getting better, but sometimes you can hear some racist things, like with Mario Balotelli back in Italy. I think it was hard for him. He can be booed, he can hear racist comments. I don't know if he'll stay in Italy long. I think he'll go back to England.


---


More on racism in football
• Issue demands sport's attention
• Racist tag weighs heavy on Zenit
• Roundtable: The front lines of racism
• Level playing field for managers in the Prem?
• Behind the alleged discrimination at Chivas USA
• An American perspective
• Not-so-beautiful side of Brazilian football
• Video: Racism in football
• Managers and the issue of race
• Video: Altidore copes
• Chivas cling to national identity


---
Altidore: It's hard to say, but I do think it's getting better. I think we just have to do a better job educating people. [Note: Altidore is on FIFA's Anti-Racism Task Force.] And we can do that through FIFA because soccer is the world's game. I think people live and breathe soccer, so it's another way you can educate people. If we can push the issue more, I think that will help. I think FIFA needs to educate people as to what racism is about, and how to kill it.

Sanneh: I think it's on the way to getting better, and I think it's really because of social media and the use of technology. When things happen, it used to be me calling back home telling someone, who then told other people. Now, it happens, it's reported, and everyone on the world hears it. [FIFA] has to pay more attention to it because it's out there and it makes them more accountable.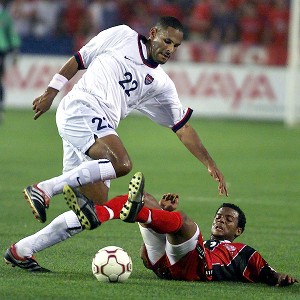 Jim Davis/The Boston Globe via Getty ImagesTony Sanneh, who played professionally in Germany, believes the immediacy of social media will have a role in curbing racism in soccer.
I know at Hertha Berlin, it was an old club and a portion of the crowd was from, say, the old Germany. The club came out and made a public statement that this was something they didn't want; no neo-Nazis in their fan base. They wanted to promote the club and soccer, and that voice came through louder, and the demographic of the spectator changed a little bit.

What steps should FIFA take? Should FIFA force teams to play behind closed doors and dock them points?

Altidore: Unfortunately [bans for fans, players and coaches] is a step we have to take. I don't think anyone wants to see that happen. We want stadiums to be full, fans to be passionate, and for the sporting event to be healthy and for everyone to enjoy themselves. But with the realities we have today, that's not the case. We still have people who are making the experience bad for everybody else, so if these are the actions that FIFA has to take to clean the game up, then so be it.

Traore: I think you have to ban fans in stadiums, because at the end of the day, they come to support their team. If you take that from them, I think they will start to understand and change their minds. But of course, it's not easy to change the minds of some people. It's always two or three who start to make some [racist] noise, and they don't know what it means.

Sanneh: It's kind of like other countries not being civil, and we stop doing business with them for that reason. Why should we force people to go play somewhere? If their ownership can't control the crowd, put them in the second division and see what happens. It's the professional leagues that are supposed to be the best leagues in the world, and they represent the cities and the towns. They should be held to the highest standard.

Jeff Carlisle is a columnist and reporter for ESPNFC.