U.S. finds itself short-handed against Antigua & Barbuda
ST. JOHN'S, Antigua & Barbuda -- When the U.S. began its World Cup qualifying odyssey in June, it must have looked at its penultimate semifinal-round fixture against tiny Antigua & Barbuda as a chance to pick up three easy points. Now the match looks like nothing of the sort.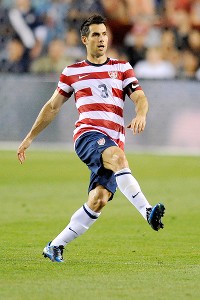 AP Photo/Nick WassBecause of injuries to the defense, we will probably see captain Carlos Bocanegra slide out to left back, while Clarence Goodson will partner Geoff Cameron in the center of defense.
To be sure, the U.S. remains heavy favorites to prevail, setting up a possible group-clinching match in Kansas City on Tuesday against Guatemala. But what was thought to be a stroll is fraught with more tension than anyone could have imagined. The Americans find themselves in a three-way tie for first place with Guatemala and Jamaica, and while a win against A&B isn't necessarily a must, practically speaking it is since victory would avoid dragging the U.S. into a do-or-die scenario against the Guatemalans.

For that reason, the U.S. would no doubt prefer to head into the match with a full complement of players. Instead, the Americans find themselves short-handed in both attack and defense. Midfielders Landon Donovan and Brek Shea were deemed too injured to play and were sent back to their clubs from the team's training base in Miami. Both left backs are also out, with presumed starter Fabian Johnson struck by the flu and Edgar Castillo sidelined by a foot injury. Johnson was sent ahead to Kansas City in the hope he will recover for Tuesday, while Castillo returned to club side Tijuana.

Granted, the U.S. has the type of depth to overcome a team like A&B, but given the stakes involved, as well as the fact that A&B have proved to be very tough to beat during this round of qualifying, the circumstances are certainly less than ideal. But U.S. manager Jurgen Klinsmann insists the injuries have had little impact on his team's psyche.

"We want to have everybody on board, but at the same time we immediately move on because we do not have time to complain about [injuries or] anything," said Klinsmann. "We are here because we want to go to the World Cup, and this is about World Cup points. We don't have time now. We wish the guys that can't go our very best, and a speedy recovery. At the same time, we move into the very next training session and we are spot on. And within the team, the atmosphere, [the injuries have] pretty much no influence."

The absences, combined with the decision not to bring in any reinforcements, have opened Klinsmann up to criticism about his planning, or more precisely, the lack of it. But the U.S. manager said that his side has adequate cover in all positions.


"If it would be necessary at a certain point, we will [add players]," he said. "How we want to approach the game tomorrow night, we feel we are ready with the guys we have here. If there is anything necessary after the game, maybe something happens."

It's tempting to think that given how A&B bunkers in, and has little width in its attack, it really doesn't matter who Klinsmann opts to put back there. But this is no time for overconfidence, and the most likely scenario in the back will see captain Carlos Bocanegra sliding out to left back, while Clarence Goodson will partner Geoff Cameron in the center of defense. Out of the available candidates to play left back, Bocanegra has the most experience in the position, having played there at the 2010 World Cup. That said, Michael Parkhurst is another option, having made some appearances there this season for club side Nordsjaelland.

Up top, the pairing of Clint Dempsey with Herculez Gomez seems a near certainty. But in midfield, the options are more varied. Michael Bradley's return to the fold, after missing last month's twin qualifying encounters against Jamaica, is most welcome. His tenacity, consistency and experience -- not to mention incisive passing -- will all be needed to break down an A&B side that will likely spend most of the match defending.

"Having Michael in particular means a lot to us because he became one of the leaders of this team," said Klinsmann. "The way he developed over this last year … is wonderful to watch. Having him on board, already in the training sessions, the few ones we had, you see a difference with his personality, with his vision on the field and with his technical abilities."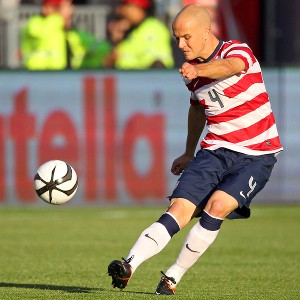 Tom Szczerbowski/Getty ImagesThe U.S. welcomes back the energy and incisive passing of Michael Bradley.
But where the Roma man will be stationed is an open question given the variety of roles he's excelled in during Klinsmann's tenure. Graham Zusi's performance in the home encounter against Jamaica warrants his inclusion on the right side of midfield, and Klinsmann has a choice to make between the experience of Jermaine Jones or the energy of Danny Williams. Out on the left, logic would dictate that Sacha Kljestan get a run out given his experience out wide during his MLS days and his fine form for club side Anderlecht. That would point to Bradley operating in the center of midfield, but Klinsmann has surprised before with some of his midfield choices.

Whatever Klinsmann decides, it's imperative that he gets the balance right in midfield. There have been matches where he strayed too far toward defense, causing the offense to sputter. In the last match against Jamaica, a greater emphasis on attack paid dividends, and the U.S. dominated.

The challenges don't end there, either. The Americans' likely edge in possession creates difficulties as well in terms of how the team defends, especially given A&B's speed on the break. The Benna Boys proved in the first match that they are capable of punishing the U.S. if the Americans lose concentration. That will put organization and discipline at a premium on both sides of the ball.

"We need to play a high tempo, we need to pressure them, but [be] smart," said Bocanegra. "If they make a few passes and break the pressure, then we need to get people behind the ball and not leave ourselves exposed one-on-one because we don't know what it's going to be like tomorrow. We see there's a bit of wind, the rain could become an element. We just need to make sure we are covered at the back."

In terms of stopping A&B's forays forward, the U.S. may have caught something of a break. The Benna Boys were already missing midfielder Mikele Leigertwood and defender Marvin McCoy to a thigh bruise and broken leg, respectively. But at A&B's final practice, forward Peter Byers, who scored the lone A&B goal in a 3-1 defeat to the U.S. last June, was working out on his own and didn't participate in the team's scrimmage. While manager Tom Curtis couldn't be reached for comment, it seems possible that Byers may not be able to play.

The state of the pitch at Sir Vivian Richards Stadium has also been a hot topic. The general consensus seems to be that the field is in much better condition than it was a few months ago, but being that the venue is used primarily for cricket, the area where the bowling occurs did appear to be chewed up. Time will tell how much the Americans' passing game will be impacted, but after its experience last month on a bumpy surface in Kingston, the U.S. should be able to cope.

"They are ready," said Klinsmann of his players. "They understand the stakes."