Vasquez making his mark on USMNT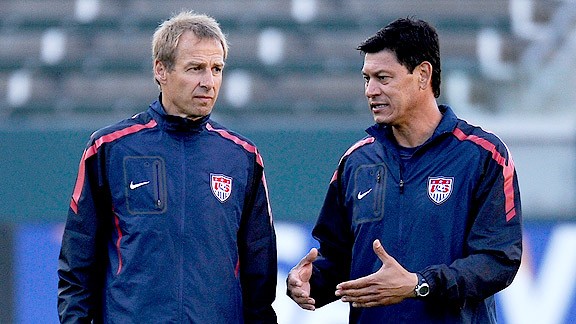 Kevork Djansezian/Getty Images
U.S. men's national team assistant coach Martin Vasquez is not an adversary you would want to face across the poker table. Jurgen Klinsmann's right-hand man has a quiet intensity that makes him almost impossible to read.

"Number twos" exist on a spectrum from "Dick Cheney power-behind-the-throne" types all the way through to punching bags à la Beaker in the Muppets. Where Vasquez fits within this range has been the subject of ongoing debate as the U.S. team warms up for the continuation of World Cup qualifying in the Hex, with two key friendly games against Belgium on Wednesday and Germany on Sunday.

According to ESPN broadcaster Alexi Lalas, "There's a perception about Jurgen Klinsmann -- which may be unfair -- that he needs a tactician taking care of the X's and O's behind the scenes." Vasquez maintains a humble profile and rarely talks to the media, and Lalas captures the air of mystery that cloaks him. "Martin is kind of an enigma -- he's shown up places that have made people sometimes scratch their heads as to how he got there and his connection to Jurgen means he's often going to be looked at in the context of [Klinsmann's assistant at Germany turned national manager] Jogi Loew."

- Video: Klinsmann looks ahead
- Carlisle: USMNT's lagging attack
- Hope for dynamic duo
- Don Garber's challenge

I sat down with Vasquez in Washington, D.C., last month to learn more about his career, vision and role within Klinsmann's ambitious change-management project. Although rarely interviewed, the Mexican-born coach is both charming and modest in person, a soft-spoken counterbalance to Klinsmann's kinetic enthusiasm and energy. As he articulates it, the 49-year-old's life story is a testament to the wonders of America in general and American soccer in particular -- a land in which Vasquez's signature values of loyalty, trustworthiness and hard work can make anything possible.

Vasquez was born in Yahualica, in central Mexico, and moved to Los Angeles when he was 12. It was there his father found work as a landscaper and on the railroads. As we sit down at a restaurant table, I ask if the young Martin Vasquez would ever have dreamed he could grow up to be the assistant coach of the U.S. national team. The very notion causes Vasquez to chuckle. "I'm Mexican-American," he says. "I was born in Mexico and came to this country when I was a boy. Everything I have done in my career as a coach and as a player was all about having an opportunity and taking advantage of it."

As a footballer, Vasquez was shaped on both sides of the border. A hard-running defensive midfielder, he became one of two players who represented both the U.S. and Mexico national teams during his 15-year professional career. Although he came of age in the American soccer system, the young Californian was skillful enough to be poached by Mexican league scouts, lining up for teams including Puebla and Atlas before ending his career with an all-star spell in MLS. "I played for two years behind Carlos Valderrama in Tampa Bay," he declares proudly. When I ask whether he did the Colombian's "dirty work," Vasquez's eyes twinkle. "That's why I retired early. I did the running both for him and for me, and it shortened my career."

Like so much in his life, the self-effacing Vasquez describes his decision to coach as one soaked in serendipity. With his playing career winding down, the midfielder chanced upon a coaching license course in the offseason. "I immediately discovered [coaching] offered a different kind of satisfaction and that being able to shape younger players with my experience and knowledge gave me immense pleasure."

The pleasure was a slow build as Vasquez returned to play one more year in MLS before beginning the transition, advancing through the maze of the American soccer system, coaching both boys and girls at youth and high school levels. "I was never obsessed with being a professional soccer coach," he says. "Doors just kept opening, maybe because of how I educated myself or how I trained. I don't know, but I think things happen for a reason."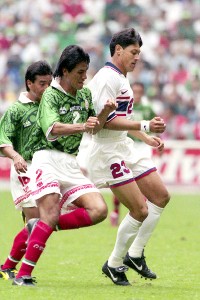 T. Quinn/WireImageMartin Vasquez has developed his coaching skills since retiring as a player in 1999.
If Vasquez sounds like a believer in fate, his first encounter with Jurgen Klinsmann -- in 2003 at an elite boys U16-17 Adidas soccer camp in Charlotte, N.C. -- smacks of kismet. Klinsmann was the camp's technical director, and although the relationship changed Vasquez's life, he describes it precisely in his signature no-thrills style. "We met. We talked about soccer. We talked about family," he remembers. "There was a chemistry ... a mutual respect, a friendship ... but I never thought that one day I was going to become assistant manager at Bayern Munich."

Klinsmann's influence was immediate, enabling his protégé to become an MLS assistant coach, first at L.A. Galaxy and then with rivals Chivas USA. Vasquez worked with a cluster of coaches including Thomas Rongen and Bob Bradley, soaking up their different styles during an experiential curve through which Vasquez believes he "learned how to be the leader."

Although based in Southern California, Klinsmann was head coach of Germany at this time, re-engineering the team for the glories that lay ahead in the 2006 World Cup. The two men stayed in touch, mostly via email. "After the tournament, we went out and had lunch," Vasquez recalls. "Jurgen told me he was going to take a break because of the intensity of the [World Cup] experience but wanted to know whether I would be part of his staff when he returned to coaching." Assuming Klinsmann was considering an MLS role, a world in which his experience would be an asset, Vasquez readily agreed.

"A few months later, Jurgen calls me to have lunch again," Vasquez continues. "He says 'pack your bags because there is a team out there that wants to make a change.'" Like an enigmatic character in a Le Carré novel, Klinsmann did not name the club, preferring to hand three DVDs over the lunch table and instruct his partner to "familiarize himself with the team in red."

"I drove home quickly and put the discs in," Vasquez remembers, "and it was Liverpool Football Club! I start to break down their games, pack my bags and prepare for the role. Then all of a sudden Bayern Munich came in, Liverpool never made the change, so Munich it was."

Vasquez relays this job-of-a-lifetime narrative with such a sense of marvel. I ask him if there was an element of the out-of-body about the whole experience: "Honestly there was," he says. "I said to Jurgen, 'Are you sure? Are you sure you want me to be your assistant?' He said yes because he knew I understood the game and that he could trust me, and trust for Jurgen was the biggest thing at the time."

Vasquez tells the story with such humility, I later asked Klinsmann to describe the relationship from his perspective, inviting him to articulate the values that made his assistant stand out. "Martin has a hunger for knowledge ... and the capability to adapt to different environments really quickly," Klinsmann said. "You don't want people next to you that kind of think, 'Oh, I've done it already.' You want people next to you that [are] always ready for the next step," he said, reinforcing his preference for players and coaches who demonstrate ambition and hunger. "It stimulates an environment ... in which you can never settle."

The tandem's tenure at Bayern proved to be short-lived. Klinsmann and Vasquez were undermined by Bayern's board as rumors abounded that they had lost the dressing room. Yet Vasquez remains quick to emphasize the lessons he derived from the experience. "52 games in 11 months with one of the top teams in the world -- 10 of them in the Champions League ... it helped me to grow in every aspect of the game -- tactically, in terms of preparation, as well as teaching me to grow a thick skin."

Vasquez was briefly head coach at Chivas USA before Klinsmann's ascension to the USMNT coaching role gave the duo the opportunity to reunite. The German marked his August 2011 arrival by delivering an ambitious vision of growth and progress for U.S. soccer.

I ask Vasquez to articulate his function within Klinsmann's project. "I am a student of the game," he says. "My biggest role is on the field. To think about how we are going to play against each opponent ... to assist with player selection and tactics." He pauses for a moment before adding, "Jurgen decides what he wants to do once I present the [options], setting out the objectives and how they can be accomplished."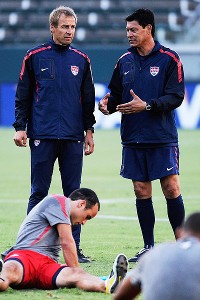 Kevork Djansezian/Getty ImagesThe Klinsmann-Vasquez partnership is set to be tested in the coming months.
Vasquez has also assumed a crucial role with the Latino players. Klinsmann refers to his assistant's experience and relationships with Mexican managers as a "huge upside." Vasquez describes how he has been tasked with overseeing the relationships with talent playing in Mexico including Herculez Gomez, Joe Corona and Jose Torres. "I played over 300 games in Mexico over nine years, so many of the coaches there were my teammates."

It is only when asked to envision the endpoint of Klinsmann's USMNT project that Vasquez becomes visibly animated. Moving to the edge of his chair, he takes a deep breath and begins. "The ultimate dream is to play good-tempo football, to have possession with purpose, balance between attack and defense. I don't want to say total football -- but we attack with 11 and we defend with 11, build out of the back, with quick combinations, attacking on the flanks, modern football. That is where we're heading, and that is the football that I love."

Trying not to be a downer, I wonder out loud if, with the talent the USMNT has available, this hope is akin to my wishing I could pass myself off as a man who has the suave ruggedness of Daniel Craig. Vasquez responds by tempering the visionary with the practical.

"Over the years, you learn that soccer is about the present," he says. "Our ultimate goal is to go with those players that are going to help us win the game without compromising the result."

Seizing on this pragmatic viewpoint, I ask Vasquez whether it would be fair to say that he plays the practical foil to Klinsmann's visionary, and the assistant recoils. "I assist ... at times I insist," he says. "I give Jurgen arguments and I give him reasons, but he makes the final decisions."

As we shake hands, I raise "the Jogi Loew thing" and wonder whether Vasquez ever gets tired of the comparison or finds it inspiring. The coach meets the question head-on. "I have been fortunate to meet Jogi a few times," he says. "He's a great guy and he is proving that he is a hell of a coach, but no, I'm not insecure, I'm not jealous. I don't want to be like Jogi; I want to be Martin Vasquez."