USMNT's lagging attack enters critical phase
Jurgen Klinsmann's construction project is about to enter another critical phase. The final round of World Cup qualifying is about one-third complete, and the U.S. national team's defensive pieces appear to be coming together. The attack continues to lag, however, and with a pair of friendlies -- as well as a trio of qualifiers -- on the horizon, it's imperative that the offense begins to catch up.

-- Insider: U.S. hopes defensive duo is dynamic

To be sure, the most recent double-fixture date amounted to an incomplete grade when it came to the offense. The blizzard-like conditions in Commerce City, Colo., rendered moot any attacking plan against Costa Rica, especially after Clint Dempsey slotted home the game's only goal in the first half. Preserving the result in the World Cup qualifier took precedent over aesthetics.

The encounter with Mexico, also in a World Cup qualifier, at the Estadio Azteca -- a venue where the U.S. has rarely enjoyed much possession -- was an exercise in gritty defending, and the U.S. was able to secure a valuable and morale-boosting point.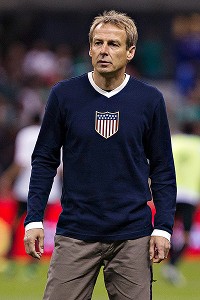 Miguel Tovar/Getty ImagesThe Jurgen Klinsmann era began with a promise of a wide-open attack, but the U.S. had just one shot on goal in its past two qualifiers.
But the Klinsmann era had been sold to the public with the promise of a more attack-minded approach, and the reality is not only was the U.S. outshot in both matches, but it managed just one shot on goal combined in the two games. With the road-heavy schedule about to be balanced out by a pair of home games in June, the U.S. knows it must achieve more fluidity in its attack.

"I think the offensive performance will change," U.S. midfielder Graham Zusi said via telephone. "Not only will we have good weather, but we'll have two of the three games coming up at home. I think you'll see a natural kind of shift towards a more attacking team this round."

That's what makes the upcoming friendlies, against Belgium on Wednesday and Germany four days later, so important. Alas, the staggered end to the club season means Klinsmann will be without players such as Michael Bradley, Joe Corona, Edgar Castillo, Danny Williams and Fabian Johnson for the Belgium match. The injury bug has hit as well, with Maurice Edu sidelined by a sports hernia and Corey Ashe ruled out because of a groin injury. Brek Shea has been battling a calf ailment and has been sent to Dallas to try to regain his fitness.

The injury to Shea and the temporary absence of Johnson is especially problematic, because with Bradley and Jermaine Jones likely to patrol the center midfield June 7 against Jamaica, the wide attacking positions are where the most question marks exist. It also happens to be the area where there is the most attacking upside. For all of the talk about Jozy Altidore not scoring recently for the national team, the reality is that the U.S. attack hasn't created many chances. Dempsey has long been a player more adept at getting on the end of opportunities inside the box as opposed to creating them, meaning that more is needed from wide midfielders as well as full backs getting into the attack.

"Whoever is out wide has to be thinking that it's part of their job to create, and I think that's been lost over the last four or five games," ESPN television analyst Taylor Twellman said. "There have been spurts, but I just don't think it's been consistent enough for what Klinsmann wants to do."

Zusi has been the first choice on the right side in recent games, and he's eager to cement his status in the upcoming matches.

"We're a good chunk into the MLS season now, and I think our match fitness is as high as it's going to get," he said. "Last round we were at the very beginning of our season so I might not have been 100 percent match fit, but we are now. I feel good about that, and putting together a 90-minute performance."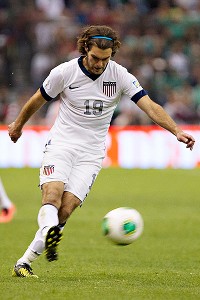 Miguel Tovar/Getty ImagesThe next portion of the U.S. schedule offers Graham Zusi a chance to cement his status on the right side.
That said, it will be interesting to see how Klinsmann deploys his personnel in the upcoming friendlies. Klinsmann announced Tuesday that Sacha Kljestan will start alongside Jones against Belgium. It will be interesting to see if the Anderlecht midfielder will see time in other spots on the field. Stuart Holden looks to be the ultimate wild card after recently returning to first-team soccer following a long injury layoff.

The competition on the left side is even more wide open. Herculez Gomez has operated there in recent matches and put in two honest shifts against Costa Rica and Mexico. But he seems more effective when stationed closer to goal, and that could leave one of Fabian Johnson, Eddie Johnson, Brad Davis, Kljestan, or even DaMarcus Beasley to step in and try to make an impression.

The direction Klinsmann opts to take with his left back will have a huge impact on who mans the flank positions. Unlike the last round of fixtures, both Castillo and Fabian Johnson are healthy and could contend for a starting spot. If Klinsmann continues to show faith in Beasley in that spot, that could free up Fabian Johnson to slide further upfield, where he's seen more time recently at club level.

The extent to which this will translate into the Jamaica game is an open question. During the semifinal round of qualifying, the U.S. had difficulty coping with the bumpy surface at Jamaica's National Stadium, one that doesn't allow for much free-flowing soccer.

"The Jamaica game isn't going to be a pretty game, and the pitch there is horrendous," Altidore said via telephone. "It's almost unplayable in terms of trying to play soccer there. We're going to have to go there and grind it out, challenge for every loose ball and fight. I think the grit has to be a starting point. Work for each other and run for each other, then the soccer part can come into it."

Perhaps that's the lesson the Americans take into the upcoming friendlies, and ultimately the Jamaica match, especially given how they were outworked by the Reggae Boyz the previous time the teams met in Kingston. If both grit and creativity are on show in the two warmup matches, that will be the clearest sign yet that Klinsmann's attacking approach is beginning to take root.

Notes:

-- U.S. Soccer indicated that no replacements will be added to the roster to make up for the absences of Ashe and Edu. Ashe came off at halftime of Houston's 1-1 draw Sunday against Sporting Kansas City, while Edu's injury was diagnosed by the Stoke City medical staff following the completion of his loan to Turkish side Bursaspor.

-- The omission of Landon Donovan from the roster remains a significant talking point, but Zusi insists he's not getting caught up in any comparisons between himself and Donovan, nor does he feel he has to make up for Donovan's absence.

"I don't really feel much added pressure," he said. "If anything it's given me more confidence. I'm focused completely on my part to make the team succeed, whatever it takes."

-- Klinsmann inadvertently added even more grist to the Donovan debate at Tuesday's news conference when he stated that right back Steve Cherundolo had asked not to be considered for the summer slate of national team games, the better to recover completely from injuries he sustained during the back half of the Bundesliga season. Given that Donovan was omitted largely due to his four-month sabbatical, it will be interesting to see how that might affect Cherundolo's standing going forward. One is also left to wonder if there are any emergency circumstances that might result in Donovan being recalled.

-- After scoring 31 goals in all competitions for AZ Alkmaar this season, Altidore remains the focus of intense transfer speculation. He's already experienced quite a sampling of countries in Europe, having spent time in Spain, England, Turkey and the Netherlands. But Altidore said he'd be very happy to make the Bundesliga his next port of call.

"I think if you look at the Bundesliga, it's no accident what's happening there in terms of the success they're having recently," he said. "I just feel like in some countries, they don't train like they do in other countries. I think that's a big thing. Players need to be sharp, and I've always admired how they train the German players, and their development there has been fantastic. You never know, but I think that's a place where if I was to look into developing further as a player, what they do there speaks for itself. A lot of strikers, a lot of midfielders develop really well there."