Rogers to make history while the Fire get a steal
Robbie Rogers is a professional soccer player again, and he is poised to make American sports history. What this means for the future of Rogers and the teams involved is wide open with possibilities.

The Los Angeles Galaxy acquired Rogers' rights late Friday from the Chicago Fire in a straight swap for midfielder Mike Magee. Rogers was introduced as a Galaxy player at a news conference Saturday, and although it seems unlikely that he'll play in L.A.'s league match against Seattle on Sunday evening, whenever he does take the field, he will be the first openly gay male player in North American sports history to play in one of the continent's top five professional sports leagues.

"It's been quite a journey over, I guess my whole life, but especially over the past few years," Rogers said at Saturday's news conference. "I kind of struggled with this decision, went through a lot of ups and downs... I know I really love this sport. I'm passionate about helping people, and I think if you speak with any of my friends or the people around me, that I love people, I love my relationships. I guess just all of those things, and the way I was raised, and my friends and family just made it perfect for me to be able to do this."

- Rogers, openly gay, to join Galaxy
- Video: First openly gay man to play major sport

Rogers had announced that he was gay back in February, and promptly announced his retirement from the game, having played professionally for the Columbus Crew in MLS, as well as Leeds United and Stevenage F.C. in England. But in recent weeks, Rogers sent strong signals that he intended to return and said he preferred to play in Southern California to be close to his family. The fact that his MLS rights were held by the Fire complicated matters, but ultimately a deal has been struck, with Magee heading back to his hometown.

What it means for Rogers

Make no mistake; this is a courageous decision by Rogers, and a brave new world he is venturing into. He voiced concern in the past about being at the center of a circus upon his return, and that is precisely what he'll be facing. The scrutiny will be immense. Every performance, right down to each individual play will be examined and likely juxtaposed against his sexual orientation, even though one has absolutely nothing to do with the other. This is why Rogers' demand that he be close to family makes complete sense as he attempts to cope with the wall-to-wall attention he will receive. He also has had time to grapple with the impact his return will have.

"I think there is some of this that Rogers will have no control over," said ESPN television analyst Alexi Lalas. "But I think he's prepared for that and recognizes that. Robbie's a smart guy, and he understands that's how it works."

In time, however, the focus will gradually shift to what Rogers' comeback means as a player, as opposed to as the first openly gay player. From that standpoint, Rogers' return is a chance to revive a career that once held so much promise. His time in England was blighted by injury, and, in 11 total appearances with Leeds and Stevenage, he failed to record a goal or an assist. He made two appearances with the U.S. national team under Jurgen Klinsmann but quickly fell down the depth chart.

Rogers played a huge role in leading Columbus to the 2008 MLS Cup, where he scored six goals and added three assists. But his production tailed off after that, as did his overall level of play, and many observers were left to wonder what had changed.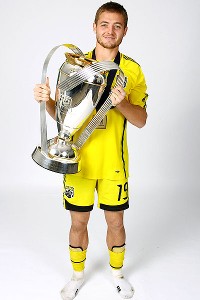 Jeff Gross/Getty ImagesRobbie Rogers played his best soccer under Sigi Schmid in 2008 when Columbus emerged as MLS Cup champions.
ESPN television analyst Alejandro Moreno, a teammate of Rogers' while in Columbus, cites the departure of coach Sigi Schmid, who left to take up the reins in Seattle in 2009, as playing a role in the player's decline.

"Sigi was always very close to Robbie," Moreno said via telephone. "He was the one that brought Robbie to Columbus and gave him the chance to showcase the things that Robbie does well on the field. Once Sigi went to Seattle, like many of us that were part of that team, we felt that our transition was not nearly as positive under the new regime. And I can only assume now that there were things that Robbie was struggling with personally, that in his own mind might have led to the fact that he was no longer comfortable in Columbus."

Now that Rogers is freed from the burden of keeping his sexual orientation a secret, there's a very real possibility that his career will take off again. Not only will he be near family but the quality of players surrounding him is impressive. How well these factors will translate onto the field amid the heightened level of attention remains an open question, but Rogers is aware he still has something to prove.

"I want to be better than I was before," he said. "I don't want to be the last cut on the World Cup team, I want to be on the World Cup team. I want to prove to everyone in this room, to everyone in the world, that I'm a great footballer, a great soccer player. It doesn't matter than I'm gay, or it doesn't matter where I'm from. That stuff's just not important. I'm very motivated, and I'm really excited, I think this is going to be a great challenge for me."

What it means for L.A.

Bruce Arena has a long history of extracting maximum value out of trades. This deal doesn't appear to be one of them.

Granted, there were some unique circumstances involved. Rogers' reasons for not wanting to play in Chicago are well documented. As for Magee, he reportedly was very keen to head back to his hometown.

"This is something Magee wanted to do," Arena said. "There are personal reasons for that which I don't need to go into."

But L.A. was perceived to have all of the leverage here, and that Arena didn't acquire some more assets in the form of draft picks or allocation money is something of a head-scratcher.

Sure, the Galaxy can expect a marketing bonanza to take place, given the history Rogers is about to make, but the fact also remains that L.A. is a weaker team today than it was before the deal. With Robbie Keane hobbled by injury and with Landon Donovan still working his way back to fitness after a four-month sabbatical, Magee has been the team's only consistent goal scorer, and his six goals this season tie him for second in MLS. Magee has also shown an uncanny ability to deliver in the playoffs, tallying six goals and one assist in his past 10 postseason matches. In his last three seasons with the Crew, Rogers scored a combined four goals in the regular season.

"To acquire a very good player, sometimes you need to give up a very good player," Arena said. "I'm hopeful in the end that this trade works out for both teams, but more specifically for the Galaxy. We're in this business to win games, to build a successful team, to win championships. If I thought that this would not enable us to continue on that path, we wouldn't have made the trade."

To that end, 26-year-old Rogers is about two-and-a-half years younger than Magee and will give L.A. the kind of pure wing presence the Galaxy often have lacked in the past. His ability to attack defenders one-on-one is well known, as is his crossing ability. That kind of skill set is different from that of Donovan, who often will drift inside when playing on the flank.

"In L.A.'s midfield, you have a lot of guys who like to get a hold of the ball, but none of those guys are really one-on-one players down the flank," Moreno said. "When you don't have David Beckham, who can provide service from anywhere, now the Galaxy is lacking service into the box from a wide position. It gives the Galaxy the flexibility and the ability to have a player out wide that not only provides you with width but also the pace and speed to get behind defenses down the flanks."

Donovan was at his best last year when paired up top with Keane, and Magee's departure doesn't get the Galaxy any closer to that. One expects that Arena is looking to the transfer window, and the continued development of players such as Hector Jimenez, Jose Villarreal and Gyasi Zardes to get to that point.

What it means for Chicago

In a telephone interview nine days ago, Chicago president of soccer operations Javier Leon said that despite Rogers' insistence that he would never play for Chicago, the Fire had leverage, or at least more than people thought. It turns out he was right, as Chicago has helped itself immensely in this deal. When combined with the previous trade in which the Fire secured Rogers' rights, Chicago essentially obtained Dilly Duka and Magee in exchange for Dominic Oduro. That amounts to a very good bit of business.

"Constructing a good MLS team is never about the stars," Lalas said. "It's always, can you find guys who don't kill you from a salary-cap standpoint, understand the league, and just have a consistency and give you depth? There's nobody that epitomizes that more than Mike Magee. There's an incredible value to that. Not only has he filled in but here's a guy some people are talking about in the context of the U.S. national team."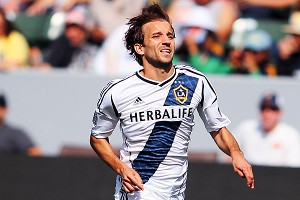 Victor Decolongon/Getty ImagesChicago picks up some badly-needed offense with the arrival of Mike Magee.
Magee will bring some much-needed punch to a Chicago attack that has scored just six goals in 10 games and has already been shut out six times. Granted, he doesn't address the Fire's biggest need -- that of finding a bigger forward to step in for disappointing Sherjill MacDonald -- but he should combine well with the likes of Chris Rolfe and Patrick Nyarko. Given that Magee and Rolfe have similar skill sets, Magee likely will see time in a wide midfield role, much as he did with the Galaxy. But regardless of where he suits up, Chicago is better for having made this deal.

"We're obviously very excited to have Mike join our team," Leon said via telephone. "Mike was a big part of two consecutive championships teams, and we're very happy to welcome him home. We're looking forward to his leadership and the kind of impact that he will have on our team."