Manchester City's Soriano envisions 'beautiful football' in NYC


Things are hectic at MLS headquarters off New York's Fifth Avenue. David Beckham hectic. A giant step and repeat banner branded with images of MLS, Manchester City and New York Yankees logos, U.S. Soccer's latest brand bedfellows, is being shuttled around to serve as a backdrop. The $100 million deal, which has birthed New York City FC as MLS's 20th team, has just been announced, and the team's executives are still meeting to finalize the details.

-- Carlisle: More questions than answers
-- Davis: Garber's legacy rests on NYC
-- Manchester City's New York plan
-- How will NYCFC work?

Ferran Soriano, Manchester City's Barcelona-born CEO, barrels into meet me. The 45-year-old Catalan is a hulking 6-foot-3. An impressive size that is reinforced by his bouncer's garb of black suit and tie. Yet this physical presence is at odds to the soft-spoken, thoughtful nature that instantly comes to the fore. A smile crackles across his lips as I open by asking him somewhat flippantly why a mighty team from the "cash-soaked" English Premier League would invest in an MLS team that operates with a strict salary cap, draft and single entity.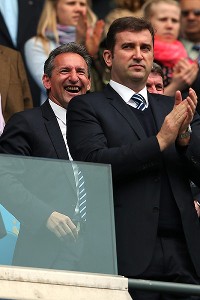 Alex Livesey/Getty ImagesManchester City's negotiations with MLS began nine months ago, although Ferran Soriano, right, has had conversations with the U.S. league since 2005.
"We are enthusiastic believers in the development of soccer in the United States," he said, pressing his palms together for emphasis, as if in prayer. "We believe there is a market out there of passionate soccer fans in the United States and there is the opportunity to offer them good, beautiful football."

Soriano is a man who has seen "good, beautiful football" up close. Before arriving at Manchester City in August 2012, he was vice president and general manager of FC Barcelona. The man who has been identified as the brains behind the club's Unicef deal and part of the brain trust who appointed Pep Guardiola. His words were measured as he continued: "MLS is a very well managed league. It is very solid and very stable, and these two things -- the passionate fans base and the good organization -- [do] not exist anywhere else in the world."

Negotiations between the three parties began nine months ago, but Soriano admits the conversation with MLS and commissioner Garber stretches back to 2005 and his time at Barcelona.

"The idea was too early at Barcelona so it did not fit, but I have followed MLS now for years, the growth has happened more and more, and we believe there is much more to come."

Soriano's arrival at Manchester City presented the opportunity for the conversation to be renewed. A conversation initiated by Garber. "The idea was on the table at City from Day 1," Soriano explained. "My first priority at City was to get the club right but now we are very happy where the club is evolving commercially."

I ask Soriano to articulate his vision for the future of super clubs globally. "One of the challenges of all big clubs in the football industry is how you become global, because you cannot become global without being authentic and aligned with your roots."

The Catalan pauses for emphasis then added, "Our approach is to have another club that will not be a subsidiary, that will have its own strategy and objectives, that will share resources and synergies with us so we can deliver what we love to New York, which is beautiful football on a permanent basis."

Such an approach is in marked contrast to other Premier League teams' approaches to the Untied States where they come on a whirlwind, barnstorming preseason tour.

"We do not want to play a friendly game and go," Soriano said, wagging a large finger at me. "We want to be here permanently and, as much as we can, to become New Yorkers. To be global and local you have to be here and have a club."

I ask Soriano whether there is an inherent tension to this idea from a brand perspective, but he bristled at the question. "This is not a brand play. It has nothing to do with the brand. It has to do with football. There is no marketing strategy to sell a bad product. You have to be real. These clubs will have different strategies and different players, but we will share resources."

When it comes to shared resources, Soriano is quick to make clear, NYCFC will neither be a teething ground nor an elephants' graveyard for the extended Manchester City roster. "This is not a club to serve young English players or old English players, for that matter. It is designed to be competitive, and to win in New York. To do that we will source players -- American players, maybe South American players, maybe European -- on our scouting database all over the world."

Soriano does not so much as crack a smile as I ask him if the future promises a number of Manchester City spinoffs. "We have not thought about this yet, we have focused on New York, but in the future … we will see."

He laughs softly though when I tell him about my son's under-8 soccer team and how I have never seen a Manchester City jersey worn amidst the glut of Barcelona away shirts, Manchester United replicas and occasional Chelsea kit. I wonder aloud if the new club will wear light blue or pinstripes. "We have not decided about this. This is Day 1 for us, but it may well be sky blue."

Soriano's refrain is persistent. The move into MLS is about football first, brand building second. "The core of what we are trying to do is to create a new football club that is sustainable and successful, but it is called New York City and we have another club, Manchester City, so naturally there will be some commercial synergies but this is a second priority. None of it is possible unless we have a good team playing good football, so the commercial side has to be secondary."

On a conference call earlier, Soriano denied an English journalist's suggestion that the move into MLS was a creative response to develop new revenue lines under UEFA's Financial Fair Play realities, and he remains insistent on the point. "This has nothing to do with FFP. There are simpler ways to deal with those regulations than to build a new club and a new stadium. The club is about sustainability. Our owners invested a lot in the club in the first year, but our losses have decreased every year so FFP is not an issue. This is the same for New York too. We are not here to lose money. We plan to be sustainable."

Soriano is also dismissive when he contemplates the notion that Manchester City of the English Premier League and MLS are rivals, competing for American television ratings. "We are about the same thing," he declared. "Fans want to see both things, a Premier League on television and a local team they can see live, so the two are complimentary and build on each other."

Having seen La Liga and EPL up close, I asked Soriano what MLS needs to move it to the next level. "It needs to continue as it has been," he said. "You hear people criticizing the strict [MLS ownership] rules like the salary cap and the draft, but I believe you need them to grow without owners losing a lot of money clubs going bust. The developments must come from the pitch. The product needs to be better and better so the show is better, so there are more fans paying for more money, so there are better players. It is a spinning cycle, and I believe it will happen."

Soriano hails from Poble Nou, a textile area known as the "Catalan Manchester." He is now intimate with the real thing at Manchester City. I ask him if he has any qualms about moving to a city where soccer is not the No. 1 obsession but must break through the clutter of NFL, NBA and MLS.

"There are 19 million people here. Yes, there are a lot of teams to compete with," he said. His eyes lit up as he looks out of the window at the city that surrounds us. "I think New York is a fantastic town with a real sports heritage. We will find our place."