Match of their lives, island style
ST. JOHN'S, Antigua -- As the Antigua & Barbuda national team went through its paces on Wednesday, the Sir Vivian Richards Stadium was an island within an island. A gentle rain fell on the turf, and the only sound one could hear throughout this famed cricket ground was the occasional shouted instruction from manager Tom Curtis. The number of onlookers was scant. There was no media horde to dissect his every move. You would never guess that a World Cup qualifier against the U.S. was two days away.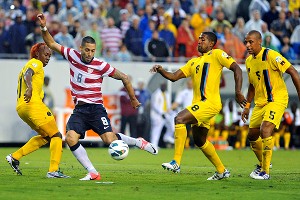 Al Messerschmidt/Getty ImagesIn June, Antigua and Barbuda lost to the U.S. in World Cup qualifying 3-1 at Raymond James Stadium in Tampa.
Yet elsewhere, the excitement is building, and on Friday a very different atmosphere is expected. An Antigua & Barbuda spokesman indicated that a sellout crowd of 10,000 fans will be on hand, which represents roughly 12 percent of the island's population of around 81,000. Those in attendance are likely to still be in celebratory mood after the West Indies claimed the World Twenty20 cricket championship last weekend, but they're just as eager to see the Benna Boys record a historic triumph of their own.

"The island is pumped," insisted Verdon Edwards, a taxi driver from St. John's. "Soccer is a big thing in Antigua. A local soccer game can draw a crowd almost as big as for a one-day test match [in cricket]. All we ask for is a good game."

"The talk isn't just around the island," added A&B striker Peter Byers following Wednesday's practice session. "It's on the TV, it's on the radio. Everybody can't wait to come out and see this game."

For the players, Friday's match amounts to a version of "The Game of Their Lives," island style. Technically speaking, A&B's ambitions to advance to the next round are still alive, although it would take an otherworldly combination of events to see it get through. (Both Guatemala and A&B would have to win their last two games, and seriously pad their respective goal differences while doing it.) They'll also be facing a U.S. team that needs a victory to ease its passage to next year's Hexagonal, and help settle nerves ahead of the group finale against Guatemala next Tuesday. An injury crisis within the U.S. squad that has ruled out four players in the past two days -- all-time leading goal scorer Landon Donovan among them -- has reduced the odds a bit, but A&B still remain massive underdogs.

But there are other motivational factors at work. The U.S. is the highest-ranked team ever to play in Antigua. And unlike contestants on "Survivor," the A&B players would like nothing better than to get voted off the island. A good performance on Friday will help them get noticed by a club somewhere.

"We're a development side, and we're hoping that these guys can get experience overseas," Curtis said. "We want to encourage all the big teams in the U.S. to look at our players to give them opportunities."

That Curtis has gotten the team this far is something of a miracle. Never before has A&B reached the semifinal round of qualifying, and the Benna Boys dispatched the likes of Haiti along the way. At the core of the team's success has been the decision by the Antigua & Barbuda Football Association to turn the national team into a de facto club side by playing in the Pro Division of the USL, the third tier of American soccer. While the Antigua Barracudas finished bottom of their division, it gave the younger elements of the side invaluable experience while developing cohesion on the field.

"I'm really hopeful the program and the model can continue because I think it's something that is very rare in the whole of the world," Curtis said. "We're very fortunate to have the majority of our players playing for one club on a regular basis. Certainly we need to fine-tune it, but it's been a big help for us."

Curtis hasn't been afraid to augment his squad with English players who have ties to the island nation, and those performers have played a significant role in the team's success, as well. But two of those recruits -- midfield cog Mikele Leigertwood and defender Marvin McCoy -- are out injured. Leigertwood suffered a thigh contusion while playing for EPL side Reading, while McCoy sustained a broken leg last month with English League Two side Wycombe Wanderers. On a team with little strength in depth, it can be argued that the loss of those two players looms bigger for A&B than the corresponding absences the U.S. has sustained.

That said, A&B has rarely had its full squad together during this qualifying round, yet has proved tough to beat. The Benna Boys tied Jamaica at home, and were poised to do the same at Guatemala until goalkeeper Molvin James was bizarrely sent off for two yellow cards, one for dissent and then a second for time wasting. Such near-misses have given A&B an additional reservoir of inspiration.

"We're definitely hungry to prove a point that we are not just about being competitive," said A&B captain George Dublin. "We're about being competitive and getting the right result, and that's what we're going to try to do for these last few games."

Doing so will require A&B to play the perfect match, but Curtis stated his game plan won't be demonstrably different than the one he used against the U.S. last June, one that was heavily reliant on a defend-and-counter strategy.

"We're hoping to be a little bit more aggressive in terms of our approach," he said. "Our success has certainly been based on organization, discipline, and being strong defensively. We do work a lot on being organized, and we do need to respect the U.S. because they've got some good players. We certainly won't be going gung ho. We'll respect them, be organized, be disciplined, and hopefully we'll squeeze out some sort of result."

And beat some monstrously long odds.