Garber's legacy rests on New York City FC
Major League Soccer, Manchester City and the New York Yankees joined together Tuesday to make an announcement in New York that will one day define the legacy of MLS commissioner Don Garber.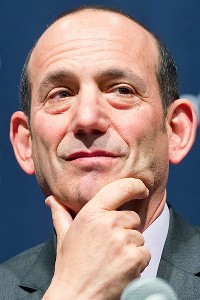 David Eulitt/Kansas City Star/MCT/Getty ImagesDon Garber's legacy as MLS commissioner could depend on the success - or otherwise - of New York City FC.
A franchise within the city limits of New York has long been Garber's overriding goal. Despite talk about Orlando, Atlanta, St. Louis, et al, as possible locations for MLS teams, Garber remained resolute in his belief that a team in New York should be the league's first priority. Or rather, Garber was the public face of that effort for a growing American fan base that is at time both hostile and wary of Major League Soccer leadership.

During a teleconference announcing the new New York team, with representatives from Manchester City and the Yankees alongside, Garber made a strident effort to explain two New York teams was always part of the MLS plan, going back to the days of conception when Garber was himself still years from taking the reins of America's renewed effort to make a professional soccer league work.

Nevertheless, it is Garber who will take the blame if it fails. The plan predates his MLS involvement, but the recent push for New York rests squarely on his shoulders.

-- Manchester City, Yankees buy into MLS
-- Carlisle: More questions than answers
-- Bennett: CEO envisions 'beautiful football'
-- Manchester City's New York plan
-- How will NYCFC work?

For all of this success ushering the league into the '2.0' era, never mind steering the league through the stormy waters of contraction back in 2002, Garber's approval rating among MLS fans is strangely split. Soccer fans in the U.S. tend to view the business-first Garber, a former NFL executive, with a wary eye, as an outsider who too often fails to grasp the soccer culture he and his league trade on.

When he does receive praise for his stewardship of the league, it usually comes with a caveat or is followed by a "but...". If there's one thing Don Garber much surely have learned in his 14 years on the job, it's that soccer fans are a tough lot to please.

Perhaps no two moments in MLS history better illustrate why a man of Garber's makeup is the right man for the job than the contraction of those two Florida teams in 2001 and the announcement of New York City FC Tuesday. Garber has remained unwavering in his approach, one that puts the business of MLS first and nearly everything else second.

On the surface that might sound like criticism; professional sports are part of the public trust, and the men in charge must balance the mandate to grow with their responsibilities to the passion of the fans and the intricacies of traditions. But for MLS, a league whose very existence only slowly approached foregone conclusion within the last few years, growth and stability (a byproduct of running a successful business) are paramount. Whatever Garber's background or appreciation for the sport, his outlook on how to make MLS is not only necessary, but vital.

None of that means that Garber, or the men at whose pleasure he works and whose decisions he must present, doesn't make mistakes. Fans have every right to hold his choices up to scrutiny and grade his performance based on the success or failure of the league in crucial areas. Television ratings remain a problem, though even the paltry viewership numbers are somewhat mitigated by MLS succeeding in securing multiple national television contracts in spite of them.

The fact remains that MLS is still not a break-even operation 18 seasons into its existence. Thanks to large steps forward on many fronts, all initiated during the Don Garber era, it's closer than it has ever been before. The institution of the Beckham Rule brought star power to a league aching for names the casual fan might recognize. A string of successful expansions forays made the league more stable, more popular, and more vibrant. The launch of academies puts MLS nearer to a consistent source of income through the sale of young players abroad.

To discount Garber's role in the strides MLS has made over the past 14 years is disingenuous at best, willfully ignorant at worst. His record speaks for itself. Any negatives prompted by his leadership are made up for by a litany of positives. No argument for natural inertia explains how far MLS has come with Garber at helm.

New York City FC, and the $100 million it brings with it, eases some of the burden taken on by groups committed to the cause but uncomfortable with the weight. More importantly, it should strengthen Major League Soccer's bargaining position when TV contract negotiations begin this summer. Despite calling it "coincidental" timing while speaking to reporters on Tuesday, Garber is fully aware that counting a New York City-based team backed by Manchester City's uber-rich owners and the Yankees' marketing clout among the league's teams puts MLS in a better position.

The sudden appearance of the Yankees on the scene is a game-changer, and something that likely doesn't happen without Garber's influence.

Ten, 12 or 15 years from now, when MLS fans look back on Garber's tenure as MLS commissioner, they might not remember the painful decision to fold two teams that ultimately proved correct, or tie the explosion of MLS growth in the Pacific Northwest to his résumé, or give Garber credit for the league's push into more of the American sports mainstream.

They will, however, remember the $100 million decision to add a franchise in New York, the cultural, media, and marketing hub of the country.

It is by this team's success or failure that Don Garber's legacy will be judged. NYCFC will either make MLS a stronger league with more resources and a bright future, or start a slow, disastrous decline into territory last trod by the old NASL. Garber's bet is that the North American soccer environment is a much different place in 2013 than it was in 2004, and an all-in move will pay off in a big, game-changing return.

If that means MLS is here to stay and ever more ready to step onto the main stage of world soccer, there are worse bets to make.