Many questions surround stadium plans, NYC FC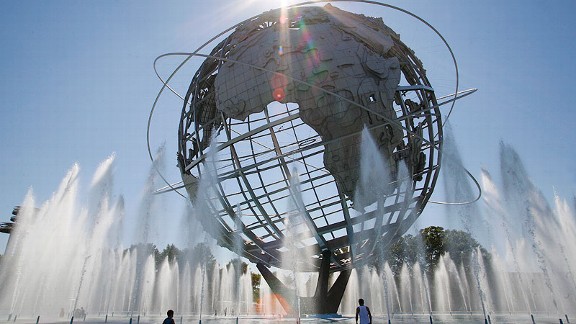 AP Photo/Peter MorganOnly time will tell with regard to what happens to Flushing Meadows-Corona Park, at least pertaining to the second MLS club to land in New York City.
On a day when MLS announced the ownership group for the league's New York City-based team, the question of where the club's stadium will be located became more muddled.

On Tuesday, MLS announced that English Premier League side Manchester City and the New York Yankees would team up to run the league's 20th team in New York City. The team is set to begin play in 2015 at a yet-to-be-determined temporary site.



But in terms of finding a permanent home, the ownership group and MLS appear to be backtracking on plans to build a 25,000 seat stadium in Queens at Flushing Meadows-Corona Park (FMCP). The league has been working for the better part of a year to secure the FMCP site, with MLS Commissioner Don Garber earlier stating that "there is no Plan B." Garber made the comment even as various community groups voiced concerns over the fact that public parkland would be set aside to a corporate entity.

Bennett: Man City, N.Y. Yankees partner in MLS

But in an exclusive interview with ESPN.com, Garber, Manchester City CEO Ferran Soriano and New York Yankees President Randy Levine indicated that while the team's owners will continue to pursue building a stadium at FMCP, other sites will be explored.

"We are very well aware that the city and MLS have been working on this potential stadium in Queens, and we want to continue these discussions," said Soriano. "But this is not about finding a stadium, it's about finding a home, so we want to do the process right. We want to listen to everybody in the community. We're looking for a home that will be successful from a football standpoint, the commercial standpoint, but also the community standpoint. So we'll take the time to listen to everybody and to continue these discussions. At the same time we need to look at other options."

Soriano's words may help the new club avoid a clash with the "noisy neighbors" who oppose the FMCP plan. The fact that the proposed deal would have allowed the club to lease 13 acres of land in FMCP for $1/year for 35 years was especially controversial.

Prior to the announcement, City Comptroller John Liu (who is also running for mayor) summed up the feelings of the project's opponents when he said, "I like the idea of a soccer venue in New York City, and it makes a great deal of sense to have it in Queens, which has a huge captive audience of soccer fans. What I'm not crazy about is the fact that they want to take public park land in the process. That's something that we hold sacred in Queens and in New York City."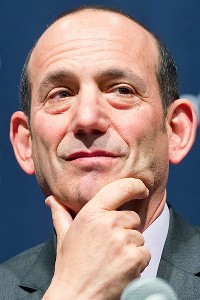 David Eulitt/Kansas City Star/MCT/Getty ImagesDon Garber and the NYC FC executives are not giving up on the idea of a stadium in Queens, though other offers will be entertained.

Now that it looks like MLS and the team's owners are backing away from FMCP, some community activists are showing more enthusiasm for the project while still remaining wary.

"It's definitely interesting language that they're using," said Donovan Finn, an Assistant Professor of Urban Planning at Stony Brook University and a member of the advocacy group The Fairness Coalition of Queens. "They've definitely pulled back from the 'FMCP or bust' language that Garber was using even a few weeks ago. On our end, in terms of people in this community and our coalition in particular, we'd be pretty psyched to work with them to find another site, so long as it wasn't in a park."

Garber, Levine and Soriano insisted that the FMCP option wasn't off the table but that the project remains complicated for reasons beyond the fact that the proposed stadium would sit on public parkland.

Any deal will require the creation of replacement parkland and the land swap must be approved by the state legislature. Mayor Michael Bloomberg, who has been a staunch supporter of the stadium project, had proposed that the decommissioned Flushing Airport be the site for the replacement park's location, but that idea was being met with resistance. The land swap would have seen parkland removed from a low-income neighborhood to one that was more affluent and not accessible by mass transit. The fact that the proposed site was already owned by the City of New York's Economic Development Corporation was problematic as well since MLS wouldn't have to purchase the replacement land, as is typically done in such deals.

"The only thing the city would have to do is transfer it to the Parks Department," said State Senator Tony Avella (D-Bayside) prior to Tuesday's announcement. "My reaction was, 'Wait a second. To replace the [13] acres that you want to take, which MLS would have to financially replace, you've just got to have the city take land it already owns and make it a park.' That would just alleviate MLS of a huge financial burden. That's not replacing it. That's already under city jurisdiction. The more I thought about it, the more I thought this was a disingenuous offer."

With FMCP fading into the background for now, the increased flexibility shown by the owners leaves one to wonder how the Yankees factor into any proposed stadium. Levine admitted that the team's experience in building the new Yankee Stadium, which opened in 2009, will come in handy.

"We've got a lot of expertise in getting stadiums done, and getting them done in a way that the community is very, very satisfied and happy, and all the stakeholders are happy," he said. "We're going to work through that process, whether it's in Queens, which is right on the table, or if there's anything else."

Finn's recollections of the process by which Yankee Stadium was built are a bit different.

"[The Yankees] have a lot of experience screwing neighborhoods too," he said. "The battle for Yankee Stadium in the Bronx was contentious with local groups -- they lost park space as a result and promises were made that weren't kept. It's back to the future all over again."

But at least it's one where a bit more middle ground might be reached, something that didn't seem possible 24 hours ago.

"The optimistic part of me makes me think there is an opening," said Finn. "Now you have an ownership group that realizes they're going to be here for 35 years, so they have to be attuned to what's going on."

And in that vein, they'll be keen to deal with any "noisy neighbors."