Four questions about the USMNT roster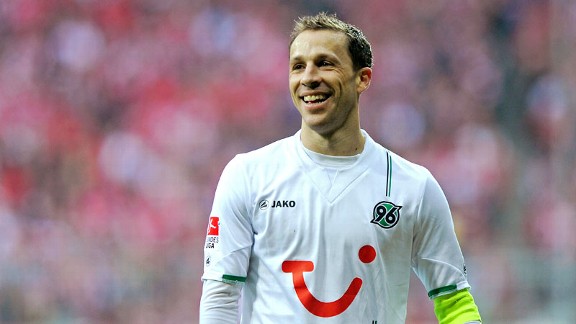 Christof Stache/AFP/Getty ImagesMany are wondering about Steve Cherundolo's omission from the latest USMNT squad.
Now we have confirmation that Landon Donovan will indeed have to resort to playing the role of cheerleader when the U.S. takes on Belgium and Germany in a few weeks -- and again for the three World Cup qualifiers against Jamaica, Panama and Honduras later in June.

But as so often happens with the roster selections of U.S. manager Jurgen Klinsmann, that was by no means the only decision to come under scrutiny. Here are four others that caught the eye:

1. Is Carlos Bocanegra's national team career over?
Not just yet. When the former U.S. captain was omitted from the two March World Cup qualifiers, his lack of playing time with Spanish side Racing Santander was held up as the primary reason. Now he's getting playing time, but the Spanish Segunda Division calendar has not been kind; Santander is mired in a relegation battle, hanging five points from safety with four games left. The last of these crucial club encounters is on June 8, the day after the U.S. plays Jamaica.

In a Q&A for ussoccer.com, Klinsmann referred to Bocanegra as being "in a little bit of a backup position" and that "he knows that if anything happens to one of those center backs that he'll get called in right away." If that happens and Santander's status is confirmed by that point, Bocanegra may yet find a way back in.

2. Is Michael Parkhurst a better option than Steve Cherundolo?
This is a case where Klinsmann's reasoning seems at odds with the facts.

"Cherundolo is still recovering from an injury, and he simply needs time for his knee to get back to 100 percent," Klinsmann said about the decision. "Parkhurst has had injuries and his team is still fighting relegation in Germany, but [he] is very experienced. He is ready to give us everything he has."

The only problem is that Parkhurst has barely played for Bundesliga side Augsburg, making his last league appearance in February. Cherundolo, meanwhile, was deemed healthy enough to go the full 90 minutes last weekend in Hannover's 3-1 defeat to Bayer Leverkusen.

Granted, the U.S. back line acquitted itself well in the past two World Cup qualifiers against Costa Rica and Mexico, but it would seem that Cherundolo's experience could be useful, especially on the road at Jamaica.

Yes, Cherundolo is getting up there in years, but it's a choice that just seems odd.

3. Does club form really matter in the end?
If it does, then why are Brek Shea and Danny Williams on the roster? Shea hasn't come close to getting a sniff since his move to Stoke City while Williams hasn't played for Hoffenheim in six weeks. Under predecessor Bob Bradley, this wasn't all that unusual, but Klinsmann has repeatedly made the point that playing time at the club level matters. Evidently, it still does -- at least until it doesn't.

It seems that both players are unlikely to start, and it's entirely possible that Klinsmann is simply calling them in for insurance purposes and might cut them from the final roster. But if the injury bug does strike, it makes little sense to rely on players who have accumulated plenty of rust.

4. Why so many keepers?
Simple; while Tim Howard and Brad Guzan are firmly ensconced in the top two spots, the third goalkeeper spot will be shared on a rotating basis. Sean Johnson will be in camp from May 26-30, Bill Hamid will take over for May 30-June 2, Tally Hall will man the slot from June 2-8, and Nick Rimando will occupy the third slot for the two home qualifiers.

Given how unlikely it is that the third keeper will see any time at all, it makes sense to spread the time out among multiple players so as not to overly affect one MLS club.