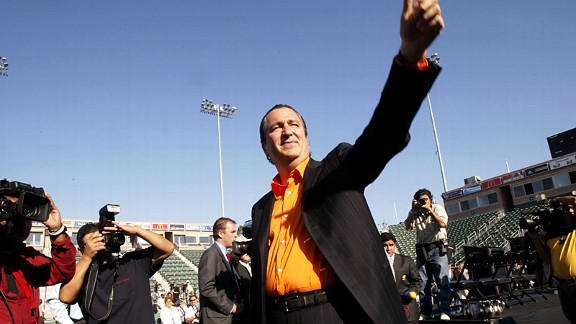 AP Photo/Ric FrancisJorge Vergara's assertion that Chivas USA will return to its roots has done little to fix the club's management difficulties.
A round of rumors about Chivas USA -- probably unfounded and actively refuted by Major League Soccer -- hit the internet last week, alleging the beleaguered club might be in danger of being seized by the league. Backing the claims was an anecdote describing Jorge Vergara's attempt to sign a sponsor that would directly pay player salaries (in exchange for promotional services) and the troubling lack of a television contract for the American Goats. Because MLS is a single entity that licenses the right to operate its clubs to third parties, the league is within its rights to take control of a team it deems -- for whatever reason -- in need of direct management.

While there is a myriad of problems with the idea that the league would be so inclined to take control of one of its clubs from an investor/operator (the correct term for what we generally call "owners" in Major League Soccer), not the least of which is the legal firestorm it would surely prompt, it didn't seem out of the realm of possibility that such a thing could happen.

If MLS is at the end of its rope with Chivas USA, it's probably because the American version of the Goats is something of a conundrum. They draw a poor crowd -- the function of years of bad teams, bad soccer and lack of marketing built on the image of a single Mexican club (thus ostracizing L.A. soccer fans who don't support C.D. Guadalajara). They lack a television contract, either because they have no interest in broadcasting their games in English or because the terms of any possible agreement are distasteful (which seems most likely). Their payroll is the lowest in the league -- around $2.4 million by imperfect estimation, more than half a million below the nominal cap (which has little bearing on teams who use allocation to pay down salaries against the cap or sign designated players, raising their overall salary number) and they just traded star striker Juan Agudelo to New England for allocation money, the league's version of Monopoly cash.

All of the above means that it's difficult to tell if Vergara, owner of both Chivas de Guadalajara and its Angelino outpost, is interested not only in doing what it takes to be competitive in Major League Soccer, but running a Major League Soccer franchise at all.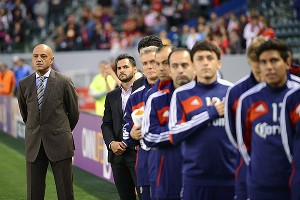 Kelvin Kuo/USA TODAY Sports Jose Luis "El Chelis" Sanchez brings personality not only to Chivas USA but MLS. But was he brought to serve as a distraction?
Chivas USA's appeal in 2013 falls squarely into the "train-wreck" category. "El Chelis" keeps it interesting with his unique take on soccer and his free-spirited attitude about life, but he seems more jester than the man who will turn the Goats into a winner. The team itself doesn't have enough talent to compete over the long haul, thanks to the jettisoning of players and the reliance on loans from Guadalajara for unproven youngsters. If it weren't all so sad, it would be funny.

Nevertheless, Chivas USA is a unique team in a league of cookie-cutter products. Perhaps because of the salary cap, perhaps because of cultural homogeneity, very little separates the Chicagos from the Columbuses and the San Joses from the Seattles in terms of approach to the business of being a professional soccer club. Chivas USA, by falling backwards over themselves in the process, landed on Chelis and his strange brand of larger-than-life management. The Mexican coach has no qualms about playing irresponsible offensive soccer, even while he fosters a hard-nosed fighting spirit in his team.

If only Chivas USA had the talent ... imagine how fun they would be.

If we believed the rumors that MLS might not be enthused with the direction of the team and could take control of Chivas USA through some contractual mechanism, it's because it's not difficult to imagine that Vergara isn't meeting his obligations or that MLS isn't happy with the strange way the club is being run. Since the team publicly shifted direction at the end of 2012 back to its C.D. Guadalajara-inspired roots as a club with an enforced Mexican makeup, the story of Chivas USA turned from one of standard MLS-issue mediocrity to something else entirely, something beyond fairly benign incompetence and closer to catastrophic mismanagement.

Take these "highlights" from the last nine months, for example.

August 2012: Chivas de Guadalajara owner Vergara and his wife, Angelica Fuentes, buy out partners Antonio and Lorenzo Cue to assume sole ownership of Chivas USA. Vergara takes over as the day-to-day operator of the club.

November 2012: Addressing the media at a press conference announcing his purchase, Vergara intimates that Chivas USA will return to its roots as a club modeled on C.D. Guadalajara. He doesn't state that Chivas USA will follow a Latinos-only policy (which is, rather notably, much broader than Guadalajara's "solo mexicanos" program), but he does make several references to "returning Chivas USA to it's roots" as an offshoot of Chivas de Guadalajara.

December 2012: Jose Luis "El Chelis" Sanchez Sola is hired as head coach to replace the fired Robin Fraser. Eccentric, unorthodox and Mexican, Chelis bolsters the prevailing belief that Chivas USA is pushing a Latino-specific agenda.

January 2013: Chelis shows his hand ahead of the SuperDraft, saying on Twitter that Chivas needs Mexican-American players because in the future "(maybe) they play in Mexico." The club drafts Mexican-American Carlos Alvarez from the University of Connecticut in the first round.

January-February 2013: Chivas USA makes several trades, all of them shipping non-Latino players out (Nick LaBrocca, James Riley, Casey Townsend, Ben Zemanski, and Shalrie Joseph) for a non-player return (i.e., draft picks or allocation money) while bringing just one player in (Mexican-American Eric Avila from Colorado). The team steams toward the opening of the season with a threadbare roster. A slew of loans from the parent club in Mexico arrive to fill out the numbers.

February 2013: In response to controversy over the trades, Chelis rejects the notion that Chivas USA is pursuing a Latinos-only policy, declaring that all of the club's player transactions are based on salary and budget concerns.

March 2013: Chivas USA draws an announced 7,000-plus fans for their home opener (though the actual number of people in the stadium was probably much lower), prompting renewed calls for MLS to step in and do something about the troubling situation. The club also fails to procure a local television rights contract for the season, typically a baseline requirement for all clubs per MLS mandate.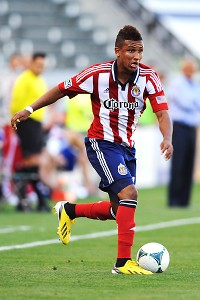 Kelvin Kuo/USA TODAY SportsStar striker Juan Agudelo was traded to New England for allocation money, adding to the perception that Chivas USA isn't really trying.
May 2013: Chivas USA trades Agudelo to the New England Revolution for allocation money. Despite Agudelo being of Latino extraction, and the impending expiration of his contract playing a large role in the decision to trade him, the moves adds to the perception that Chivas USA isn't really trying. For his part, Chelis states that he was not consulted about the trade, but he nevertheless backs management's decisions.

The backdrop to all of this is the persistent rumor that Vergara might sell his soccer holdings, a possibility that would further throw Chivas USA's existence as it stands into question.

It's all a shame, really, because whatever Chivas USA's failings, they bring a unique element to MLS. Most of that is down to their charismatic and enigmatic head coach who rarely passes on the opportunity to wax on about his coaching philosophy. Chelis is truly one of a kind, a coach that not only espouses the belief that his job is to lead a team that will entertain, but who follows through with his actions.

His fiery temperament and propensity for hyperbole (just last week Chelis declared that coaching his team "has made him a better person") stands out in a league rife with dour, terse head coaches more inclined to hold their tongues than let fly with anything truly interesting.

One can't help but wonder, however, if Chelis was brought in specifically to serve as a distraction. If there is a plan, as MLS seems to believe (at least publicly), does it really take such a dispiriting step backward to put into place? At what point should Chivas USA fan, and MLS for that matter, expect to see progress?

How, exactly, does not having a television deal and spending little to nothing on marketing (hence, the embarrassing crowds) feed into that plan?

No outcome seems more likely than the end of the Chivas USA experiment. Even if MLS doesn't step in, the prevailing belief is that the club needs a fresh start, be it through a new name or relocation to one of the many soccer markets craving their own MLS team. It's only a matter of time, really, before the need for change swallows Chivas USA whole.

Major League Soccer needs more clubs with unique approaches outside of the established norms. It needs more head coaches like Chelis, engaging and strange, pushing interest in the sport and the league outside of the field. Unfortunately, what it doesn't need, is the club that finally brings those elements to the table to destroy itself in the process.