Michel settles at Dallas, Columbus firing blanks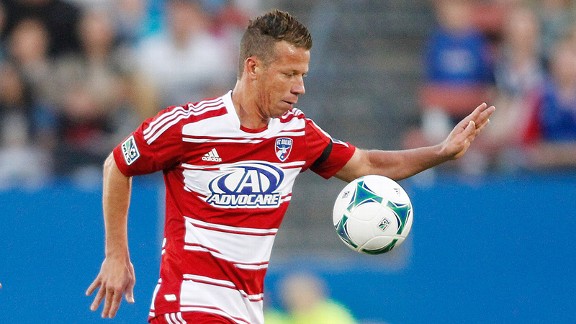 Tim Heitman/USA TODAY SportsMichel has helped FCD to a league-best 24 points from 11 matches
It's a script that has been played out numerous times since the start of MLS back in 1996. A foreign player arrives and struggles to adapt to the league's physicality, not to mention the language and the culture shock than can come from living in North America. Rare are the instances where a player seems to adapt straight away on all fronts.

But that appears to be exactly what has transpired in Dallas, where Michel has helped FCD to a league-best 24 points from 11 matches. The 31-year-old Brazilian has fit in seamlessly into FCD's midfield since joining the club in preseason, providing steady defense alongside Andrew Jacobson while also contributing to the attack, especially from set pieces. While Michel has been credited with just three assists, he's been involved in the build-up for nine of Dallas' 18 goals. Not bad for a player who has only been in the league for a little over two months.

"The group has been very important; they've received me well," Michel said with the help of a translator. "And the style of play, passing the ball and working the ball around, is good for me. But also working hard every day and getting to know how things are done here."

Yet the most impressive aspect of Michel's play so far has been his adaptation to a new position. Prior to his arrival in Dallas, Michel had spent the vast majority of his career as a left-back with a few midfield cameos thrown in. Yet when offseason recruit Peter Luccin went down with a torn ACL, Dallas suddenly found itself in a midfield quandary

"We were a little bit devastated," said Dallas Technical Director Fernando Clavijo regarding Luccin's injury. "We struggled with the situation, and we didn't have anybody in mind right away because we had brought Peter in."

Yet Michel's size and technical ability made him the best candidate to take over, and his partnership with Jacobson has helped provide some protection for a back line that hasn't been immune from injuries.

"Michel has done well, and he's allowed [Jacobson] to play better," said Clavijo. "I think those two guys have learned how to play with each other and I think they've done a pretty good job. We didn't bring him in to play that position, and the coach is happy he can play more than one."

Michel's assimilation into the midfield is an ongoing process. While he enjoys the opportunity to make runs forward as well as contribute on set pieces with his laser-guided deliveries, other aspects of the position have been tougher to master, especially in an athletic league like MLS that doesn't afford midfielders a lot of time on the ball.

"There are things that are not natural for me in midfield," he said. "Sometimes I get the ball facing [my own] goal with my back to the pressure, and that's something that I've been working on. But I thank the coaching staff for trusting me in that position that I've been learning and getting better at every game."

Of course, when it comes to settling into a new league, off-field matters are a significant part of the equation as well. But for Michel that has proved just as easy to navigate as the challenges on the field.
"It's been relatively easy because I understand a little bit of English, and it's getting better," he said. "And life here is very easy, it's calm. I've got everything here."

Thanks to the team's new midfielder, FCD can say much the same.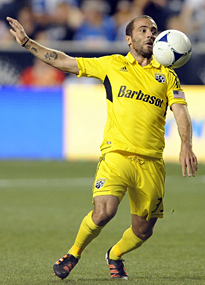 APColumbus Crew's Federico Higuain will be crucial to success
Waiting for goals in Columbus: Take one look at the roster for the Columbus Crew, and it's a team that would appear to have all the necessary ingredients for a devastating attack. There's speed in the form of Jairo Arrieta and Dominic Oduro. You have crafty playmakers in Eddie Gaven and especially Federico Higuain. The size of defenders Josh Williams, Glauber, and Chad Marshall gives the Crew some imposing targets on set pieces.

Yet Columbus has been experiencing an attacking power outage of late. Yes, there was the three-goal outburst on April 27 against hapless D.C. United. But that was the only time in the last four games that Columbus managed to avoid being shut out. The Crew's struggles have been especially acute at home. Columbus has actually scored more road goals (seven) this season than they have home goals (five) in an equal number of games.

How is it then that a team with so much attacking talent can struggle to score?

"We had some good looks at the goal, but have had some poor finishing," said Columbus manager Robert Warzycha. "Sometimes, the ball just doesn't want to go into the back of the net. We're in a funk that we have to get out of."

Ah yes, the old "if only we could finish" lament. But there is some truth to what Warzycha is saying. Admittedly, ten games isn't the biggest sample size, but the Crew is tied for fourth in the league in shots on goal per game. And one only had to see Arrieta squander several good looks against Colorado to see that finishing is indeed a problem.

But there are some deeper issues at work as well. Arrieta and Higuain are no longer the unknowns they were when they joined the team after the start of the season last year. At least at Crew Stadium, teams have been intent on taking away the space behind the back line, limiting Arrieta's effectiveness.

Warzycha indicated this was partly why Oduro has been starting in midfield, the better to give him more chances to run at defenses. As for Higuain, teams are aware of his tendency to drop into midfield or out wide to get on the ball, and this has had the effect of leaving Arrieta stranded at times.

"I would love Higuain to stay higher, but he's trying to find space, and that's why he tends to drift wide," said Warzycha. "But we have to work on him to stay central. Or just come with different players, put another forward in and see what that will do."

Yet for the present, Warzycha made it clear that the likes of Arrieta, Higuain, et al will remain in the line-up for the simple reason that despite the slump, these players give Columbus the greatest chance of winning.

"I can't question their commitment, I can't question their attitude," said Warzycha. "The practices are very, very good, so I'm staying positive. I chose these players to start the games, and I'm going to keep going until we find the way to win the games."

Petke's dilemma: With New York Red Bulls midfielder Dax McCarty nearing a return to full fitness following a quad injury, New York manager Mike Petke faces a puzzle of sorts. How does he fit McCarty, Juninho, and Tim Cahill into the same lineup?

Ever since McCarty was injured against New England back on April 20, Petke has gone primarily with Tim Cahill and Juninho in the center of midfield, although Eric Alexander has seen time in the middle as well. And there can be little arguing with the results, as New York has gone unbeaten during McCarty's absence.

Earlier in the year, finding a solution was easier given Petke's preference for a 4-3-3 formation. But since opting for a 4-4-2 - and Petke said earlier this week on a conference call with reporters that he wouldn't change his formation for one player - the issue becomes more difficult to sort out. Not that Petke was revealing too much.

"At the end of the day, it can either be about getting my best players on the field, or it could be... a rotation," said Petke. "And that's something when Dax is fully fit, [when] Juninho and Tim are fully fit, that we will again, like we did earlier in the season, figure that out and we'll try to get the best lineup that we can. That's the end goal, obviously."

Granted, Cahill has played any number of positions this year, including central midfield, left midfield, as well as forward. But Cahill's form at present is the best it has been since he joined the Red Bulls last year, and this has occurred when playing in the center of midfield. His ability to get on the end of passes in the box has revealed itself at last, and he has put in honest shifts in terms of his defensive duties as well. There is simply no way he makes way for anyone at the moment. And it seems foolish for Petke to move Cahill when he's close to his best.

This makes it a choice between Juninho and McCarty. The University of North Carolina product has played other positions in the past as well, most notably at right midfield. But McCarty is clearly at his best in the middle, where his mobility, tackling, ball-winning, and ability to link defense to attack makes him a perfect fit in the holding role. That would appear to leave Juninho as the odd-man out, except for his ability to deliver the killer pass. His 19 chances created so far this season is more than McCarty and Cahill combined.

It's a tough decision to be sure, although in the near term it's one that Petke will be able to avoid. Cahill will leave for international duty at the end of the month, while Petke has hinted that he doesn't quite think McCarty is fit enough to start this weekend. That said, it seems likely that the situation will remain fluid well into the summer.