Klinsmann right to keep Donovan off USMNT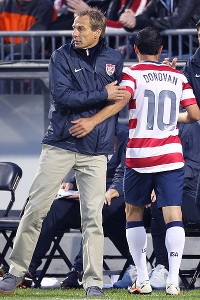 Tom Szczerbowski/Getty ImagesReports say Jurgen Klinsmann is not inclined to send Landon Donovan back on to the field for the USMNT anytime soon.
Landon Donovan's absence hasn't left U.S. manager Jurgen Klinsmann pining for the team's all-time leading scorer to return. So much so that Donovan has reportedly been excluded from the U.S. roster for a trio of World Cup qualifiers in June. And based on the player's recent form, it's the right call.

Donovan famously took a lengthy break from the game following the Los Angeles Galaxy's MLS Cup triumph last December. He missed all of preseason training camp with the Galaxy, as well as three crucial World Cup qualifiers against Honduras. It wasn't until March 25 that Donovan returned to practice; he has since made five appearances with the Galaxy.
But apparently Donovan's play since his return hasn't been enough to impress Klinsmann.

Sports Illustrated reported that Donovan will not be included in Klinsmann's squad for friendlies against Belgium and Germany, as well as World Cup qualifiers against Jamaica on June 7, Panama on June 11, and Honduras a week later.

On some levels, Donovan's omission is surprising. The U.S. midfield has lacked for creativity in the first three qualifiers, and while this was due in part to some extreme playing conditions, the thought was that Donovan's passing and composure on the ball would be a huge benefit to the squad.

But that assumption was always based on a vision of Donovan near the peak of his powers, something that his extended sabbatical always threatened to undermine. Granted, Donovan's one-goal, one-assist performance against Sporting Kansas City April 20 made it look as if he was rounding into form.

But a leg injury stunted his progress, and lately Donovan's play has been characterized by a distinct lack of aggression, too often settling for passes when placed in a clear position to shoot. Add in two missed penalties, and it's easy to see Donovan is short of confidence, making Klinsmann's stance more understandable.

Of course, it's likely off-field concerns factored even more into Klinsmann's thinking than Donovan's play. Regardless of where one stands on the merits of Donovan taking a break, the reality is he chose to be elsewhere while the U.S. was grinding its way to four points from its first three games.

The players who participated in those matches will not have forgotten this. Neither has Klinsmann, who last month stressed "Chemistry is extremely important" when discussing Donovan's status. Given the previous reports of locker-room discord, it's paramount that Klinsmann continue to make playing for the U.S. team a meritocracy, and that his decisions have an internal logic to them.

Where does this leave Donovan? A spot on the Gold Cup roster appears to be the next logical step. On the surface, it looks like a task that is beneath Donovan given his long service to the national team. But it's important for Donovan to re-establish his level of commitment in the present rather than rely on goodwill based on the past.

Not only will that give Donovan more time to get match-fit, but he'll have the chance to earn his way back into the squad without just being handed a starting spot. Chemistry will be maintained, and Klinsmann will possess a sizable data set to determine just how much he thinks Donovan will help the U.S. when World Cup qualifying resumes later in September.