Kei Kamara's Norwich adventure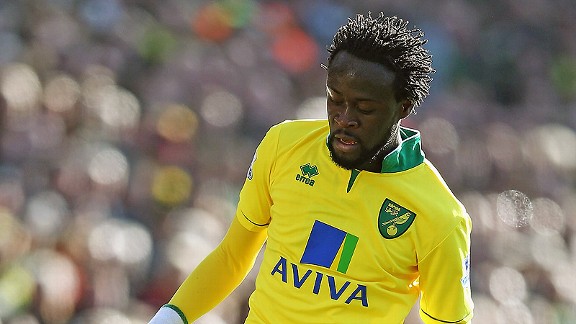 Matthew Lewis/Getty ImagesKei Kamara made 11 appearances and scored one goal during his three month loan to Norwich City.
As homecomings go, Kei Kamara's return to Sporting Kansas City didn't quite go according to plan. In fact, Wednesday's encounter with the Seattle Sounders ended in nightmarish fashion, with the visitors capitalizing on a late error by Aurelien Collin to score a late winner in stoppage time.

As for Kamara, his 23 minutes of playing time were relatively uneventful, even if the ovation he received from the SKC faithful reminded him that "it really does feel like home". That said, he was still kicking himself for not staying engaged in the play that led to Djimi Traore's tally.

"In my head I probably could have done a little bit better to stop the goal that they scored because I was just inches away where I stopped," Kamara said via telephone. "Maybe if I had run a little bit more the ball could have hit me. So that could have been my one contribution in that game, that could have changed everything."

Perhaps, but Kamara could be forgiven for the fact that his head has been spinning a bit. Last weekend he received word that English Premier League side Norwich City wouldn't be picking up his option. That meant hopping on a trans-Atlantic flight back to Kansas City in time for Wednesday's match, and he admitted that jetlag was hitting him hard.

"I'm okay right now while the sun is out," he said. "The time moves fast here."

Time proved to be a bit more elastic while Kamara was overseas. He remarked that in some ways it felt like he was gone for ages. Then the abrupt end made it seem like he hadn't been gone long at all. For sure, three months doesn't seem like near enough time to create a change in a player. His abilities, both mentally and physically, will be the same.

But Kamara remarked that the time spent in Norwich did leave a mark on him, one that doesn't figure to disappear now that he's back in MLS.

"I've always been a player where I'm excited," he said. "I love what I'm doing, I'm hungry, I want to work hard. I want to be one of the best on the field. But obviously, going out there and seeing what the level is, [you see] what you can do knowing the fact that MLS isn't far away from the level in the EPL. Then coming back here, I think I'm hungrier."

Perhaps the biggest surprise of Kamara's tenure with the Canaries, one that saw him garner a goal and an assist in 11 appearances, wasn't that he found himself star-struck at his EPL surroundings, but that the feeling persisted throughout his time in England. Kamara has been a player who has never lacked for confidence, and the idea of him walking around in awe of his environment seems counterintuitive.

The impulse is to think that Kamara's sense of wonderment would have left him in a position where he would freeze up when he got his chance. But instead of being overwhelmed, Kamara used those feelings to sharpen his focus.

"Being a little star-struck was good because I had so much energy to go," he said. "At the same time it showed where I came from. Being in MLS for seven years, I've learned a lot under a lot of coaches in the league. I had to make them proud and make MLS proud because when you go abroad, you're not just playing for yourself. You're playing for everything that you leave behind.

"I said to myself if I had stayed there, the feeling would have been there for the next year because there are a lot more players that I didn't get to play against or get to meet. I'm 28 years old, but I still felt like I was a kid out there living the dream and enjoying it. It would have been there, but in a good way. It pushes you because you're playing against these people that you see and you want to prove to them that you can do it and help whatever team you are playing on."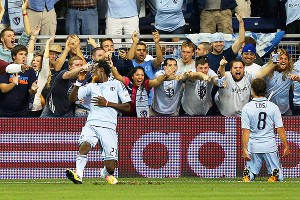 Ed Zurga/Getty ImagesNo matter where he is, Kamara, left, seems to be a fan favorite.
That he did. Kamara rarely looked out of his depth during his matches, and the fans quickly grew to appreciate his effort and commitment.

"I connected with the fans right away, and it's Kansas City's fault, because they saw how much Kansas City loved me so they definitely had to make sure they welcomed me and made me feel at home," he said. "Otherwise I would have been rushing to come back, but it worked out well."

Obviously not well enough for Norwich City to pick up his option, although timing may have had something to do with that.

The MLS transfer window closed on May 6, so if Kamara was going to be eligible to play in MLS this season, a decision needed to be made by then. The fact that relegation from the Premier League remains a possibility for the Canaries complicated matters as well. But Kamara returns content in the knowledge that he made the most of his spell overseas, and knows it could lead to other opportunities.

"In the summer, if Norwich stay up -- and I hope they stay up -- you never know if they'll come back looking for me. Or maybe I did something good there and somebody else will come back looking for me. But I just want to be here and enjoy the game like I always have been."

With his EPL experience now in his back pocket, that seems a given.