MLS notebook: Patience of TFC's Nelsen reaching its limits
SANTA CLARA, Calif. -- Ryan Nelsen's career in professional soccer has taken him all over the world, from his native New Zealand to Stanford University to MLS and finally the English Premier League. Given such depth of experience, Nelsen is as qualified as anyone to dissect what separates North American players from their counterparts elsewhere in the world.

--Big Head Read Head: Sir Alex, Wedensday's MLS

He insisted that it's not athleticism, nor is it technical ability.

"I'd say what [North American players] don't have is a hardened edge you get from cut-throat professional environments in Europe and South America and Africa," he said following Tuesday's practice session. "Where at 12, 13, 14 it's not the white-collar sport. It's hard-edged, and if you don't [progress] you get cut."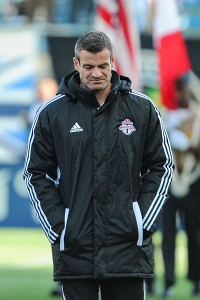 John Geliebter/USA TODAY SportsRyan Nelsen can spot a cut-throat attitude, and he's not finding one with his Toronto FC team.
Twenty-seven hours later, it was evident that the side that Nelsen manages, Toronto FC, was missing precisely that trait. Nelsen had just watched Toronto surrender another lead in a 2-1 defeat to the San Jose Earthquakes. But even more galling than the loss was the manner of the two second-half goals scored by the hosts. Adam Jahn's tally came off a throw-in. The game-winner was the result of a corner kick, with Chris Wondolowski redirecting Walter Martinez's header.

"I think their [first] goal ... just so soft," Nelsen said afterward. "It was a nothing play, and then you just saw the confidence go out of the players. They didn't want the ball, and the passing was bad and everything happened. It was a real confidence killer. You don't mind if a team plays through you or smashes one in from 25 yards. You hold your hand up and that's great football. Not the goal like that. It was demoralizing, demoralizing for everybody, and we've been doing it all season."

With Toronto saddled with a 1-5-4 record, it's proved to be a brutal coaching baptism for Nelsen, especially when you consider that TFC has conceded goals after the 80th minute in six of the last seven matches. That has cost Toronto nine points in the standings and is the difference between being in ninth place in the Eastern Conference and fourth. But following the team's training session Tuesday, Nelsen insisted he had no regrets about retiring as a player to take up the coaching ranks.

"I've loved it," he said about the transition. "And saying that I think it probably is the kind of start I thought we'd have. To tell you the truth, I didn't think we'd be in virtually every game. ... It means we're either winning or drawing a game in the majority of games we've played in. I'd love to have more points, but in terms of performances, I'm very happy. With this team, we inherited probably a team that only had five wins last season, so we were hurting a bit, so it's going to take some time. We're slowly making progress and starting to add players."

That assessment is shared by Ireland international defender Darren O'Dea, in particular how it relates to his new manager. But it's also clear that the lack of results, and the manner in which points are slipping away, is beginning to take a toll.

"He's done fantastic," O'Dea said about Nelsen. "He's been great since he came in, for everyone. I've said it so many times, we've improved dramatically, but there's no point in telling people that. The results don't reflect that.

"We're set up perfectly, we know our jobs, and for most of the game we're carrying out our jobs. It's little lapses that are costing us massively. We need to put that right somehow."

Nelsen intends to do that by bringing in new players. Toronto made two loan deals just before the closing of the transfer window -- acquiring New Zealand international Jeremy Brockie as well as former Birmingham City defender Steve Caldwell -- and Nelsen all but promised to throw in his new recruits when TFC plays its next match on May 18 at home against Columbus. That doesn't figure to be the last move he makes this season either.

"There's going to be changes," he said. "We've had enough faith in the players. We've put them in positions, we've tried everybody, and the same thing keeps happening, and that's it. We've got more players coming in."

And Nelsen will be hoping that hard edge will arrive with them.

Money matters: The now annual release of salary data by the MLS Players Union always creates something of a stir, even if there is debate over a player's actual pay. And with it comes the usual chatter about bargains and over-priced performers. A player's relative value is all in the eye of the beholder, which is why some names on the underpaid list will stretch into six figures.

But that just makes the ensuing debate all that more heated, so without further delay, here is the Notebook's stab at this year's All-underpaid and All-overpaid XI's. Note that all dollar figures are for guaranteed compensation as opposed to base salary.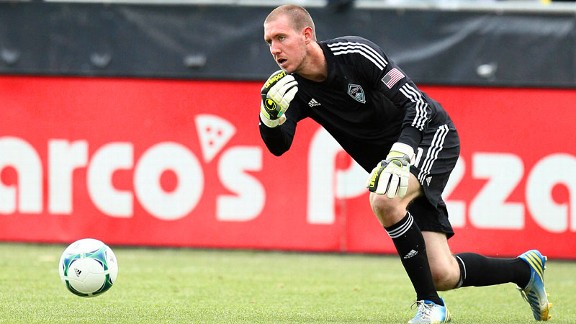 Isaiah J. Downing/USA TODAY SportsAt $35,125, Clint Irwin is a bargain at goalkeeper for the Colorado Rapids.
All-underpaid XI:

Goalkeeper: Clint Irwin, Colorado Rapids, $35,125

Defenders: Josh Williams, Columbus Crew, $52,313; Matt Hedges, FC Dallas, $64,500; Victor Bernardez, San Jose Earthquakes, $100,000; Corey Ashe, Houston Dynamo, $105,750

Midfielders: Rafael Baca, San Jose Earthquakes, $49,500; Michel, FC Dallas, $81,500; Oriol Rosell, Sporting Kansas City, $118,750; Martin Rivero, Colorado Rapids, $75,000
Forwards: Adam Jahn, San Jose Earthquakes, $35,125; Joao Plata, Real Salt Lake, $60,000

All-overpaid XI:

Goalkeeper: Raul Fernandez, FC Dallas, $237,500

Defenders: Digao, New York Red Bulls, $200,000; Bakary Soumare, Philadelphia Union, $350,000; Dejan Jakovic, D.C. United, $303,000; Richard Eckersley, Toronto FC, $310,000

Midfielders: Juan Toja, New England Revolution, $295,000; Shalrie Joseph, Seattle Sounders, $599,333.33; Kleberson, Philadelphia, $495,000; Dilly Duka, Chicago Fire, $273,000

Forwards: Sherjill MacDonald, Chicago Fire, $527,125; Kenny Miller, Vancouver Whitecaps, $1,132,492

Break does Schallibaum good: Much of 2013 has focused on the sabbatical taken by Los Angeles Galaxy attacker Landon Donovan and how it will ultimately play out for both club and country. But a much less heralded break from the professional game has had its benefits for the Montreal Impact.

Back in 2011, Impact head coach Marco Schallibaum was managing Swiss second tier side Lugano, when incredibly, he was relieved of his duties with just four games left in the season, despite the fact that Lugano was leading the league. Lugano ended up finishing third on goal difference, leaving it out of a promotion playoff.

Schallibaum meanwhile was unemployed and left to ponder his next move.

"I'm a coach with a lot of emotions and a lot of hard work behind," he said of that period. "I was a little bit empty."

But rather than disengage from the game completely, Schallibaum took the unorthodox move of becoming a FIFA instructor, a position that took him to such unlikely locales as Qatar, South Korea, and Mongolia.

"I know a lot of good people with FIFA, and I got to go out and do a little bit of traveling and work with other coaches and other countries to show some technical and tactical things," he said prior to last Saturday's game against San Jose. "And also as a coach how you manage all of these things. It was a very interesting situation, to see another world again. But in the football it was also nice for my ideas for the future."

Nine games into the current campaign, those ideas have borne fruit in Montreal. Granted, Schallibaum inherited a veteran side that had accumulated a solid base of talent by the time last year's expansion season reached its conclusion. But after accumulating 17 points in nine matches, it's clear that the former Swiss international has come close to extracting the maximum out of the current roster.

"He's a positive guy," goalkeeper Troy Perkins said about Schallibaum. "Even if things are bad in training, he might say, 'It's not good enough,' but he's always looking at the positives. In this league, you need that. It's a long season with a lot of traveling, so it's easy to put your head down when things go wrong. Everything we do is simple. It's very straightforward what he wants and the training sessions are planned accordingly."

Schallibaum has also struck a balance in terms of when to be hands-on and when to let his staff -- or even his players -- take the reins. And the Montreal manager admits that being new to MLS, he has leaned heavily on his assistants to teach him on the idiosyncrasies of the league.

"The staff, we are a good mix together, American, Canadian, Italian, and French," he said. "It's also important to speak about all these things. The decisions end with me, but it's also important to have some quality around me to make good decisions. We are good together and it's important also that the team feels we are good together."

Of course, the current season is about 25 percent complete, and given his experience at Lugano, Schallibaum needs little reminding of how quickly things can change. That said, he has been impressed with his team's performances so far.

"We have a good way, we started very well," he said. "We know that the way is very long to this goal, from the beginning of the season to go to the playoffs. But it's not one or two games that we are first, it's [nine]. So we have a good base, but we must confirm every day."

Chelis keeps faith amid fire sale: Earlier this week, forward Juan Agudelo was the latest Chivas USA asset to be shipped elsewhere, as he was sent to the New England Revolution for allocation money. Granted, Agudelo is not only injured at the moment with a bad hamstring, but he is out of contract at the end of the year, and on the surface, it seems prudent to acquire some sort of compensation for a player who seems likely to head to Europe.

But based on the aforementioned salary data, and without taking any allocation money into account or the extent to which the Goats are still on the hook for the salary of former midfielder Shalrie Joseph, Chivas USA is now almost $643,000 under the prescribed salary cap. The move raises questions as to just how serious the club is about fielding a competitive team, but manager Chelís insisted that he is keeping faith with the team's approach.

"The change was made in the team's benefit, not for their [owners'] personal gain, or the player's detriment," Chelís said through a team spokesperson. "They made that decision in the team's best interest. I support the director's decision and I'm hoping for something better for the team I coach, because I'm sure they're planning on doing something important."

If that includes a significant influx of players from abroad, Chelís will have to wait until July 9 when the summer transfer window opens. In the meantime, all Chelís knows is that he needs players and lots of them.

"We are a very small team and in the past four or five weeks, we have been losing more and more players for different reasons," he said. "It's a team in need of players and I understand that [ownership] wants something good. Something good will come. This team needs forwards, holding midfielders, more players in general."