More than the story: MLS Week 10
MLS Week 10 brought new storylines, built off old storylines, that played out (or didn't) on the field. A review of which teams held and which fell by the wayside.

Portland Timbers 0-0 New England Revolution

Narrative: High-flying Timbers should have no trouble with a New England team traveling across the country, no matter the Revs' encouraging win over Philadelphia the previous weekend

The only thing keeping this narrative from coming through last Thursday was the erratic finishing of the Timbers and the solid play of Revolution keeper Bobby Shuttleworth. Portland had more of the ball, created more chances and generally looked like the better team. Maybe it was the midweek date, or a letdown after the big win in Kansas City last weekend. Whatever the reason, Portland missed out on two points and the Revolution left town with an extra in their pocket.

-Video: Impact of Silvestre injury

Shuttleworth deserves credit for that. Matt Reis' understudy has played well in the veteran's stead, making several big saves
and keeping New England in games. Jay Heaps continues to have troubling getting goals out of his team, with the draw in Portland the fifth time in eight games the Revolution have failed to score.

Meanwhile, the Timbers can take solace in the overall performance if not the lack of goals.

Columbus Crew 0-1 New York Red Bulls

Narrative: Streaking New York against strong-at-home Columbus with Tim Cahill's new found scoring touch in play

Without a clear narrative -- beyond the question of whether Cahill could keep up his scoring ways -- the story came down to just that. Luis Robles saved a penalty and Cahill scored the winner with 10 minutes to go to keep New York hot and end Columbus' home unbeaten streak at 12 games.

-Video: Cahill's improving form

Robles himself was something of a story coming into the week. Some shaky play prompted questions over his status as the starter, with Ryan Meara returning to full training and Kevin Hartman on the Red Bulls payroll. But Robles made up for his questionable decisions with the penalty stop on Federico Higuain. New York grabbed all three points when Cahill headed home the winner.

Notably for New York, the Red Bulls managed to go on the road and defeat a quality opponent when not playing their best. That should foster confidence moving forward.

Philadelphia Union 2-2 Seattle Sounders

Narrative: Inconsistent Union hoping to bounce back after last week's debacle face a slightly more confident Sounders side

Entering the game, Union coach John Hackworth's overriding concern was improving over a terrible performance in New England. Afterwards, it was the refereeing that took up the bulk of his attention. The Union got two goals from an unlikely source -- winger Danny Cruz -- but dropped points at home in part due to some poor officiating. The Union should have been awarded a penalty kick on a clear hand ball in the box, but referee Jorge Gonzalez missed it.

-Video: Best play of the MLS weekend

What Gonzales didn't miss were opportunities to dish out three red cards. Sheannon Williams and Lamar Neagle hit the showers early after a scuffle, and DeAndre Yedlin followed late in the game for a tackle the referee judged to be egregious. All the calls were open to question.

Neither team will be satisfied with the result, but there are positives for each. Seattle got goals -- more than one, even -- a nice change of pace from weeks of struggling offensively.

San Jose Earthquakes 2-2 Montreal Impact

Narrative: Best team in the league takes their show on the road to test the Earthquakes' revived late-game magic

In the end, both teams fulfilled their ends of the bargain. Justin Mapp scored twice to stake Montreal to a 2-0 lead, only to have the Earthquakes stage a comeback through Adam Jahn and an added-time goal from Sam Cronin. The Earthquakes magic is still there, though the 2013 version is weaker than its 2012 predecessor.

Last year, the Quakes got wins in added time; this year, they're settling for draws.

The Impact might be disappointed to have missed out on three points, but their form continues to be impressive regardless. Montreal actually had a chance to put the game away when Andrew Wenger went one-on-one with Jon Busch, but veteran keeper Busch stoned the second-year striker to keep San Jose in the game.

The Impact looked like one of the top teams in the league, just as the Quakes looked something like last year's charmed side.

Colorado Rapids 1-0 Toronto FC

Narrative: Underwhelming Colorado hosts a Toronto FC team prone to late letdowns

Sadly for Ryan Nelsen and TFC, this game followed the club's prevailing script to a tee. Clinging on to a road point late in a scoreless game, TFC defender Logan Emory slipped on a clearance attempt, allowing an opportunistic Edson Buddle to slam home the winner for the Rapids. The same old story, played out in another disheartening manner for the Canadian club. For the fourth time in as many games, Toronto gave up a late goal to drop points seemingly in the bag.

There's little else to say beyond TFC's mistake and Buddle's winner, other than that Rapids keeper Clint Irwin continues to be a revelation for Oscar Pareja's team. If not for Irwin, the Rapids might be further down the West standings than the fifth spot they now occupy. The Rapids haven't yet been fully healthy this season, so while their position isn't all that impressive, it's worth remembering that they've managed it without their full complement of players.

Real Salt Lake 2-0 Vancouver Whitecaps

Narrative: RSL looks to prove last week's disappointing loss to LA was a fluke against a Whitecaps team that forgot how to win

RSL proved something with their comprehensive win over Vancouver, fulfilling the pre-game narrative. But it's in the eye of the beholder just how impressive it was considering Vancouver's poor run of form. The Whitecaps threatened the RSL goal on a handful of occasions, but it was it the home side's superior team play that carried the day. Facing Vancouver at home was the perfect remedy for whatever ailed RSL during the previous week's surprisingly weak effort against a second-choice LA lineup.

Nick Rimando played a role in the first RSL goal by playing a perfect goal kick to Joao Plata, who supplied a perfect cross for a streaking Luis Gil to nod past Joe Cannon. Plata also set up the second Real Salt Lake goal when he made the final pass to Javier Morales after some excellent build-up from the home team. The goals were RSL at their best.

For Vancouver, the loss creates further questions about Martin Rennie's lineup choices -- suffering from a loss of finishing as well as defensive frailties means the end of the club's winless streak (now up to seven games) might not be in sight.

Sporting Kansas City 4-0 Chivas USA

Narrative: An angry Sporting looks to take out their frustration over last week's loss on a Chivas USA side reeling after a good start to the season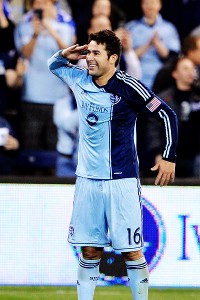 John Sleezer/Kansas City Star/MCT/Getty ImagesClaudio Bieler's brace led Kansas City to a comfortable win.
Sporting drove home this narrative with authority, refusing to let off of the gas at home against El Chelis and company. Claudio Bieler scored twice, including a penalty drawn by Paulo Nagamura that resulted in a red card for Dan Kennedy, and Sporting summoned the killer instinct so obviously lacking the previous week against Portland. Graham Zusi and C.J. Sapong also scored.

Chivas USA didn't manage a shot on goal, was left with a paltry amount of the possession, and never seemed to recover from the (perhaps questionable) Kennedy red card. Whatever magic Chelis and Chivas USA possessed at the start of the season, it has certainly run out. On the other hand, Sporting did what they were supposed to do, and decisively defeated an inferior team at home.

As if a 4-0 win wasn't enough good news, Sporting will get forward Kei Kamara back this week. Despite the lineup headache his return presents Peter Vermes, Kamara's return makes Sporting even more dangerous.

LA Galaxy 0-1 Houston Dynamo

Narrative: LA looks to have their way with Houston at the Home Depot Center again

LA, missing Robbie Keane, played flat and Houston capitalized on their best chance to flip this narrative. It might reach the level of "sweet revenge" for Houston since this was simply a regular-season game and not the MLS Cup final, but the win does put the Dynamo into a tie for first in the East with three other teams.

-Video: Houston gets rare win in LA

Meanwhile, Landon Donovan's return to form hit a bump when the midfielder missed a penalty that would given the Galaxy a first-half lead. It wasn't so much that Donovan missed, but the way he missed (softly) that indicates he still has some way to go before he is his pre-sabbatical self again.

Houston's goal came from a break, when Giles Barnes beat Omar Gonzalez on a pass over the top and cut the ball back for a late-arriving Andrew Driver to fire into the net. Perhaps Carlo Cudicini could have done better with the shot, but on the balance of the game, the Dynamo deserved the lead.