MLS notebook: The Rogers tampering question and Rapids afloat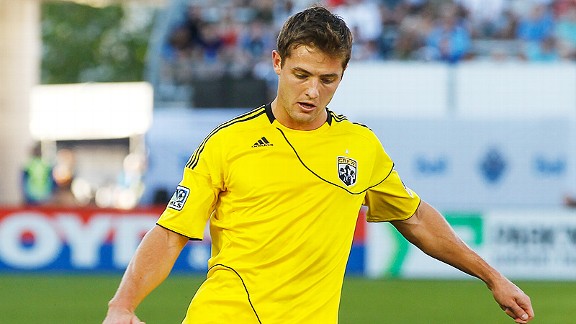 Jeff Vinnick/Getty ImagesWere the Galaxy guilty of tampering when Robbie Rogers, whose rights are owned by the Chicago Fire, trained with L.A. earlier this week?
As Robbie Rogers trained for the first time since announcing last February that he is gay, the excitement generated was palpable, as it was just the latest sign that after previously announcing his retirement, the former Columbus Crew midfielder might return to the professional game after all. But the sight of him decked out in Los Angeles Galaxy training gear raised a different type of question: Was L.A. guilty of tampering given that Rogers' rights are held by the Chicago Fire?

As it turned out, there was nothing nefarious about Rogers' training stint with the Galaxy. A Fire spokeswoman stated that while there was no formal paperwork filed with the league, the Chicago coaching staff had been in touch with Rogers and his agent, and gave the player their approval for him to practice with L.A. given the team's proximity to his family's Southern California home.

As for the Fire's plans for Rogers, head coach Frank Klopas was still holding out hope that Rogers will at some point wear Chicago Fire red.

"Rogers is back at home with his family, and it's an opportunity where he wants to go out and touch the ball and kick around, that's great," he said. "If he wants to take it to the next step... we traded for him because I believe in his ability. He's dynamic, he's a difference-maker, and we made that move hoping he would come back."

Klopas added that while several teams had already inquired about acquiring Rogers' rights, the player hasn't made any overtures to the Fire that he wants back into MLS.

"It's just a step at a time," said Klopas. "I think it's just an initial step. But we've been contact with his agent, and we'll continue to do so."

Pareja keeping Rapids afloat: The early coaching plaudits usually go to the managers of teams near the top of the respective conference tables. Montreal's Marco Schallibaum, Portland's Caleb Porter, Dallas' Schellas Hyndman, and of course, L.A.'s Bruce Arena have all done stellar work over the first two months of the regular season. But notable coaching efforts can take place further down the table as well, and such is the case with Colorado's Oscar Pareja.

At first glance there seems to be little that is noteworthy about Colorado's spot in the standings. The Rapids are currently eighth out of nine teams in the Western Conference and 14th in the overall league table. But after grabbing eight points in its last five games, Colorado is just two points out of the last playoff spot in the west, and the fact that the Rapids are even within touching distance of fifth place is a borderline miracle given the ungodly string of injuries the team has endured.

Sure, every team has injuries and suspensions to deal with, but Pareja has been without nine starters for much of the season. Defenders Diego Calderon has missed extended time, as have midfielders Martin Rivero, Pablo Mastroeni, and Kevin Harbottle. Jaime Castrillon hasn't played a minute due to knee surgery, Matt Pickens is out with a broken forearm, and forward Edson Buddle has been hobbled as well with a right knee strain. Now comes word that Hendry Thomas will miss a few weeks with a left hamstring injury.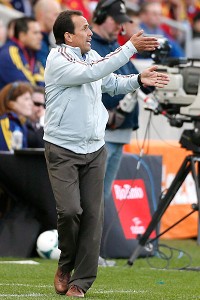 George Frey/Getty ImagesDespite a slew of injuries, Colorado coach Oscar Pareja has guided the Rapids to a recent string of positive results.
"It's been very unusual," said Pareja via telephone. "And after our evaluation of every injury we had, 75 percent of the injuries have been due to some impact or some collision and that's not something you can prevent. You see teams where people get hurt. That's normal, but not all at the same time."

Yet Pareja has been able to coax some impressive performances out of heretofore unknown players. Goalkeeper Clint Irwin has been a revelation, Shane O'Neill has filled in capably in the back, and midfielder Dillon Powers has stepped in for Mastroeni's spot.

"I think the group is solid enough to understand that we cannot stop making plays and complain and cry because adversity comes," he said. "That's what I liked about this team. Despite having this many guys in the medical room, the guys are getting results."

The good news is that Mastroeni and Rivero both made it back on the field in last weekend's 1-1 tie against Houston. But Pareja is careful not to rush things, despite some powerful impulses do to so.

"We want to make sure we are careful with the timing because we want these guys to recover for the season and not just for one game," he said. "It is hard because you have players with the mentality you are trying to develop within the squad, which is people who want to be playing, not quiet in the medical room. As a coach, yes, sometimes it's frustrating to see that the timing has to be longer. It's something you have to manage, but we have to patient."

If Pareja can maintain that approach, a deeper team may be the payoff as the season progresses.