Five MLS head coaches (sort of) on the hot seat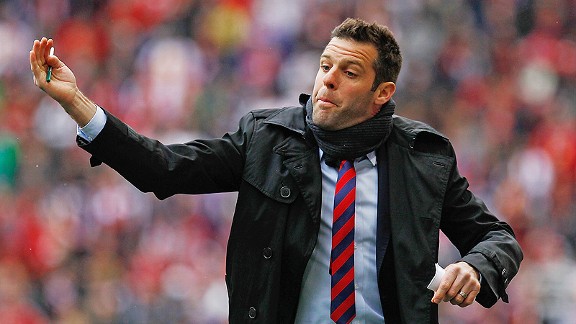 Mike Stobe/Getty ImagesInjuries and a lack of impactful offseason signings have hindered Ben Olsen and DC United in 2013.
There's a trend developing across MLS, and it's not just the rise of teams that missed the playoffs last year or the growth of exciting young players across the league: It's the failure of several teams to meet expectations. Unfulfilled expectations in sports usually means change. Change in the philosophy, change in the lineup, and sometimes, change in the coach.

MLS is an unusual beast in that clubs rarely pull the trigger on firing a coach midstream. The playoffs serve as a lifeline, extending patience when it might otherwise run out. Often, firing a coach means paying him not to coach -- in the frugal environs of American soccer, dead money is a no-no.

- Carlisle: New frontier for MLS referees
- Carlisle's MLS Notebook: Rogers; Pareja

That means that rather than a "hottest seat" list, what we have two months into the MLS season is a list of five coaches whose teams have underperformed the most, and who, in a different situation, might be candidates for dismissal.

1. Ben Olsen -- D.C. United

Olsen's status as a club legend is undoubtedly a factor in how D.C. United view the possibility of dismissing him, but more important is the club's unsteady finances and lack of investment in new players heading into the new year. Injuries have ravaged United, increasing the level of difficulty for Olsen. Owner Jason Levien recently gave Olsen (and general manager Dave Kasper) the "vote of confidence", which so often is the harbinger of a change at the top; in this case, we might be able to take Levien at his word. It's hard to see a change in the coaching position making much of a difference for a team with such obvious personnel deficiencies.

Olsen also possesses a measure of credit thanks to last year's run to the Eastern Conference Finals, an accomplishment achieved without the club's best player.

2. Sigi Schmid -- Seattle Sounders

The possibility that the Sounders would fire Schmid -- the only man to lead them during their MLS history -- is nearly inconceivable. And yet, there the Sounders sit, in last place in the Western Conference with four points from five games and facing a mountain to climb to get back to their usual perch in the upper echelon of the league. Any other coach, in any other situation, and we might wonder if a change was in the cards. But Schmid holds a legendary college football coach-like place in the makeup of the Sounders. He's their Bobby Bowden, without the homespun wisdom and statue in front of the stadium.

Schmid is not going anywhere. A blip to start the year doesn't cancel out the work he's done to turn the Sounders into a perennial contender. Maybe somewhere else, Schmid is under the gun. In MLS, he's just weathering a storm nearly certain to blow over.

3. Oscar Pareja -- Colorado Rapids

Pareja stepped into the Colorado job after his predecessor, Englishman Gary Smith, wore out his welcome despite winning an MLS Cup in 2010. It hasn't been easy going for the Colombian Pareja, now in his second year at the helm. In 2012, the Rapids finished out of the playoffs and struggled to maintain any consistency. Ownership stuck with him, however, believing his program (a dramatic shift from Smith's chosen playing style) could eventually bear fruit.

So far in 2013, the injury-ravaged Rapids have failed to improve on last year's disappointment. Pareja's saving grace is just that, plus the notably frugal ways of owner Stan Kroenke when it comes to his MLS asset. Still, nine points in nine games is bad but not disastrous; if and when the Rapids can get their first choice eleven on the field, Pareja will have a chance to prove he deserves to keep his job.

4. Ryan Nelsen -- Toronto FC

Not only is Toronto FC Ryan Nelsen's first head coaching job, it's his first coaching job of any kind. Add in the unique way in which he moved from the playing field to the coaching box and his hand-picked status as Kevin Payne's man to lead the Reds, Nelsen doesn't figure to be in any immediate danger. Toronto FC was so far down that any improvement is a credit to Nelsen and provides him with a lengthy rope; after so much turnover in recent season, stability is crucial.

Two months into his stewardship, TFC still labors in the bottom of the Eastern Conference, though there are small signs of improvement. The club's goal differential is respectable and a new spirit infects the club. If Nelsen can transform TFC into a team the picks up points (or merely hangs on to them) rather than drops points in disastrous at the end of games, Toronto will take large steps forward and Nelsen's position will be solid.

5. Frank Klopas -- Chicago Fire

Klopas, like Sporting Kansas City's Peter Vermes and LA's Bruce Arena, pulls all the strings in Chicago. Personnel is his purview after he added the head coaching job to the technical director position he's held since 2008. After taking the Fire to the MLS Cup playoffs last season, Klopas' team is off to a slow start in 2013. Some of that is certainly down to the turnover in team -- after coming up short last year, Klopas saw fit to remake the Fire midfield, trading for Jeff Larentowicz, Joel Lindpere, and Dilly Duka. He parted ways with his leading scorer, Dominic Oduro, in the process. Those moves have not yet paid off, leaving Chicago with an anemic offense and an eighth place standing in the Eastern Conference.

Why shouldn't Klopas be in the crosshairs for dismissal? No reason other than the safety net of the playoffs, the notion that it might take time for the Fire's new pieces to gel, and Klopas' long service with the Fire. In MLS, those things are more than enough.