New frontier for MLS referees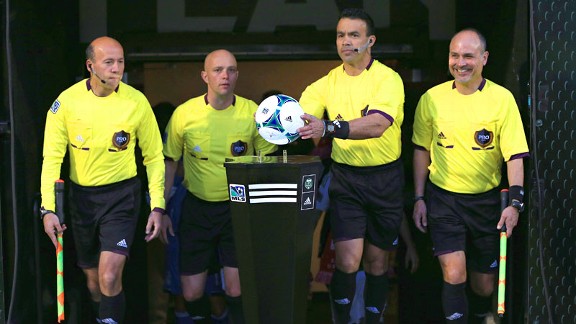 Doug Pensinger/Getty ImagesMLS referees are following in the footsteps of their officiating brethren in the NFL, NBA and MLB with their recent unionization.
When MLS and the U.S. Soccer Federation teamed up last year to form the Professional Referee Organization (PRO), it was done with the intent of putting programs in place to improve the standard of refereeing in the U.S. and Canada. Yet the initiative also had an unintended consequence -- that of providing an opening for the creation of a referees' union -- and this was one call that the referees didn't miss.

During training sessions in Dallas over the last several weeks, and under the auspices of the National Labor Relations Board, MLS referees voted 55-7 to make the Professional Soccer Referees Association (PSRA) their official collective bargaining agent. The vote was the culmination of a year-long process, and over the next few months, the PRO will now have to sit down with the PSRA and find common ground and eventually hammer out a collective bargaining agreement.

"We're excited," said PSRA Vice President Steven Taylor, who worked as an assistant referee in MLS for the first 16 years of the league's existence. "This has been a long process for us and we think, honestly, it's a historic day for soccer referees in North America."

MLS now finds itself following in the footsteps of other sports leagues like the NFL, NBA, NHL and Major League Baseball, whose referees are all part of unions. But in this case, it's more than a bit ironic that without the formation of the PRO, the unionization of MLS officials would never have taken place. The PRO's founding saw 20 referees become employees of the organization whereas prior to that, the referees essentially worked as independent contractors.

"The hiring of people as employees opened the door for this unionization," said Taylor via telephone. "We couldn't do that without employees."

Such is the public perception of unions that they are often linked with two concepts: protection of underperforming members and work stoppages. Given the rather low regard fans have for referees, the former is one concern that has been voiced on social media. But Taylor stated the PSRA's aims have nothing to do with on-field performance.

"The collective bargaining is all about working conditions; travel, accommodations, training, fitness testing, sports psychology, and support of any kind," he said. "All of these different things go into a workplace environment. None of that has anything to do with evaluation of performance. If you have a string of bad games, you're not going to be employed anymore. There may be some formalization of the process, but there's no way a poor product on the field is going to be protected by this step [of unionization]."

As for a possible work stoppage, the tactic remains a part of a union's arsenal. But Taylor insisted that given the union's recent formation, there is a long way to go before the PSRA would even think of taking such a drastic step.

"We hope that we can resume with the PRO the type of relationship we always enjoyed with MLS, which is one of a very warm, cordial, collaborative, let's-work-together, we-all-want-the-same-thing type of relationship," he said. "We're not going to be asking for crazy things. Our goals are modest and our hopes are just to create an environment within which our referees can thrive."

The response of the PRO has been one of acceptance, even as it contested the PSRA's formation at every step. The PRO could have agreed to allow the PSRA to be the official bargaining agent without going to a vote, as MLB did with its umpires. Instead the PRO forced the budding union to go through the entire certification process.

"In terms of the unionization and making them go through the certification, I think that's right, because I needed to gauge the whole feeling of my officials," said Peter Walton, the PRO's General Manager. "I wasn't being fair to the mass of officials if I didn't allow them to have a free vote on it."

Walton stated that the formation of the PSRA shows how far North American referees have come in terms of their professionalism. But he also sounded like a man who feels unappreciated for his efforts in improving the referees' working conditions.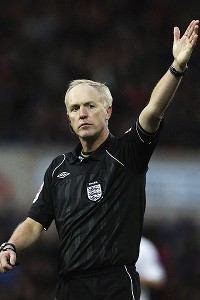 Scott Heavey/Getty ImagesPeter Walton, General Manager of the Professional Referee Organization, believes his group can work with the Professional Soccer Referees Association, provided all parties remain realistic.
"What the officials have received over and above what they had 12 months ago is immeasurable really," he said. "They now attend training camps. They now have full-time contracts. They now get as much training as they want. They now get medical assistance and sports scientist assistance. They now get new equipment, such as communications systems. Their advancement over the past year has been immense. What they would like over and above that, I really don't know."

But as in most unions, it's not about what the members of at the top end of the scale are getting, but those closer to the bottom. Both Taylor and Walton confirmed that while the center referees are the ones with contracts, the assistant referees and fourth officials are paid on a game-by-game basis.

Walton stated that this approach is how it's done in every other league in the world. But Taylor admitted that getting the assistant referees at least on part-time contracts is something the PSRA will work towards.

"It would be better if everyone were as close to a full-time job as possible because obviously the goal is to improve the quality of the on-field product and professionalize the entire team that is working in every game as much as we can," he said. "If everyone is able to work full or part-time, that would be better for everyone."

That will ultimately be decided through collective bargaining, and it may not be easy. Lucas Middlebrook is one of the attorneys working with the PSRA, and is an associate with the firm Seham, Seham, Meltz & Petersen, who has also done work for the National Basketball Referees Association. He expects that some potholes will be encountered on the way towards a CBA and even beyond.

"It's a sea change for an employer who's used to telling you, 'This is how it's going to be done,'" he said. "Once you get through that rocky portion and your CBA starts to live and breathe, then it actually produces a relationship that helps the game. We see that in the relationship between the NBA and their referees right now, where it's one where they work together to get things done."

Walton, for his part, is confident that is how the process will play out.

"I'm quite relaxed about the whole thing," he said. "If we can work together to make sure it's to our mutual benefits, there's only one winner and that's soccer. Provided that I'm realistic and they're realistic, I'm sure we'll come to some kind of agreement and long may it be if that's the case."