More than the story: MLS Week 9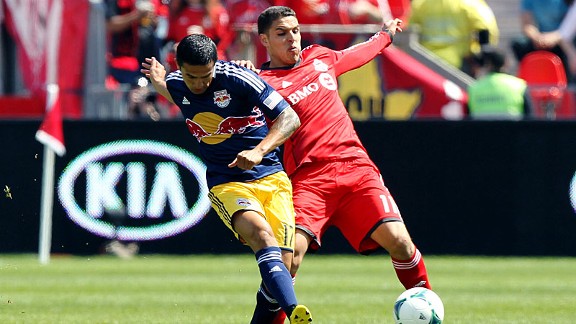 John E. Sokolowski/USA TODAY SportsTwo goals from Tim Cahill, left, helped the New York Red Bulls muscle their way to a road win in Toronto.
Here is your Week 9 roundup of matches, their pre-game narratives, and the reality that revealed itself as the games played out.

Toronto FC 1-2 New York Red Bulls

Narrative: Improving Toronto FC -- off a midweek win in the Canadian Championship -- carries the lesson of the letdown that led to last week's home draw with Houston into a home game with talented New York, whose confidence is high after last week's four-goal outburst -- but without midfielder workhorse Dax McCarty, they could be ripe for TFC's taking.

- Cahill goals boost Red Bulls

Mixed results for the pre-game narrative. Whatever lesson TFC learned last week after controlling the game with Houston only to see two points slip away in a moment of lax concentration, they forgot it this week. New York dominated the game, even without McCarty, both a credit to the Red Bulls midfield and a strike against Toronto's. Designated Player Tim Cahill, who had either underperformed to this point or was unfairly criticized -- depending on who you asked -- came up big with two goals to lead New York to the win.

To their credit, TFC showed some fight and might have had something of an undeserved draw on the strength of Jonathan Osorio's 83rd minute goal (aided by a poor goalkeeping by Luis Robles) if it weren't for Cahill. The former Everton star and Australian international finally brought to New York that thing for which he is most known: his knack for finding the back of the net with his head.

Side note: Roy Miller has played very well since his meltdown in San Jose, a credit to Mike Petke's man management.

Montreal Impact 2-0 Chicago Fire

Narrative: Montreal came back to earth over the last two weeks after a fantastic run of early form, but should handle Chicago, who can't seem to figure out how to put the ball in the net despite an improving attack.

- Montreal keeps Fire winless on road

Narrative, followed to a tee. Chicago challenged Impact keeper Troy Perkins with several shots from distance, but couldn't break through the Montreal defense to get one past him. A fairly even first half eventually gave way to a Montreal-dominated second half, as the Impact's superior finishers showed their talents.

Defensively, Alessandro Nesta was his classy self until he left with a groin injury early in the second half. Offensively, the Impact got goals from Andres Romero (his first as an Impact player) and Designated Player Marco Di Vaio. Each goal was individually indicative of the Impact philosophy; hitting the opponent direct and relying on the devastating goal-scoring abilities of their talented attacking players. Di Vaio's goal in particular was created out of almost nothing, and only managed to sneak past Chicago goalkeeper Sean Johnson thanks to the Italian's brilliant turn.

The loss outlined the problems facing Chicago Fire head coach Frank Klopas: injuries and suspension forced him to start Logan Pause at right back, where the Fire captain was torched by Romero for Montreal's first goal and gave Di Vaio too much space to turn on the second. At the other end of the field, Sherjill MacDonald was a non-factor, Chris Rolfe was limited, and Chicago's best chance were long-range shots coming from midfielders.

Vancouver Whitecaps 2-2 FC Dallas

Narrative: High-flying league-leading FC Dallas, a team with no obvious weaknesses at this point in the season, travels to Vancouver to face an Impact team still pinning down their identity -- who FC Dallas beat 2-0 in Texas just last weekend.

- Manneh rallies Whitecaps to draw

Vancouver, and specifically rookie forward Kekuta Manneh, had no interest in following the narrative. The first half was all FC Dallas, as the Western Conference leaders took an early lead on an Andy O'Brien own goal made possible by Kenny Cooper's header. Dallas extended the lead to 2-0 when Brad Rusin's attempted clearance went back towards goal and fell to defender Matt Hedges.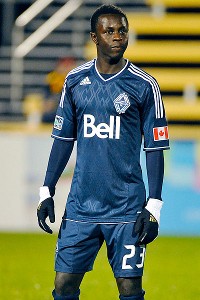 Rainier Ehrhardt/Getty ImagesRookie sensation Kekuta Manneh showed why he was a high SuperDraft choice by scoring and assisting in Vancouver's draw with Dallas.
Then Whitecaps head coach Martin Rennie inserted Manneh early in the second half and Vancouver's fortunes changed immediately. In the 72nd minute the 18-year-old Gambian collected a bouncing ball in the FC Dallas box and ripped the ball to the near post past Raul Fernandez, putting the Whitecaps on the board. Three minutes later he used his exceptional speed to attack the FC Dallas defense, leaving hoop-clad players in his wake as he set up Camilo for the equalizer.

It wasn't exactly revenge for the FC Dallas' win last week, but perhaps the Whitecaps witnessed the birth of a star.

Columbus Crew 3-0 D.C. United

Narrative: After losing away to Chicago last week, Columbus looks rediscover their attack at home against a depleted D.C. United team that is already showing signs of capitulation after a five game winless streak.

- Crew overcome delay, down D.C.

After a fire on the Crew Stadium scoreboard delayed the start of the game by 50 minutes, this one went according to plan.

The only surprise perhaps, was the completeness of the Crew victory. Columbus scored three times in the first half, including a goal (on a penalty) and an assist from Federico Higuain, and United's winless streak stretched to six.

Frustration was palpable for United; especially after a 23rd minute goal from Kyle Porter was disallowed -- perhaps incorrectly. From there, it was a disappointment after disappointment for Ben Olsen's team. Missing Chris Pontius and Nick DeLeon, United's offense was heavily dependent on Dwayne De Rosario. While Columbus was reintroducing Jair Arrieta to the starting lineup and getting explosive results, D.C. United received further evidence that their team just isn't good enough.

The fire might have hit the Crew's home scoreboard, but all of the "up in smoke" symbolism sits squarely on the side of D.C. United.

New England Revolution 2-0 Philadelphia Union

Narrative: Philadelphia and their league-leading scorer head to New England to face a Revolution team that hadn't won since opening weekend, but would be buoyed by playing at home for the first time since the terrible events of the Boston Marathon.

- Revs end scoreless run vs. Union

Narrative followed. Whether it was the community spirit present in Gillette Stadium that inspired the Revolution or the visiting Union simply weren't up for the game, New England put in its best performance of the year in a 2-0 win in front of 18,000 fans. Lee Nguyen took firm hold of an opportunity to run the Revolution offense by setting up Diego Fagundez for the opening goal and scoring the second one himself. The shift in approach led to New England's first multi-goal game of year, and just the third and fourth goals of the season for Jay Heaps's team.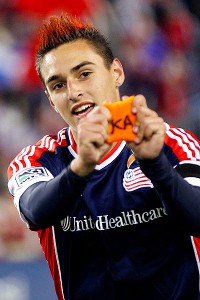 Greg M. Cooper/USA TODAY SportsDiego Fagundez paid tribute to teammate Kevin Alston after scoring against Philadelphia in April. Alston returned to the Revs after being treated for chronic myelogenous leukemia.
Philadelphia's first loss in four games also brought an end to Jack McInerney's scoring streak. Both McInerney and the Union created a handful of chances, but the New England defense and goalkeeper Bobby Shuttleworth (starting for Matt Reis, who is still dealing with the impact of the Boston bombings on his family) combined to keep them out.

The Union claim the showing was their worst of the year. That might not have been a coincidence with everything that surrounded the Revs' return to Massachusetts.

Sporting Kansas City 2-3 Portland Timbers

Narrative: One of the league's best, most athletic, teams clashes with a young, supremely athletic team rounding into one of the more attractive sides in MLS -- expect fireworks.

- Wallace wins it for Timbers

Fireworks delivered. This is not your slightly older brother's Portland Timbers; this team can win on the road. That the Timbers managed to do just that -- in the cauldron Sporting Park, after going down not once, but twice, and then taking the lead in the 58th minute -- shows how far they've come under new coach Caleb Porter. Sporting is a good team, but the Timbers walked into their house and laid down a statement.

Sporting took the lead in the very first minute of the game when fullback Chance Myers recorded his first MLS goal in a five year career. Myers went on to score Sporting's second as well, but the Timbers never relented, eventually scoring equalizing twice (through Ryan Johnson in the 24th minute, then Darlington Nagbe in the 33rd) before taking the lead for good in the 58th minute on a well-taken goal by Rodney Wallace.

The Timbers held on in part thanks to the stellar goalkeeper of Donovan Ricketts.

Real Salt Lake 0-2 LA Galaxy

Narrative: Real Salt Lake has a chance to take down the champions at home, with the added advantage of facing a depleted Galaxy, with injury concerns keeping Landon Donovan and Robbie Keane -- among others -- out of the match.

- Fast start propels Galaxy past RSL

LA made sure this one went against the pre-game narrative. After scoring early on a header by Mike Magee, the Galaxy cruised to a win at Rio Tinto Stadium. Rookie striker Charlie Rugg scored his first career goal to add to the lead in the 13th minute. From there, the Galaxy played their brand of soccer to limit RSL's chances and see out surprisingly easy road victory.

RSL had their own injury absences, including Costa Rican forward Alvaro Saborio. The lack of their most dangerous forward's presence was apparent as Real Salt Lake attempted to get back into the game -- those chances the home side did create were handled by LA's top centerback pairing of Omar Gonzalez and AJ De La Garza and stand-in goalkeeper Brian Rowe.

RSL controlled the ball, but found the going tough against the well-drilled Galaxy defensive effort. Bruce Arena knows his stuff; he also has the depth to make that true no matter which star -- or stars -- is missing.

Chivas USA 2-2 San Jose Earthquakes

Narrative: Two of the league's most physical teams were expected slug it out, with each looking to improve on a negative trend of results -- fisticuffs and fireworks possible.

- Earthquakes rally to tie Chivas USA

No major fireworks or fisticuffs, but the two clubs did physically slug it out over 90 minutes at the Home Depot Center. San Jose dominated large stretches of the game and ended with a 21-7 shot advantage over the home team. Chris Wondolowski scored his fourth goal of the season -- a very Chris Wondolowski goal which slipped past the Chivas defense at the back post -- and San Jose had every right to an emphatic win.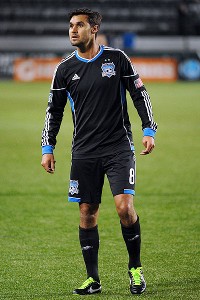 Steve Dykes/Getty ImagesChris Wondolowski scored his fourth goal of the season in San Jose's tie at Chivas USA.
But Chivas USA scored twice early in the second half, both goals aided by Jose Villafana's strong wing play, and it took a 78th minute equalizer from Cordell Cato to bring San Jose back level. Minus the suspended Alan Gordon, San Jose had their first choice team on the field for the first time all season. It was somewhat ironic then that it was the returning Marvin Chavez's replacement, Cato, who scored the goal to earn San Jose a point.

Houston Dynamo 1-1 Colorado Rapids

Narrative: The dominant-at-home Dynamo looked good for a win against a mediocre Colorado team still missing big names.

- Dynamo extend home unbeaten streak

Houston kept its home unbeaten streak alive, but just barely, and it wasn't via the expected win. Colorado keeper Clint Irwin put in another incredible performance for the Rapids, repelling the Dynamo's attempts to score. Colorado took a 1-0 lead to halftime after defender Drew Moor headed home a Dillon Powers corner.

Giles Barnes rescued the streak in the 66th minute with a blast Irwin could do nothing about -- a rocket to the top corner from a long ball won in midfield. But Houston was flat, carrying over a trend established on the road over the last couple of weeks; the unbeaten home record had rarely looked so much in jeopardy. Houston heads back to the road to take on the Galaxy next week without Brad Davis, who picked up late red card for a dangerous tackle.

Colorado earned a point in a difficult place to play but will be disappointed they didn't take all three.