MLS notebook: Gap between Dynamo's home, road success puzzling
When it comes to Jekyll-and-Hyde acts, no team in MLS is quite as hard to figure out as the Houston Dynamo.

-- MLS plans Queens stadium
-- Gulati set to tackle reform from ExCo spot

Over the last two-plus seasons, Dominic Kinnear's side has been dominant at home, having gone unbeaten in a staggering 35 games in all competitions. In league play, Houston's streak stands at 29 games, tying Real Salt Lake's mark that was set between June of 2009 and May of 2011. The last team to beat the Dynamo at home was the Columbus Crew on June 18, 2011.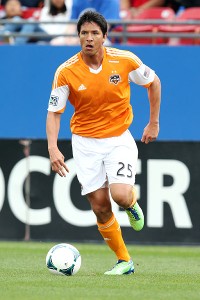 Matthew Emmons/USA TODAY SportsThe Dynamo own the highest gap between home and road points of any MLS team in each of the last two seasons. Forward Brian Ching is concerned that could create a mental block.
On the road, it's been a different story. Over the last two seasons, Houston has been in the bottom half of the league in terms of road performance, finishing 11th in road points in 2012 and tying for 12th the year before. The Dynamo's road mark doesn't quite qualify as awful, but it's still lower than what one would expect of a talented team that has reached the last two MLS Cup finals. Looked at another way, Houston owns the highest gap between home and road points of any team in MLS in each of the last two seasons.

It can be argued that Houston's significant drop in form on the road is pure nitpicking. In the playoffs the last two years, the Dynamo have tended to perform when it has mattered most, with a road record of 3-3-1. Included in that mark are one-game playoff road wins at Chicago last year and a Western Conference final win against Sporting Kansas City in 2011. That is why when the comparison between home and road points was brought up to Kinnear, he indicated he wasn't aware of it and wasn't that concerned about it either.

"The goal, like it is for every team, is to make the playoffs," he said via telephone. "Get as many points as you can whichever way you can to make the playoffs, and give yourself a chance."

Yet it's worth noting that two of the Dynamo's three playoff losses came in MLS Cup finals. Kinnear came in for some criticism when he opted to rest several starters in last year's regular-season finale at Colorado, a match which Houston lost 2-0 when a win would have seen them vault over L.A. in the overall standings. That proved significant, as it was the Galaxy who ended up hosting the MLS Cup final and parleyed that advantage into a 3-1 victory over the Dynamo. Not that Kinnear is losing any sleep over what transpired.

"I can't predict that the fourth or fifth seed from each conference is going to make it to the finals," Kinnear said. "If someone would've said last year, 'You'll play in the MLS Cup final at L.A.,' I would have taken it."

Yet Kinnear acknowledged that he would be more than happy to see his side get more road points. So why don't they?

The significant home-field advantage Houston has certainly skews any comparison between home and road performance. The dimensions at BBVA Compass Stadium are relatively narrow, and the weather can sap the energy of opponents from cooler climes.

"In the summer months, we do adapt to the heat better than some teams," Kinnear said. "I think we've played in front of some good, intimidating crowds, and I think over the years we've had some very good teams."

But the Dynamo isn't the only team playing in heat and humidity come summer. One is left to wonder then if Houston's home domination doesn't end up creating a mental security blanket that vanished on the road. It's a theory that forward Brian Ching feels has validity.

"I think it comes down to mentality, and I think that's something we need to improve on," Ching said. "When you're away, and things don't go right, I think at times, you need to fight through that. I think that's a mental thing. I think playing 90 minutes, be it good or bad at home, we're a lot more confident. I think we lose that confidence on the road when things don't go our way.

"In the playoffs, I think we understand the implications of every game and we bring that right mentality. We need to learn to bring that to the regular season a little bit more."

There are tactical and personnel considerations as well. The tight dimensions of Houston's new home seem to suit the style and skillset of central midfielders Adam Moffat and Ricardo Clark, who bring plenty of bite and ball-winning ability to the game. On bigger fields, and with Clark playing further forward than Moffat, the center of Houston's midfield is more easily pulled apart, as witnessed by the second half of last month's 2-0 loss at Portland. Moffat picked up a hamstring injury last weekend against Toronto, and with Clark likely sliding back into more of a holding role, it will be interesting to see how the team's play is impacted.

"It's subtle differences," Ching said. "In Portland, we weren't holding onto the ball like we were in the first half, we weren't getting stuck into tackles. I think we let other teams gain that confidence and momentum."

A glimmer of hope revealed itself last weekend, as Houston battled back against Toronto to equalize in stoppage time while playing a man down. Granted, more consistency was needed as Toronto outplayed Houston on the day even before Jermaine Taylor's red card. It is a start however.

"If we do get that mental toughness on the road during the regular season, we'll be right up there competing for one of the best records in the league," Ching said.

If that's the case, Houston may be the team that hosts the MLS Cup final come December.

Alvarez fills void: With Kyle Beckerman returning to training this week for Real Salt Lake after battling a rib injury, it seems only a matter of time before he returns to the starting lineup. If Beckerman doesn't return this weekend against the L.A. Galaxy, then he seems a lock to start the following week against the Vancouver Whitecaps.

Pity then for Yordany Alvarez, who has filled in quite capably in Beckerman's absence. The former Cuban international stepped in just 33 minutes into the April 14 match against Vancouver and then went the full 90 minutes against Chivas USA, all while providing the kind of possession and defense that manager Jason Kreis demands.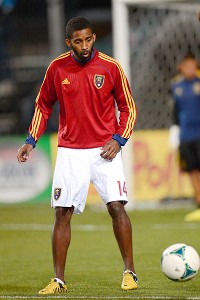 Thearon W. Henderson/Getty ImagesCuban international Yordany Alvarez has logged over 1,100 minutes since joining Real Salt Lake on loan in 2011.
"The season is going well," Alvarez said via telephone. "For me, I feel very well, and I'm working hard. My game is better this year. I feel more confident in everything. I'm more comfortable with the ball."

Given that Alvarez's path through the lower tiers of the U.S. soccer pyramid, both with the Austin Aztex and Orlando City, saw him play more as an attacking midfielder, it's somewhat surprising to hear him talk of his improved technical ability. But part of what makes Beckerman so effective in the role is his ability to play quick passes that help launch counterattacks as well as his positioning in breaking up attacks, and that is where Alvarez has increased his effectiveness.

Not bad for a player who has logged just over 1,100 minutes since first joining RSL on loan back in 2011.

"It's difficult to play any role when you're only playing it a couple of times a season," RSL general manager Garth Lagerwey said. "The fact is that Beckerman is going to play the majority of games at that spot. We need Yordany to step in and have great games having not played a lot of other games. That's a real challenge mentally, and I think that Yordany has gotten a lot better at that in terms of preparation."

That hasn't made it any easier for Alvarez to adapt to the spot-duty role he seems to have taken on.

"It's difficult to watch," he said. "I want to play so bad. I want to play every week. I'm just always waiting for my opportunity. I'm always ready when the team needs me."

With Beckerman poised for international duty this summer, Alvarez may not have to wait long.

Davies passes on TFC: The rumors that Bolton Wanderers striker Kevin Davies was on his way to Toronto FC had been gaining steam in the last week, with one Toronto source indicating that Davies was expected to arrive this week. But apparently contractual issues have led Davies to reconsider, and he has decided to remain in England and help Bolton in their bid to be promoted back to the Premier League, even though he hasn't featured for them for several months.

"It has been a complete roller coaster since first speaking with Ryan Nelsen (the Toronto FC coach) on April 18," he said in a prepared statement given to The Bolton News. "As it stands today I will not be leaving for Toronto FC, as reported. My young family and I were naturally very excited about the opportunity of going to Toronto on a short-term deal but after legal advice we felt that certain obstacles put in our way were too large to overcome."

Davies' contract expires June 30, so there remains a possibility that if Toronto was still interested, he could be acquired then. But Davies is 36, and by the time he will be available, it is hoped that Danny Koevermans will be sufficiently recovered from the ACL injury he sustained last year.

Kinnear hopes to use Honduran pipeline again: Asked about what plans he had for summer reinforcements, Houston manager Dominic Kinnear revealed that he had a Honduran international in his sights without elaborating further. But a source confirmed that the target Kinnear has in mind is 20-year-old Olimpia striker Alexander Lopez.

Lopez was linked to the Dynamo back in January, with the player even telling Honduran media outlet La Tribuna that an offer had been made. A deal was not completed then, but Kinnear has maintained his interest in Lopez, who the Dynamo saw up close during the group stage of the 2012-13 CONCACAF Champions League.

Lopez has made three appearances for the Honduras national team as well as three appearances at last summer's Olympics.