Klinsmann addresses status of Donovan, Bocanegra & Holden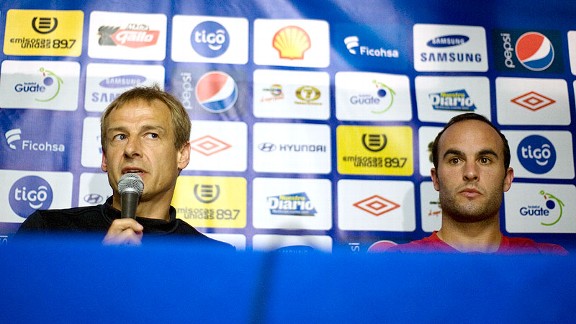 JOHAN ORDONEZ/AFP/GettyImagesJurgen Klinsmann's head games with Landon Donovan may be counter-productive.
When Jurgen Klinsmann updated a small collection of reporters on the status of Landon Donovan within the hierarchy of the U.S. soccer team, he wasn't really updating a small collection of reporters on the status of Landon Donovan within the USMNT. Nor was he updating the American soccer public, who obviously have an emotional interest in the status of Landon Donovan within the USMNT.

-Klinsmann: Donovan has work to do

No, what Jurgen Klinsmann was doing when he expounded on Donovan's break from soccer, his current (improving) form with the LA Galaxy, and the players ahead of Donovan in the depth chart as a series of games loom for the American side, he was sending a message.

A message to Landon Donovan.

At a gathering in Washington Wednesday, Klinsmann outlined Donovan's uncertain status. Here's of several quotes (via Steven Goff of The Washington Post) addressing team chemistry:


"We observe what the players are doing in camp, how we go through that difficult stretch of qualifying games. We see the chemistry of the team developing and we try to have a clear picture of every individual player and what he brings to the table in moving this team forward. Most of the time, [Donovan] was not part of the process. It was his choice and I understand that. It's no problem, but at the same time, we are moving forward. Therefore, it's not down to one [MLS] game when you score one goal to say, 'I am back in the team.' It's not working that way."


Sending messages through the press seems to be one of Klinsmann's favorite pastimes, judging on his tenure as USMNT coach. Whether it's the declaration that young American players should test themselves in the more soccer-immersive environments of Europe or that crucial players such as Clint Dempsey have yet to reach their ceilings, no matter what they might have accomplished (and so should further challenge themselves), Klinsmann is consistent in his extremely public (and typically critical) assessment of many of his best players.

It's a motivational tool, pure and simple, and not just for the player in question. When Klinsmann sends a message, it's for the benefit of every player in the pool.

If Donovan does not currently have a place in the USMNT, it would have been much simpler for Klinsmann to provide the standard "we evaluate everyone" line and left it at that. It's the extra words on commitment and Donovan's absence that reveal the coach's intent to make an example of the midfielder.

Still, there's no reason to doubt Klinsmann's honesty when he says that Donovan is on the outside looking in as the situation stands. It's worth noting, however, that the German head coach made these comments a full month ahead of the next USMNT match (a friendly with Belgium on May 29) and 45 days until the team returns to World Cup qualifying in Jamaica June 9.

That's plenty of time for things to change, for Donovan to resume his place among the MLS elite, and for Klinsmann to change his mind about Donovan's place in the USMNT setup.

If the team was consistently creating chances and scoring, it would be easier to swallow what Klinsmann feels the need to say. But Donovan remains one of the Americans' best creative players, sabbatical or no sabbatical, and it behooves Klinsmann to sort out the team's offensive woes before points are dropped in Jamaica or elsewhere.

If Donovan can help, why shouldn't Klinsmann consider him? If notions of team chemistry built over time in a national team weren't questionable to begin with, the issue of Klinsmann's constant tinkering of his roster and lineup and last month's reports of several disgruntled players make them laughable.

Landon Donovan has been a fixture of the U.S. squad for over a decade, and surely has the respect of nearly everyone in the USMNT locker room. Would he really be so disruptive a figure he would jeopardize team chemistry?

Practically speaking, Klinsmann has no excuse not to bring in an in-form Donovan if the USMNT needs him in the next round of qualifiers or beyond.

But if Klinsmann is sending as a message, as he is wont to do, he'll no doubt stick to his guns for the foreseeable future. In other words, he has painted himself in a corner he's happy to occupy for now. One can only hope that he's still as comfortable come the renewal of Hex hostilities.

Klinsmann's insistence on commitment is admirable in many ways, but it's quite possible it's a luxury he can't really afford.

Bocanengra less secure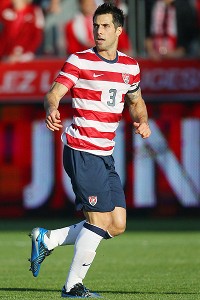 Tom Szczerbowski/Getty ImagesFormer captain Carlos Bocanegra has a number of challengers for his position on the U.S. team.
Klinsmann also addressed the place of former team captain Carlos Bocanegra in the USMNT pecking order Wednesday. Unlike Donovan, who remains one of Klinsmann's better attacking players, Bocanegra's recent struggles for playing time at second-division Spanish side Racing Santander made the discussion much more clear-cut.

A talented younger generation of center backs have pushed Bocanegra out of the team, and it will require significant improvement on the defenders part to get back into the mix.


"Thankfully now he is back playing. At the same time, we have promising players breaking through like Omar Gonzalez and Matt Besler and Geoff Cameron. We have options. And Carlos is aware of that. Carlos knows it's competition. It's a continuous competition going on there and he is in the middle of that."


Barring an injury crisis, it's difficult to imagine Bocanegra will play a part in this summer's schedule.

Different tack on Holden

Stuart Holden's comeback from his most recent leg injury continues, and Klinsmann says he is watching.


"Stuart excites us. He is really coming back. What he really needs is games, games, games — minutes, minutes, minutes. It's looking very positive."


It is interesting to contrast Klinsmann's obvious excitement over a player who hasn't played regular minutes in nearly two years to his charged words about commitment when addressing Donovan. Donovan's absence, because it was voluntary, rubs Klinsmann the wrong way and he won't be moved no matter how well Donovan is playing at the moment.

On the other hand, Holden is still only a potential player on the roster as he works back to full fitness after his lengthy layoff. Early reports have Holden making good progress, but it remains to be seen if he can be the player he was before his injuries. Nevertheless, Holden "excites" Klinsmann and his staff.

Two very different circumstances, admittedly, and perhaps Klinsmann has his eye on Holden for the Gold Cup team (likely to be made up of many MLS and Scandinavia-based players) rather than the full squad, but it's telling how the USMNT boss responded to the mention of each name.

Regardless, USMNT should be glad to hear of Holden's progress and Klinsmann's interest. If the Bolton midfielder returns to his pre-injury capabilities, he can add a new dynamic to the USMNT midfield.