Gulati set to tackle reform challenges from ExCo
The reality of a successful election is that the thrill of victory is immediately followed by the weight of expectations. So it would appear with Sunil Gulati's election to the FIFA Executive Committee.

-- Behind the story: MLS Week 8
-- MLS Power Rankings

At last week's CONCACAF Congress, the U.S. Soccer Federation president claimed an 18-17 victory over Mexico Football Federation president Justino Compean. It was as tense a vote as the numbers would suggest, with Gulati stating on a conference call with reporters that with the vote even at 17, Anguilla casting the decisive vote. It's worth noting that Gulati's support came entirely from countries where English is the primary language.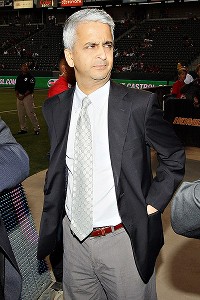 Victor Decolongon/Getty ImagesSunil Gulati's CONCACAF support came exclusively from countries whose primary language is Enlgish, adding to the challenge of healing rifts that have emerged because of corruption chargers.
CONCACAF has recently been roiled by allegations of fraud involving former president Jack Warner and ex-general secretary Chuck Blazer. On Friday, a report was presented that implicated both men, with the FBI and the Internal Revenue Service also looking into matters.

It's believed that Gulati's long association with Blazer, which dates to the 1980s, was an obstacle to his election given the long-standing support of Warner, who hails from Trinidad & Tobago, among Caribbean countries.

"There's an association with two Americans, and my fear was that there would be a backlash against Gulati," former USSF secretary general Hank Steinbrecher said via telephone. "The reality is he got one more vote."

Steinbrecher added that Gulati's status as a FIFA insider may have been what pushed him over the top.

"I don't think Compean's been as active in FIFA as Sunil has been," he said. "Sunil has been there a lifetime, and I think that that had some weight. He's already been selected to serve on some important FIFA committees and Compean has not."

On Monday, Gulati set about trying to explain how he would use his newly acquired influence, all while trying to dampen expectations. Gulati likened his position to that of being a U.S. senator as opposed to a governor. His job will be to represent CONCACAF and try to be an advocate for the vision laid out by the organization's president, Jeffrey Webb.

Yet given the charges of corruption that have engulfed both FIFA and CONCACAF over the past few years, Gulati is now expected to use his new position as a means of nudging FIFA toward ethical reform and greater transparency. He already sits on FIFA's Independent Governance Committee, and with the next FIFA Congress poised for the end of May, he insisted that progress has been made, and that there is "at the highest level, a sincere effort to try to reform and change the organization."

He added, "There are some things that are football governance issues that are specific to the organization, like the makeup of the Executive Committee, for example. There are others that are quite standard things that should be implemented by any institution, like having a separate ethics panel ... Hopefully we'll get a lot more of those done in May, and whatever else is still on the agenda will be looked at beyond that."

Gulati also said that he is in favor of disclosing the compensation of ExCo members, so long as no confidentiality agreements are violated. But overall, he indicated that cultural differences are a significant impediment to instituting reform.

"In a U.S.-based setup or non-profit, it's not a recommendation or a norm, it's the law that we have to disclose compensation levels of our top employees and outside contractors. That's not the norm in Europe, or most of the rest of the world, certainly in Switzerland ... There are any number of other areas where our legal system, our history and culture, are different than other places, so it's not easy."

Yet there is immense skepticism that actual progress will be achieved, and recent events within the IGC have bolstered that view. Alexandra Wrage, an anti-corruption expert, resigned her position from the IGC last week. In an interview with the BBC that many of the recommendations made by the committee, which included among other things independent oversight of the ExCo, had been "neutered." When the topic of Wrage's resignation was brought up, Gulati insisted that the committee's work would continue.

"From what I understand, the work of the governance panel is going to continue its work for a third year, beyond this year," he said. "I don't know if that's confirmed with FIFA yet ... I can't comment further because I haven't talked to [Wrage] or seen her comments."

Gulati has been largely silent on the matter of corruption allegations surrounding the vote for the 2022 World Cup, in which the U.S. lost out to Qatar. His aforementioned association with Blazer has also led to criticism that he should have done more to bring to light some of the mismanagement that took place within CONCACAF.

Asked about why he didn't speak out more about the bid process for the 2022 World Cup, Gulati said, "I understand that there may be people looking at [the 2022 World Cup bid process]. I don't know if the new investigative chamber is looking at that specifically. We don't have any comments to make without making accusations or anything else. What am I going to comment on? Rumors? Allegations that are unsubstantiated at this point? If there is an investigation that is going on, so be it. Other than saying that yes there are rumors going on, I'm not sure what I'd be commenting on frankly."

Of course, much of this falls outside CONCACAF's future direction, and Gulati vowed he will do everything he can to further the confederation's agenda. Last Friday, with FIFA president Sepp Blatter in attendance, Webb called for the 2026 World Cup to be hosted by a CONCACAF country.

Gulati said, "We've made it clear in the past that we think hosting a World Cup in the U.S. would be a positive ... That certainly is something we would be targeting in the future."

There is also the challenge of healing some of the rifts that have emerged within CONCACAF due to the corruption charges. Gulati noted that the "language alliance" among Caribbean countries was evident in last year's elections for the presidency of the Caribbean Football Union.

"I think Webb and I and others will work very hard to bring them back to not falling along those lines on most issues," he said.