A busy month for USWNT and Gulati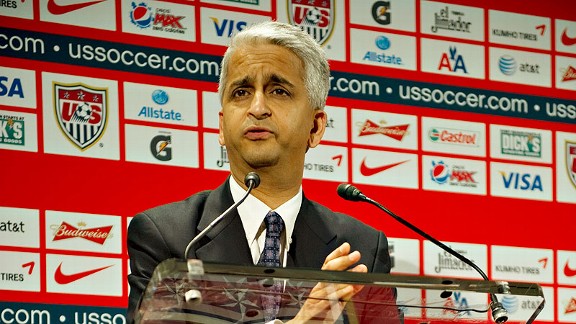 Don Emmert/AFP/Getty Images Finding a new USWNT coach and setting up a new women's soccer league: two big tasks ahead for Sunil Gulati.
October is shaping up to be a busy month for the U.S. Soccer Federation President Sunil Gulati. Not only does he hope to have a new head coach for the women's national team hired, but he also is aiming to complete the financial vetting process for 11 potential investors in a new professional women's soccer league.

On a conference call with reporters Friday night, Gulati stated that the USSF had received 25-30 inquiries for the open position, had already conducted some interviews this past week in Chicago and that more would take place over the coming days.

"The process is ongoing, we're not at the end of it," he said. "There are still some international coaches and some domestic coaches that are in the mix."

On a previous call, Gulati had indicated that the search would include international, U.S. college coaches, youth national team coaches and professional coaches. He also stated that the current list of candidates covers each of those areas.

"We don't have a short-list per se," he said. "But we're still talking to people in this first round of interviews. The timetable is to still try to bring that process to its conclusion by the end of October, but we don't have a cutoff date of any sort, with a competition around the corner."

Gulati added that Jillian Ellis, currently the USSF's Technical Director on the women's side, will coach the team on an interim basis for the two upcoming friendlies against Germany on Oct. 20 in Chicago and then in Hartford three days later. Ellis indicated to ESPN.com in an interview last month that she is not a candidate for the head coaching position, something Gulati confirmed was still the case.

As far as some of the qualifications that the next coach might need, it had been believed that Gulati was looking for someone who could take a more active role in the development of the U.S. youth national teams, something previous head coach Pia Sundhage had not much displayed. Gulati indicated that was not necessarily the case.

"The job description is to coach the senior national team," he said. "How much [the new coach] is involved in the overall technical direction and the player development process really depends on two things. One is who the person is, and whether they have the capacity and interest in that. Two, it's down to the timing in any given year."

"If it were a coach from outside that we brought in, the next year they'd be frankly learning the ropes, learning about the setup here -- who the youth clubs are, who the universities are, those things. If it's someone from within our system, they might have a great role in that."

Gulati added that a candidate's willingness to be involved in youth development would not be a decisive factor in whether that person was hired, nor is he leaning towards hiring a U.S candidate over a foreign coach.

As for the prospective new women's league, Gulati stated that he is still hoping for a new league to be up and running next year. He declined to name specifics as to the investor groups and markets, but did add that the cities are spread across the country and included a mix of "top ten" markets and smaller cities.

The investor/operators include "former professional teams that are part of that group, and current MLS teams." Furthermore, the vetting process will also take place at the same time as discussions with current U.S. women's national team players about the overall structure of the league and the players' level of participation.

In terms of running the league, Gulati stated that the USL would handle the front office responsibilities "if we can pull this together," but that the USSF would continue to take a much more significant role than it did with previous women's leagues where it served as more of a sanctioning and regulatory body.

"There is every possibility that we would have a more active role in the management and funding of this league," he said. "What form that takes is still being discussed, but a big part of [our] participation would be that the national team players would play in this league and perhaps be funded directly by U.S. Soccer. Having said that, the overall support that U.S. soccer provides for the national team program is one that is frankly done everywhere around the world, so we're seeing if we can reshape some of that and add to that in the form of a league. I think we'll have a pretty good handle on that in the next few weeks."

According to Gulati, that support won't come in the form of writing checks to specific teams, but one possibility is to pay 100 percent of the salaries of national team players.

So with two big assignments on his plate for the coming months, all eyes will be on Gulati for signs of progress.