More than the story: MLS Week 8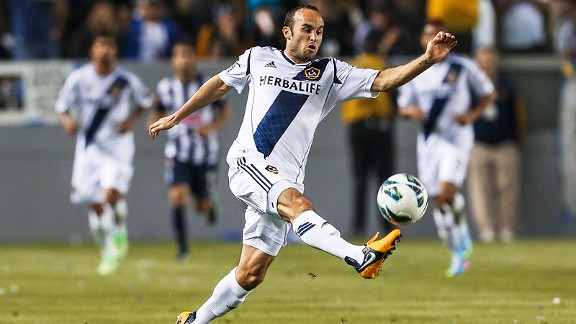 AP Photo/Bret HartmanLandon Donovan was back to his best on Saturday night against Sporting KC with a goal and an assist.
Every game is a story. A self-contained 90 minute saga with a beginning, middle, and end; each playing a part in telling the tale of Team A vs. Team B in whatever context the contest takes place.

In the context of Week 8 of the 2013 MLS season, each game had a prevailing narrative going in that it either played itself out as we thought it might, or it fell by the wayside to some other story entirely. These narratives are indelibly slapped with a thick coat of hyperbole -- both because hyperbole is easy and because the games would be much less interesting without it. Equivocation is boring.

- MLS Power Rankings

Here's your Week 8 roundup, their pre-game narratives, and the reality that revealed itself as the games played out.

Toronto FC 1-1 Houston Dynamo

Narrative: Toronto's new spirit and cold weather home advantage versus the Houston Dynamo's diametrically opposed characteristics of heady professionalism and odd disinterest on the road.

- Dynamo equalize with late header

Narrative, mostly correct. Toronto FC controlled most of the game but missed chances to put themselves out in front of Houston by hitting the woodwork. The Dynamo were dealt dual injury blows when Adam Moffat left in the first half and Brad Davis was pulled off at the intermission. A soft red card to Jermaine Taylor early in the second half, followed shortly thereafter by Jeremy Hall's long distance goal, put Toronto on the front foot. TFC never capitalized on Houston's misfortune more than the one time, however, and in the end, the "Dom Kinnear-led Dynamo are a supremely professional outfit who don't roll over easily" storyline unfolded when Warren Creavalle nodded home an injury time equalizer to steal a point for Houston and leave TFC stunned.

Colorado Rapids 0-1 Seattle Sounders

Narrative: Colorado's increasing swagger and obvious home field advantage hosts (at just the right time) the still-banged up, still-offensively challenged, and still winless Sounders.

- Video: Rapids 0-1 Sounders

Narrative, mostly correct, though the result didn't turn out the necessarily expected way. Colorado created more chances and the Sounders struggled to create any meaningful attack, but some luck and the clinical finishing of a returning Obafemi Martins lifted the Sounders to a win on the road in Colorado. Seattle still doesn't look like themselves, for lack of a better description, but they've at least ripped the monkey from their proverbial backs. Martins' first MLS goal could set him on his way to a strong goal-scoring campaign, and the Sounders will now have some confidence moving forward in the competitive Western Conference. On the other side, Colorado played well but desperately missed a forward with the ability to put the ball in the net. The absence of rookie revelation DeShorn Brown was noticeable.

New York Red Bulls 4-1 New England Revolution

Narrative: Talented but mercurial New York's desperation day after their debacle on Wednesday (and other troubles) takes on New England, stumbling in MLS but likely to have more to give after events in Boston this week.

- Red Bulls score four on reeling Revs

Mixed results for this narrative. New York is clearly the better team, and showed it on Saturday at home in the confines of Red Bull Arena, but the real story on the other side is New England's distressing lack of offensive punch. Whatever lift the events the horrific tragedy of the week before could provide New England was lost to the truth that the Revolution have very little to threaten opposing defenses. Until forward Saer Sene is back in the starting lineup on a regular basis (he made a substitute appearance on Saturday), New England will scare no one.

For New York, the win and the four goals they scored are just the type of thing to set them off on a good run under Mike Petke and shunt aside all of the negative feelings around the team in recent weeks. That is until they melt down again. Which, according to the prevailing narrative, is inevitable.

FC Dallas 2-0 Vancouver Whitecaps

Narrative: White-hot FC Dallas and their sky high confidence welcomes in Vancouver and their sky high inconsistency (plus, they've never won in Texas)

- Perez strikes again in Dallas win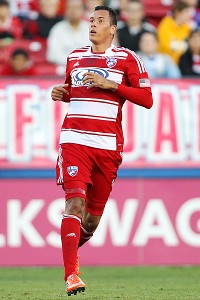 Rick Yeatts/Getty ImagesThere's no stopping Blas Perez and FC Dallas who won again over the weekend against Vancouver.
Full on bulls-eye on the pre-game narrative. FC Dallas live up to their Western Conference-leading form with a 2-0 win over the Whitecaps in Frisco. An own goal off the back of Whitecaps defender Brad Rusin set the tone of the game, with FC Dallas playing like the first place team they are and Vancouver struggling to compete on the road. The only bright spot for Vancouver was goalkeeper Joe Cannon, who kept the 'Caps in the game despite FC Dallas peppering the Vancouver goal.

Blas Perez picked up the second goal for FC Dallas, a team with a wealth of attacking talent at the moment. Between Perez, Kenny Cooper, Jackson, David Ferreira, etc., Dallas creates plenty of chances to score, while the defense now has five straight shutouts to its name. The things ailing Vancouver seem somewhat fixable, but not in Texas and not against the league's top team.

Chicago Fire 1-0 Columbus Crew

Narrative: Chicago's across the board mediocrity and reliance on great goalkeeping hosts Columbus' potent attackers.

- Fire break through late

Narrative, flipped. It was Chicago that bombarded the Columbus goal throughout the match, taking a total of 21 shots in the game and forcing Crew goalkeeper Andy Gruenebaum into six saves. Chicago, which for all the world looked like a team in desperate need of striker help for Chris Rolfe heading into this game, suddenly found an attacking groove that required Gruenebaum to put in a stellar performance just to give his side a chance.

Despite the verve of the Fire's designated attackers, it was a defensive midfielder -- Jeff Larentowicz -- that finally found a way to put the ball past Gruenebaum (which means the prevailing narrative within the game -- that it would probably be Rolfe or Sherjill MacDonald or Patrick Nyarko would would score -- was also flipped). Columbus' speed (Oduro) and culture (Federico Higuain) failed to produce a single shot on goal in the game.

Real Salt Lake 1-0 Chivas USA

Narrative: The Real Salt Lake's experience and organizational stability takes on the surprising success of the trash-talking El Chelis-led Chivas USA

In the end, RSL's superior composure at home did in fact carry them to the win in a game framed by Jose Luis "Chelis" Sanchez Sola's odd Twitter trash-talk about the state of Utah in the days before the game. Javier Morales's 53rd minute goal -- from a move Morales himself helped start before finishing with a glancing header off of a 60-yard run -- proved to be the difference between the two teams. But Chivas USA acquitted themselves well before slowly unraveling as the second half wore on. Despite a lack of goals, the game was open and exciting with chances for both sides.

Sanchez Sola's meltdown seemed to mirror his team's. Exhorting his club from the sidelines while going through the histrionics of shedding his suit (Edgar Mejia's first half penalty being saved by RSL keeper Nick Rimando probably didn't help his mood), Sanchez Sola saw fit to get into a shouting match with Javier Morales when the RSL midfielder took his time coming off the field for a substitution. He then traded words with RSL head coach Jason Kreis before heading for the locker room before the final whistle.

LA Galaxy 2-0 Sporting Kansas City

Narrative: Top MLS team with expensive talent and a star trying to regain his top form versus top MLS team fatigued after traversing the country for a second game in four days on the opposite coast.

- Donovan lifts Galaxy to win

An addendum to the expected narrative -- that SKC would be forced to play a more defensive, reactive, game after traveling from New York -- fell by the wayside when Sporting head man Peter Vermes decided to go for the win with the same first choice eleven that beat New York on Wednesday night. Beyond that, the storyline followed the expected plot. Sporting created a few chances and might have competed better on a different day, but the story of the game turned out to be LA's talent shining through. Specifically, Landon Donovan's first real sign that he's capable of regaining the form that made him one of the league's best players before his strange sabbatical.

First, Donovan set up Marcelo Sarvas for the opening goal with a trademark counterattacking run, then scored the second by trailing a Robbie Keane breakaway to arrive in time for a tap-in. Sporting could not contend with LA's counter, an expected result of heavy legs. On one hand, Sporting was beaten fairly comprehensively by a fellow Cup contender; on the other, their reputation remains intact because of the difficult circumstances of their cross-country road trip.

The alternative take, of course, is "this is MLS, suck it up."

D.C. United 2-3 Philadelphia Union

Narrative: United's limp offense and lack of identity against Philadelphia's red hot striker.

- Union hand D.C. another home loss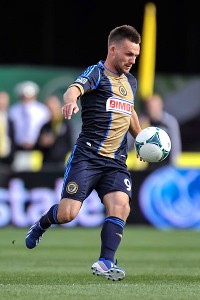 Jamie Sabau/Getty ImagesJack McInerney continues to impress for Philadelphia as he tallied twice in the Union's win at D.C.
Win, for the red hot striker point. But it wasn't United's lack of offense that ultimately did them in. Philadelphia's 20-year-old phenom, Jack McInerney, scored twice, veteran newcomer Conor Casey added a third, and the Union outlasted United in a wild game chock full of mistakes on both ends. The loss was United's fourth in a row (cue crisis music), while the Union earned the full three points for the first time since their third game of the year.

United actually got a goal from a forward, the oft-criticized Lionard Pajoy, but failed to maintain any sort of defensive discipline. Bill Hamid was consistently left out to dry by his defenders, and while Ben Olsen's team scored multiple goals for the first time all year, his side spent the entirety of the match chasing the game. If United requires being down by multiple goals to wake up their previously dormant offense, it's going to be a long year at RFK.

San Jose Earthquakes 1-1 Portland Timbers

Narrative: The Quakes and their rough-and-tumble style play host the new-and-improved "pretty" Portland Timbers; though throw all of that out the window because the two teams just don't like each other (red card[s] imminent).

No red cards, though the two teams did do their level best to get under each other's skin. Noted provocateur Steven Lenhart was on top of his game, harrying, harassing, and haranguing every Portland player within arms' reach or earshot throughout the night. The pace and play was naturally chaotic, a reality that benefited the Earthquakes much more than the Timbers, though Portland did exert themselves in terms of possession. It was Portland that finally found the breakthrough goal when Diego Valeri combined with Ryan Johnson at the top of the Earthquakes box, then took advantage of a fortuitous bounce off of Steven Beitashour's tackle, to slam the ball past Jon Busch in the 58th minute.

In a twist, however, the Quakes summoned their 2012 "Goonies" magic to make sure Portland didn't leave with all of the points. A long ball from a restart found the head of Lenhart, bounced around a bit in the Timbers' box, then fell to Chris Wondolowski (who, in an aside, continues to miss good chances, another storyline that won't go away), who laid it off for 84th minute substitute Adam Jahn. Jahn didn't miss, and hints of the old late-game sorcery returned to Buck Shaw Stadium. Jot down "Are the Goonies back?" for use next time the Earthquakes play.