Interview: Jozy Altidore on transfer speculation, the USMNT and more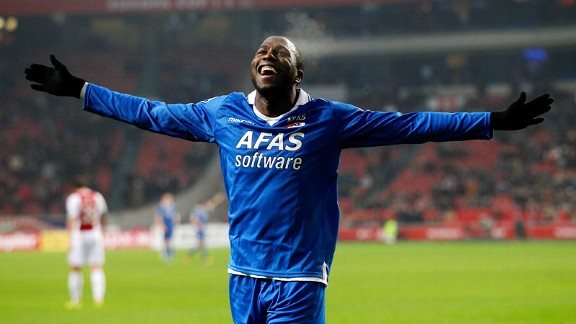 VI Images/Getty ImagesJozy Altidore has scored 28 goals this season for Dutch side AZ Alkmaar.
United States international and AZ Alkmaar striker Jozy Altidore is in the stretch of his best campaign as a professional. The former New York Red Bulls broke Clint Dempsey's one-year old record for goals by an American in a season, and despite facing racist chants at a Dutch Cup game in Holland earlier this year, the environment clearly suits him.

Altidore's success in the Eredivisie, even while AZ suffer through a disappointing campaign, means speculation has already started that the American striker is bound for a move to bigger and better things this summer. But as suitors begin to line up, Altidore says he's comfortable in Alkmaar and pays little attention to the transfer rumor mill. He isn't anxious to rush into a bad situation.

On the national team front, Altidore remains a key figure in the USMNT's effort to qualify for the World Cup. Despite a paltry recent scoring record, Altidore's talents means he's back in Jurgen Klinsmann's lineup for crucial Hex qualifiers.

In an interview with me for The Best Soccer Show, Altidore addressed the rampant club transfer speculation, the fallout over last month's Sporting News story in the USMNT camp, the disappointment of not taking more of the game to Mexico in the Americans' scoreless draw there, the problem of racism in European soccer, and the possible addition of his new club teammate Aron Johannsson to the USMNT ranks.

On whether a possible move is on his mind day-to-day:

"Not at all. It's actually [the] furthest thing from my mind. I don't think about it until people ask about it. I'm just so engaged in what's going on right now in terms of these last four games and the cup final. Those are the only things I'm really focused on or worried about at the moment."

On the transfer speculation in the press:

"It's just what it is. In football it's always going to be like that. There's always going to be rumors. There will always be people talking. I've been around long enough to know that you can't concern yourself with that kind of stuff.

In any sport, when you have success, or start to do well other things come about -- it's my job as a professional to stay engaged in the now."

On the disappointing AZ Alkmaar season:

"It's definitely been an up and down one, but I think it's been a good experience for a lot of the young guys here. There are a lot of young guys that have been not as close to the first team as they would have been if we had different type of players, so I think it was good experience for them to kind of take it all in and see what it takes at this level. It's been a really good learning experience and I think a lot of the guys found out a lot about themselves and what their limits are and how they extend that and become better players."

On the possibility of staying with AZ Alkmaar:

"I'm comfortable here. I'm happy here. I have a great life here. My family loves it here when they come visit. I'm in no rush to take off from Holland, I'm really enjoying it here. In terms of offers, if that does happen, it just has to be somewhere where it fits and somewhere I can develop and get better. I'm in no rush to jump into something that's unsure. I think I still have time to keep improving as a player before I have to rush into any transfer."

On what he would want in a new club:

"I'm not 18 anymore. I'm not going to just jump at something -- I have experience now I know what I'm looking for in a club, I know what I'm looking for in an environment. If that doesn't feel right, I'm not going to make (a move). I'm not high maintenance; I just want to put myself in the best position, like any other player. I'm going to take my time and not rush into it."

On the reasons for his success this season:

"It's been a lot of training, a lot of work. I'm also on a really good team. I'm also on a team that plays really great football. I'm on a team where everyone understands that we attack together, everybody is part of the attack, we defend together and everybody is part of the defense. It's football that's rare these days -- you don't see that everywhere. I think I'm really lucky to be in this club and it's helped me become a better player."

On the impact of Brian Straus's Sporting News story on USMNT disharmony:

"It didn't have much impact. Myself, I didn't really get a chance to read it. There [are] bigger things we have to worry about. No one focused their energy on it. We had a short talk about it as a team, that was that, and it was never really spoken about again. It was never that big of a deal on the inside. Maybe on the outside it was something bigger, but on the inside it wasn't a big deal."

On the rising attention on the USMNT:

"The interest in how the team does has definitely risen from the public's perspective. People expect more from the team, and I think that's normal. As you get better as a soccer nation, as individual players make strides, it's normal that expectations are going to put upon you. I think the public is now demanding a little more from the team.

It's a good thing you have more people supporting, more people feeling that we should do better. That will only make the nation become better at what we're trying to become -- at some point, a better soccer nation. Now, we still have a ways to go."

On playing in a blizzard against Costa Rica:

"That was by far one of the top experiences in my career. Leading up to the game, the conditions... Just play-by-play was an experience, just trying to stay on your feet. It was really incredible, something you can't really forget.

I can't feel bad (for Costa Rica, who lodged an official complaint with FIFA). It's not like we're snow soccer experts. It's not like we were training in the snow for weeks and had the upper hand. We were all put in the same pot. We had to play in it just as they did. It's not like we had any advantage there."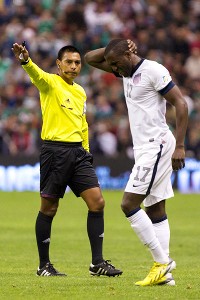 Miguel Tovar/Getty ImagesAltidore wishes the U.S. national team would have been more aggressive during their 0-0 draw last month against Mexico.
On drawing Mexico at the Estadio Azteca:

"If I'm going to be honest -- it was a great point. In a sense, I felt like we really didn't go toe-to-toe with them. We just weathered the storm for parts of the game. One shot in 90 minutes doesn't exactly say we went at them (laughs). From a player's pride standpoint, I would have liked to go at them more -- for our team to be a little bit more aggressive. But looking at the bigger scheme of things, I'm happy with the point and it puts us further along for qualifying for the World Cup."

On whether that was the gameplan going in:

"Any time you go away you have that understanding that there are going to be points when you have to weather the storm. That's with any team. You're never going in there and exactly dictate the run of play. But I think at times you can play yourself into the game and be dangerous. I don't think we did that enough. At the same time you have to be happy with the point looking at the bigger picture with what we're trying to do."

On racism in soccer:

"There need to be more penalties. Need to penalize the fans. The penalties in European soccer are so soft. You read about people getting fines of 5,000 euros, 10,000 euros, and you look at the clubs and how much money is in football, and that's nothing. They have to come up with a unique plan to make sure fans keep it clean, make sure players keep it clean."

On the prospect of being asked to take a leading role on the issue:

"I'm trying to put it behind me. But If I'm asked to help move football forward in that way, I couldn't say no, because that's an amazing thing. To be perfectly honest, I'd just like to focus on what I can control."

On talking to Aron Johannsson about playing for the USMNT:

"We've had (the discussion) once or twice. I think he's definitely open to (playing for the U.S.). I don't think he's 100% made up his mind. I think he's leaning more towards Iceland at this point, but he's open to it. It's a unique thing for him, a unique opportunity for him. I think the opportunity of going to a World Cup pleases him a lot. We'll have to see. He's a really good player, a player I expect to see a lot of good things from.