MLS strugglers aim for turnaround this weekend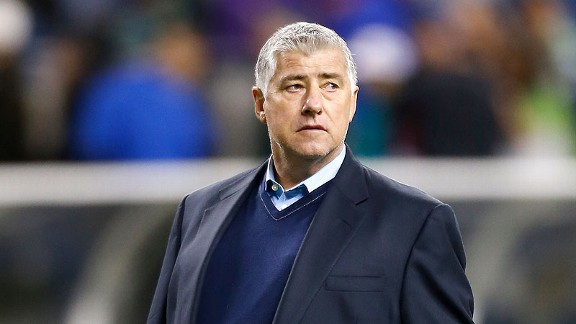 Otto Greule Jr/Getty ImagesSigi Schmid's Seattle Sounders have a meager two goals on the season and now travel to Colorado to face an improved Rapids side.
By this point in the MLS season, six games through the schedule with a few stragglers and overachievers mixed in, we have a pretty good idea what these teams are made of. With goals hard to come by -- defenses are clearly ahead of the offenses with the league's goals per game average at a paltry 2.26 -- it's the teams that aren't fazed by a little adversity that sit at the top of the standings a tick past fifteen percent into the campaign.

Remember (because sometimes it's worth pointing out) that all of these games count the same in the final regular season standings. It's true that teams that "get hot" down the stretch of the season make the playoffs, but it's equally as true that teams that manage not to drop unnecessary points in the first part of the year don't need to get quite as hot to qualify for the postseason. Relying on a possible sudden burst of good form at the last minute is a dangerous strategy most MLS teams hope they won't need.

- Carlisle: NYRB provide competition, comfort for Revs
- Carlisle: Gordon vows to make amends

Which brings us to this weekend's games and a collection of teams in need of a confidence boost. Let's take a look at a small selection of matches in a full MLS weekend that could carry the most weight for teams struggling to collect early season points because plans have already gone awry.

Colorado vs. Seattle, Saturday, 6 PM ET

If the Rapids are an inconsistent, debilitatingly-injured club in search of some handhold on the MLS season thus far, the Seattle Sounders are something much worse than that. A preseason pick to contend in the West as they've typically done since entering the league in 2009, the Sounders have as many points to their name (two) through six games as they do goals (also two). New signing Obafemi Martins picked up an injury on international duty just minutes after joining the team (or so it seems), doing nothing to alleviate the offense struggles. Eddie Johnson misses Fredy Montero more than anyone expected, and Sigi Schmid's team can't buy a goal.

The Rapids carry fewer expectations, but no doubt see the Sounders as ripe for the taking. Pay special attention to early season bright spot DeShorn Brown, a rookie striker with great physical abilities who is rapidly (no pun intended) learning new ways to harass MLS defenses. Coming off consecutive wins over Real Salt Lake and Chivas USA, respectively, the Rapids can start a bonafide winning streak if they beat the Sounders.

New York vs. New England, Saturday 7 PM ET

Just when it appears that the New York Red Bulls have lifted themselves out of the ancient (by MLS standards) muck that perennially pulls down season after season, Major League Soccer's richest and non-trophy-havingest team takes another wrong step that sends them deeper down into the morass.

As if losing at home to an admittedly good Sporting Kansas City in a midweek game wasn't enough, Mike Petke's team now faces a stretch without central defender Jamison Olave (injured against Sporting -- status pending) and midfield maestro Juninho (red carded against Sporting for kicking the ball at goalkeeper Jimmy Nielsen in added time). It's the latter incident that most captures the Red Bulls' inability to maximize their obvious talent, a ridiculous loss of composure by an experienced player who is supposed to bring sophistication to the team.

Oddly, a visit from the Revolution, a team with all of one (one!) goal through five games, actually intensifies the pressure on New York to win. If the Revolution somehow manage to leave New Jersey with a point (or God forbid, more), New York's long-standing tradition of collapsing in upon themselves gets an extra early season boost. On the other side, a win for the Revs, something they haven't done since opening weekend, could lift spirits in a camp recently struck by the tragedy at the Boston Marathon.

DC United vs. Philadelphia Union, Sunday 5 PM ET

At this point, as we highlight yet another team with a scoring record only a minimalist could love (D.C. United has two goals through six games), the theme of this preview resolves into focus. Want to shake off the early season doldrums? Score a few goals. It's not a fix-all (ahem, New York), but as it's impossible to win games without scoring, it remains the baseline task for the likes of entirely too many MLS teams.

United seems stuck in a bit of an identity crisis; last year's move to a more reactive, defensive setup with top attacking player Dwayne DeRosario out injured isn't working with him back in the lineup, and a shift to something more expansive might not fit the personnel head coach Ben Olsen has at his disposal. D.C.'s brand of soccer is ugly almost by default, something that might be fine if it was more effective but causes consternation as the club languishes as the bottom of the standings. Lionard Pajoy works hard but doesn't score goals. Offseason signing Carlos Ruiz can't get on the field beyond short substitute appearances. DeRosario dealt with an injury in the opening weeks and isn't quite himself. Chris Pontius, the club's goal-scoring leader in 2012, is getting more defensive attention than before and doesn't have a goal or an assist to his name.

The Union team coming down I-95, on the other hand, brings with them a medium-sized bag of positive vibes. John Hackworth's team is young in many key spots, meaning consistency and concentration over a full ninety minutes won't come easy, but the promising talent the Union can put on the field (20-year-old striker Jack McInerney has four goals) next to veterans like Conor Casey, Sebastien Le Toux, and Jeff Parke gives them a chance every week.