Red Bulls provide competition, comfort for Revolution
When word began filtering through Monday of the terrorist attack at the Boston Marathon, Mike Petke began having flashbacks.

A native of the Long Island town of Bohemia, N.Y., Petke lived through the 9/11 attacks on the World Trade Center. At the time, Petke was in his fourth season as a defender with the team then known as the MetroStars, the forerunner to today's New York Red Bulls.

Many of those emotions have now resurfaced.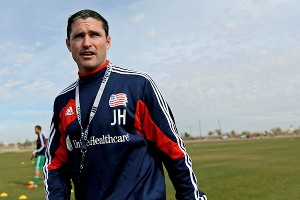 Mark J. Rebilas/USA TODAY SportsJay Heaps' Revolution include a player just diagnosed with leukemia and others whose loved ones were injured at the Boston Marathon bombings.
"I remember thinking when 9/11 happened, 'Wow, that's just a crazy accident,' only to find out later it was terrorism," he said by telephone. "Monday, my immediate thought was 'Holy crap, another terrorist attack.' That shows how much has changed over the last 12 years. It was a really scary, eerie feeling; a sickening feeling. And it was similar to my thoughts after 9/11."

It's fitting then that when the New England Revolution takes the field Saturday in its first game since Monday's devastating incident, it will be Petke and the Red Bulls who provide the opposition. The match will mark the 65th time the two sides have shared the field in MLS play. No doubt, the competition will be fierce. But empathy, a feeling not normally associated with an athletic contest, will be shared as well, especially from the Red Bulls manager.

"After something like this, you become a part of that community," Petke said. "A few months ago, everyone was a Newtown resident. Now, everybody is a Boston resident. They're all in our thoughts and prayers."

All told, it's been a brutal couple of weeks for the Revolution organization. First, there was the news that defender Kevin Alston had been diagnosed with chronic myelogenous leukemia and would be out indefinitely. Then came Monday's tragic events. John Odom, the father-in-law of goalkeeper Matt Reis, was among the injured and after multiple surgeries remains in critical condition at a Boston hospital. The girlfriend of defender Chris Tierney also sustained injuries and was released from the hospital Tuesday.

And so the challenge of recovery begins. The desire to have things return to normal is pervasive but often runs up against the reality of caring for the injured and mourning the dead.

For Revs manager Jay Heaps, the first steps have been to use the construct of the team as a means of leaning on one another.

"It's been difficult," he said via telephone. "It's tough because many of the players were within a half-mile of the finish line and explosion. It was good to be able to come back in here and be together on Tuesday, I think it was good for them to get out there and just play. We didn't want to require them to have too much focus, other than just enjoy the fact that it was a nice day and we were together."

The journey will be long, however. To hear Petke describe it, the road to normalcy is akin to being in stop-and-go traffic. The destination will eventually be reached, but progress comes in fits and starts and in small increments. All the while, the rear-view mirror provides a painful reminder of where you've been.

"After 9/11, it was a long, long time until I could focus again, to piece together the importance of a sporting event compared to things like that," Petke said. "An event like this really puts things in perspective. You can't just stop life. You mourn a little bit, you reflect. You don't forget about things though."

But the path has to start somewhere, and for Heaps, it began with Petke reaching out to him via text message, just one of many good wishes the New England manager has received this week. Heaps has also drawn on his own experiences of 9/11, which included the loss of a high school friend who was an attendant on one of the flights. But most of all, an adherence to routine in terms of the team's game preparation helps further the process along, as well as the return of Tierney and Reis, even if it's just to say hello.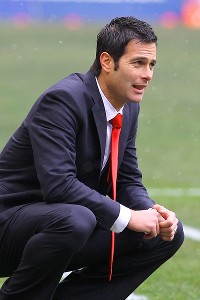 Ed Mulholland/USA TODAY SportsRed Bulls manager Mike Petke, a MetroStars player during the attacks on the World Trade Center, had another sickening feeling following Monday's bombings at the Boston Marathon.
"I think normalcy is actually having something to come do every day," Heaps said. "I think the guys like that. In terms of how everyone is going to feel emotionally, when that starts to settle down, time will tell. Obviously, when Matt walked in today, it was a pretty somber moment. It was sobering because this guy was so close to everything and how affected he is.

"A locker room is like a family. It's cliche to say, but it is. Players, because your around during these intense moments on the field, and guys are hugging, screaming, kicking, yelling, you name it, a soccer locker room has that going on. So there is that camaraderie, there is that comfort from being in the group. I think right now were in that phase, and I think for me, one day at time, it's important to make sure that we're together in that setting."

As Saturday's game draws closer, the focus on the Red Bulls will intensify. But one thing Heaps doesn't plan to do is openly discuss Monday's events.

"I don't think I need to say anything about this past week," he said. "I think everyone in the room will know. It's pretty palpable. When you walk in the room, you can sense that we were all within 20 miles of the attack. That's pretty intense and difficult to wrap your head around. It will be emotionally charged, that's for sure."

And just one step in the healing process.