MLS Notebook: Change good for Johnson, Philly's evolving attack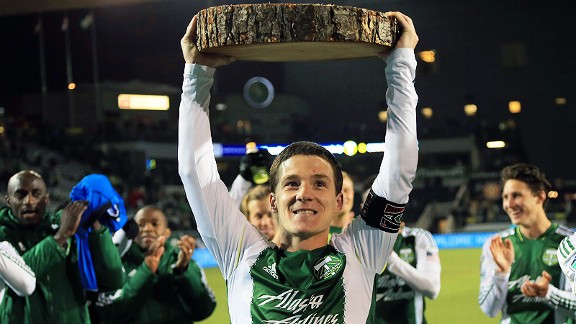 Doug Pensinger/Getty ImagesWill Johnson is thriving in his expanded midfield role at Portland.
Arriving at a new club isn't supposed to be easy, but the man on the receiving end of Alan Gordon's tirade, Portland midfielder Will Johnson, is making it look that way.

Acquired during in an offseason trade with Real Salt Lake, Johnson has adapted quickly to his new environs. His three goals have already matched his career single-season high, while his tenacious play has added some toughness to Portland's midfield. As a consequence, after a few hiccups Portland has surged to third place in the Western Conference with a 3-2-1 record.

That a player of Johnson's experience and ability was available is testament to the salary-cap constraints RSL was feeling after last season, a situation that was made apparent to the Canadian international soon after the 2012 campaign ended. When coach Jason Kreis asked Johnson if he wanted to stick around, the midfielder responded in the affirmative and thought that would be the end of it. A week later, he got a phone call that he was about to be traded for allocation money.

"You kind of understand that these things happen in sports; it's part of the business," Johnson said via telephone. "It kind of hurt my pride a little bit that I wasn't one of [RSL's] untouchable guys. But at the same time, I have so much respect for the tough decisions that those guys had to make. There's no hard, personal feelings. You just move on, and you get on with it."

Once he arrived in the City of Roses, Portland manager Caleb Porter asked Johnson to step out of his comfort zone a bit and provide more than the steady tackling and passing that had long been his trademark.

"At Salt Lake, you had so many guys that had been around forever, 10-year pros, so you just kind of did your own job and that was it," said Johnson. "Here it's a much more vocal leadership role for me. Obviously, you see what I do in the games, and that hasn't changed a whole lot. But the mentality in the locker room and on the road and in training, holding everyone accountable, that's something that has been a lot different for me."

Porter has also asked Johnson to be more of an attacking threat while also working in tandem with Diego Chara. The two weren't always on the same page earlier in the season, as there were times when both players piled forward. But lately the two midfielders have been more in sync, which has benefited the team on both sides of the ball.

MLS Notebook: Alan Gordon vows to make amends
Davis: Positives in U.S. U-17 defeat

"It really makes it unpredictable for opponents because with Will you never know when he's going to slash through and pop up," Porter said via telephone. "He has the ability when he gets around goal. He can smack a ball. He has ability to score goals."

The added responsibilities also haven't detracted from Johnson's natural game, nor has adapting to a new team. The fact that Johnson wasn't alone in having to adjust -- several new players plus the new coach, Caleb Porter, are also settling in -- created some camaraderie within the squad and eased his transition.

"We've all been learning together," he said. "I think it would have been a much more difficult change if this was a playoff team last year and there was just a few changes brought in."

That's why just six games into the season, the deal to bring Johnson to Portland can already be described as a success.

"It's like we hit a home run with it because Johnson comes in, he's got experience in the league, he knows what it takes," said Porter. "He plays with that experience, and I think that is infectious to the rest of the guys, so we were real fortunate to get an opportunity to bring him in and help us build a winning culture here."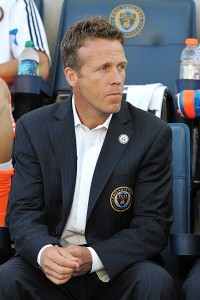 Drew Hallowell/Getty ImagesJohn Hackworth is still finding the right attacking balance in Philly given the overlapping talents of McInerney, Casey and Le Toux.
Hackworth still seeking right attacking mix: Saturday marked the first time that Philadelphia Union manager John Hackworth deployed his three best goal scorers in Jack McInerney, Conor Casey and Sebastian Le Toux -- and the results were decidedly mixed.

With Le Toux stationed on the left side of midfield while Casey and McInerney occupied the two forward roles, the trio struggled to connect their passes in a choppy first half, with Le Toux in particular unable to link up with his teammates. The second half was better as Casey peppered the Toronto goal to the tune of six shots before McInerney scored the all-important equalizer in stoppage time.

Yet rather than declare the experiment a success or failure, Hackworth opted to give his 4-1-3-2 formation an incomplete grade.

"I think it's probably unfair to talk about how they played as a group, especially in relation to how our team played," Hackworth said via telephone. "I don't think it's fair, with the idea being that because the three of them didn't connect as well as people would have liked, that it was their fault at all. It was a different system, playing with all three of them. It was the first time we did it in a game situation. It was certainly not the first time we've done it in training or in a preseason game. I would say more of our struggles on Saturday had to do with our opponent, and a little bit -- just to be perfectly honest -- with how the way the game was managed with the officiating."

But the sight of Le Toux laboring in midfield raises the question of whether all three players can be on the field at once, especially given the Frenchman's long-stated preference for operating in more central locations up front.

"It's going to be game by game," insisted Hackworth. "In every game you play, opponents present you with different problems and things that you're going to have to be good at. Playing home or away is very different too. Tactically, you would expect teams to play differently when they're at home or away. I think we'll take all of those things into consideration. And we'll certainly -- as we have over the last couple of days -- evaluate exactly what we feel we did well and what we didn't."

The combination of Casey and McInerney did show some promise, giving the Union the classic pairing of a big target man with a smaller, poacher-type forward. That means the onus may be on Le Toux to sacrifice some of his goal-scoring instincts for the betterment of the team, especially with talented players like Michael Farfan eager to break back into the starting lineup.