MLS Notebook: Alan Gordon vows to make amends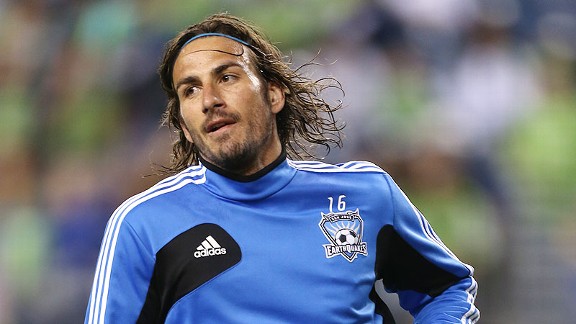 Otto Greule Jr/Getty ImagesOnly time will tell how Alan Gordon will be viewed for his slur at Will Johnson, but he's eager to prove it was an honest mistake.
SANTA CLARA, Calif. -- As Alan Gordon walked onto the San Jose Earthquakes' practice field Wednesday, he was equal parts repentant and eager. On the one hand, he still felt the shame of dropping a homophobic slur on Portland Timbers midfielder Will Johnson during Sunday's match, one that was caught on national television and since has earned him a three-game suspension. On the other, he was eager to begin trying to make amends for what happened.

"I'm going to use this for the good, that's what I've decided to do," he vowed prior to training. "People that know me, know what type of person I am. I will choose to use this in the best way I can ... I will do several things to let people know that it was a mistake."

It would be easy to peg Gordon's response, as well as that of his club, as nothing more than a PR-covered attempt at self-preservation. Too often, those who fail in public arenas are quick with an easy apology and then a hasty getaway in the hope that what had transpired will eventually be forgotten. But watching Gordon answer questions Wednesday, it was clear that the father of two small children wasn't trying to hide from what happened.

"I'm extremely disappointed in myself for that moment," he said. "It's tough to swallow because I know that it was an ignorant moment for me. I'm smarter than that, and I have more self-control than that. But as a role model and as a father ... this is why I do this, for the kids. That's who I really feel bad for, along with the people I offended. I appreciate the sensitivity of the word. It shouldn't be used."

News: Gordon suspended three games for slur
MLS Notebook: Johnson's adaptation, Philly's attack
Davis: Positives from U.S. U-17 defeat

As for what caused him to resort to such language, not even he is sure. He and Johnson squabbled intermittently during the tempestuous match, which the Timbers won 1-0. But in the 60th minute, as Gordon walked by following the awarding of a free kick, he directed an anti-gay slur at Johnson, who told him he could expect to miss three games.

"I was frustrated about how the game was going," Gordon said. "[Johnson and I] were exchanging some words and I said the wrong thing. I made a mistake. That came from somewhere I didn't even know was in me. I don't use that language, and it came out. It was the worst possible timing on a big stage."

Patrick Burke is the president of the You Can Play Project, an advocacy group that is working with professional sports leagues to ensure gay and lesbian athletes are treated with equality and respect. Having counseled professional hockey and baseball players on the issue of homophobia, he has a firm sense of where Gordon's words came from.

"I think what you see [with Gordon] is the unfortunate consequence of years of bad habits," he said in a telephone interview. "For these guys, it's a reflex most of the time, be it on the ice, on the field, on the court ... whatever it might be. Something bad happens and that's the word they go to. That's a habit that we have to break. The only way you can do that is by telling them what that word really means to the people around them.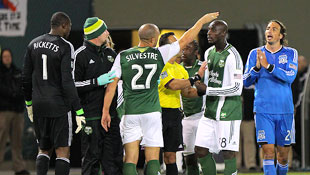 Doug Pensinger/Getty ImagesGordon completed a miserable and hot-tempered game vs. Portland by being sent off.

"It's always disappointing when these things happen. For the members of the LGBT community, it's something that's tremendously insulting and hurtful. There's a lot of negative feelings that come with the use of that word."

Late Wednesday, it was announced that the Earthquakes had asked Burke's organization to address the club's players, and that former MLS player David Testo, who announced that he was gay shortly before he officially retired from the sport in 2011, would be involved in the meetings. An individual meeting with Gordon isn't scheduled, although Burke said that whether one would take place largely would be up to the team.

With the help of teammate Steven Lenhart, Gordon already has reached out to former Columbus Crew midfielder Robbie Rogers, who announced in February that he is gay and promptly retired.

"I wanted to reach out to [Rogers] and make him know that my intentions were not to hurt," Gordon said. "He fully understood. He made me feel a lot better. He just said, 'I understand what happens in the heat of the moment, and I'm not taking it personal. And I know this doesn't reflect [your] beliefs.' He got it."

Whether fans will be as forgiving is uncertain. It's expected that there always will be some who will view Gordon solely through the prism of Sunday's incident. But it also provides an incomplete picture of Gordon as a human being.

"If they really want to know who I am, then stay tuned, this is not the end of it," he said.

"The story just doesn't stop. This is not the person I am. If you really want to know the person I am, come see me on a personal level and talk to me ... I'm looking forward to this challenge of showing people who I really am. If they want to know, then they'll see."

No doubt the U.S. soccer community will be watching.