Regret haunts Sounders, Galaxy in CCL ousters
For MLS clubs, there were no miracles to be found in the semifinals of the CONCACAF Champions League. Just more disappointment, as the Seattle Sounders were edged out by Santos Laguna 2-1 on aggregate, while Monterrey dumped the Los Angeles Galaxy out of the competition by a 3-1 score over two legs.

-- Grading the new MLS bosses
-- Holden's long road back

But what will stick in the craw of both sides is that based on the two teams' play in their respective semis, an appointment with Miracle Max wasn't necessary. Both series were there for the taking. Some better finishing here, a bit more tactical composure there, and MLS might have very well been celebrating the fact that one of its clubs was in the final of the CCL for the second time in three years.

Of the two teams, Seattle just shades it in the Regret Department for the simple reason that it created more than enough chances to overturn its 1-0 first-leg defeat with room to spare. Instead, we were witness to Steve Zakuani, Eddie Johnson and Shalrie Joseph all contriving to squander quality chances inside the first 20 minutes of the second leg. And that was by no means the end of the Sounders' profligacy.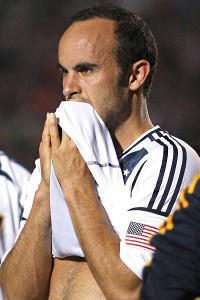 AP Photo/Alfredo LopezThe chances for Landon Donovan and the Galaxy to capitalize in the CONCACAF Champions League were squandered in the first leg.
As for L.A., the damage was done in the first leg, when the Galaxy threw away a 1-0 lead by coughing up two late goals that effectively killed off the tie. L.A. huffed and puffed in the second leg, but other than Omar Gonzalez's shot that came off a set piece, the Galaxy rarely looked all that threatening. Instead, Monterrey delivered a sharp lesson in game management, patiently waiting until the Galaxy inevitably threw numbers forward late, and then punishing them on the counterattack through Aldo De Nigris' 81st-minute winner that clinched the spot in the final.

It was a case of small gaps turning into a chasm. And in the end, the composure in front of goal, and the tactical awareness to see games out is what the sizable edge in salary budget buys Mexican clubs in this competition, especially when spread out over a large roster. This isn't to say that Santos and Monterrey didn't squander chances. They most certainly did. Heck, had Santos striker Darwin Quintero slotted home a chance late in the first half of the second leg instead of hitting the post, then the home side could have avoided the nervy final moments following Lamar Neagle's goal. But think of it as soccer arbitrage. The money spent isn't a guarantee of anything -- as witnessed by Robbie Keane's rather tepid performance in the second leg -- but it almost always correlates to a higher level of play, and perhaps most importantly, execution. And when you can spread out that goal-scoring responsibility across a Quintero and an Oribe Peralta and a Herculez Gomez, a team's odds of advancement go way up.

So how to gauge the performance of MLS in the CCL this year? It's easy to point to some metrics and see progress. Certainly the record of MLS teams has improved with each year since the Champions League format was introduced for the 2008-09 competition. Seattle's elimination of Tigres in the quarterfinals was something of a milestone as well, given that it was the first time an MLS side had beaten a Mexican team over two legs in a decade.

But looked at another way, this year's CCL was just more of the same for MLS. You have to go back to 2008, when Costa Rican side Saprissa disposed of the Houston Dynamo, to find the last time that the final MLS entry in the competition was eliminated by a club from outside of Mexico. Ever since, Mexican clubs have proved to be the dragon that MLS clubs can't get past. Back in 2007, MLS was left to rue the near misses of the Dynamo against Pachuca and D.C. United against C.D. Guadalajara. Six years later, it's clear that plenty has changed, but some obstacles remain stubbornly in place.

Is there any hope that the next edition, which kicks off later this year, will be any different? It will be interesting to see how CCL debutantes Sporting Kansas City and the San Jose Earthquakes fare, although Seattle and L.A. have shown that deep runs in the tournament are usually preceded by humbling experiences in previous years. Certainly L.A.'s young charges will no doubt be better for this year's experience, as will those of quarterfinalist Houston. But that likely won't be enough against their well-funded and talented opponents to the south.

Irwin's odyssey: Last August, Colorado Rapids goalkeeper Clint Irwin came dangerously close to giving up on his dream of playing in MLS. He had been playing in the USL PRO league with the Charlotte Eagles but had just been offered a full-time job developing content strategy for an internet startup in Charlotte. He had already spent a year in the Canadian Soccer League, been on trial at six different USL clubs, as well as the NASL's Carolina RailHawks and the New England Revolution. The uncertainty of if he would be playing, where he might be playing and for how long began to weigh heavy.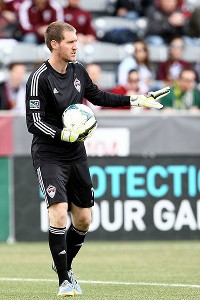 Isaiah J. Downing/USA TODAY SportsRapids keeper Clint Irwin almost accepted a job at an internet startup last August but instead decided to keep his dream alive.
"I had to think long and hard about it," he said by telephone. "My career at that point, it looked like I was going to be back in the USL again, or on the trial circuit, so the job offer was pretty appealing to me. But at the time, I just asked some of the people I trusted and they felt like I could make it still."

Make it he has. Irwin now finds himself ensconced as the starting keeper for the Rapids, having taken over for the injured Matt Pickens and turning in several stellar performances, including a 1-0 victory over Real Salt Lake last week that included a penalty save off Alvaro Saborio.

Not bad for a guy who once suited up for Capital City FC.

"If you would have told me when I was in Canada that I'd be starting in MLS now, I definitely wouldn't have believed you," Irwin said. "I'd have said you were crazy. It's definitely been pretty surprising."

Indeed. From the moment he turned his back on corporate life, there were still a few more twists and turns. Late last year, Irwin had a trial with the New York Red Bulls as well as the Columbus Crew. He figured he would be invited to preseason with New York, only for the change in coaches to scuttle his plans. But the outgoing goalkeeper coach, Todd Hoffard, put a word in for him with Colorado counterpart Dave Dir, and Irwin was invited in for yet another trial.

It's a process than can be nerve wracking, with the impulse to overanalyze every mistake almost overwhelming. But Irwin credited his experiences training with all of those other clubs for helping him cope with the stress, and focus on the present.

"I felt more prepared for it this time than I had in the past," he said. "I had been on trial with a lot of teams leading up to this point. I think that actually prepared me the best, knowing how to deal with that uncertainty. It's just day-to-day, really. You're trying to perform the best you can each day. You can't even think about what's going to happen next week or anything like that. You just have to perform and try to be the best goalkeeper each day that you train."

Irwin went on to beat out two other competitors and then found himself thrust into the starter's role when Pickens broke his forearm March 16, also against Real Salt Lake. In the process, he's forged a bond with Dir that has him feeling confident but not taking anything for granted.

"Dir has just done a good job of preparing me," he said. "I'm just trusting them to put me in good positions. We have a good relationship and I feel like I'm really developing here. I'm not someone who has to hear how great he is every day. I just need to get on with my work and get ready for the next game."

And for the near future, he knows exactly for what team that will be.

Avila enjoying life under Chelis: Much of what makes an attacking player successful is situational. Sometimes all it takes is the right coach with the right system to bring the best out of a player. So it would seem for Eric Avila with Chivas USA and head coach Chelis.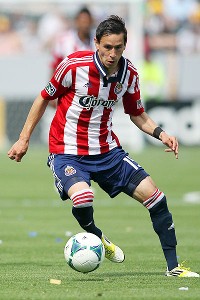 Victor Decolongon/Getty ImagesEric Avila has flourished under Chelis' 3-5-2 system at Chivas USA.
Avila has shown flashes of ability during his five-year MLS career. His sumptuous strike for FC Dallas in a 2010 playoff win over Real Salt Lake immediately comes to mind. There have also been stretches where he has struggled, most notably last season with Toronto FC. But the 2013 campaign has seen Avila thriving on the right side of midfield in Chelis' 3-5-2 system. It was his assist that helped 10-man Chivas USA secure a tie against the L.A. Galaxy on March 17, and his outstanding volley against Vancouver proved to be the game-winning goal two weeks later. Already his attacking numbers are threatening to break the season highs he set in 2011, when he split time with Dallas and Toronto.

It's not the first time that Avila has played on the right side of midfield, but as with most things under Chelis, this time it's a bit unusual.

"Here it's mostly up-and-down, it's a little bit different than your regular right wing," he said via telephone. "Going forward is amazing, just all the freedom that I have. All [Chelis] wants me to do is just attack, attack, attack. Any one-versus-one, he just wants me to go at them, which is great. I love that. But also with that is responsibility because I have to help my three [defenders] in the back. Not a lot of teams play with three in the back, so I have to be running that defensive role as well."

As with most things, there are limits to that freedom. In this case, it has to do with where Avila does his damage on the field.
"Chelis, he just wants me to play to my strengths and create," he said. "But he wants me to stay wide because that's part of our game plan for the midfield as well. Staying wide is the key to it."

Given that he was born and raised in San Diego, the preseason trade from Toronto represented a homecoming of sorts, and Avila is grateful to have family close again. Combined with his success on the field, Avila feels he now has a semblance of stability that was missing in Toronto.

"It's always nice to be settled in and be in one place for a while," he said. "I was in Dallas for four years and it was a great experience being there. I did jump to Toronto, and from there, here. Obviously, in Toronto, it was nice to be there, but I don't think it was a great fit the way I was playing. It does take a toll [moving around]. You just want to be settled down and be there for a while. But it's also nice to have a fresh start, having new ideas of the game, a new coaching staff. It motivates me to kind of prove people wrong."

So far, Avila has done just that, and while circumstances can change quickly in the world of professional soccer, he sees himself in the red and white stripes of Chivas USA for years to come.

"I feel comfortable, everybody is welcoming," he said. "The style of play is going our way and I enjoy it. It's fun again, it brings the fun out of it. I like waking up and coming down and seeing something new. I do see myself here for a while."