Grading the new MLS bosses
Major League Soccer is notorious for a type of head coaching job security unknown in most of the soccer world. Owners in America and Canada's top flight tend to be a little more hesitant to make coaching changes in a league where parity provides the ultimate incentive to believe in stability over new blood. Nevertheless, the 2013 season began with five new coaches manning MLS sidelines, a significant amount of turnover at the top. Most notably, each of the league's new coaches is not only new to the job, but new to the league.

It's a little early (five or six games, depending on the team) to judge these new hires, but there should be some notion of if their programs are working. With that in mind, it's worth taking a look at how they're doing.

Caleb Porter, Portland Timbers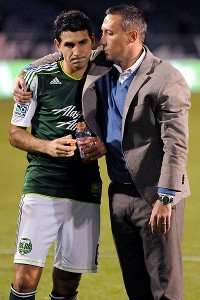 Steve Dykes/Getty ImagesPortland coach Caleb Porter (with Diego Valeri) got his first win Saturday against Houston.
Porter was tasked with not only the bare bones requirements of any new MLS head coach- -- get to the playoffs, improve over the last guy -- but with turning the Timbers into a more attractive soccer team. The jury is still out on that effort, though Portland's first win of the season, over Houston last Saturday (especially the second half) provides some hope he can be successful.

How long will it take for his style to take, and whether it translates into wins, not draws (Portland has three, with one loss), will determine if the Timbers can reach the playoffs for the first time in their MLS history. Does Porter deserve more leeway because winning is only part of his job description? Maybe.

Grade: B

José Luis Sánchez Sola, Chivas USA

Sanchez Sola, better known as "El Chelis", entered the scene at the Home Depot Center amid a swirling storm of chaos. Chivas USA's ownership was making statements about returning the club to its original concept -- a version of the Mexican-only policy at mother club Chivas de Guadalajara -- throwing the club's prospects for the new year up in the air.

To be fair, there was only one direction Chivas USA could go after a poor 2012, giving Chelis license to mold the team in whatever form he chose. So far, and to the surprise of everyone, the program is working. Whether due to Chelis's enthusiasm or coaching prowess, Chivas USA sits second in the Western Conference with 10 points after five games.

Grade: A

Mike Petke, New York Red Bulls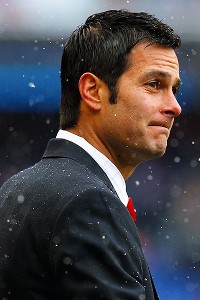 Mike Stobe/Getty ImagesMike Petke is off to a tough start with the Red Bulls, who took a chance on the rookie coach.
Petke inherited a wealth of talent when he took the reins of the Red Bulls, a club unable to get over the hump in the playoffs in three years under Swede Hans Backe. That meant something of a safety net for the first-time head coach who, while not the club's first choice, nevertheless brought unique passion to the job as a former New York player.

But this is the Red Bulls, where good intentions go to die in a morass of egos and ennui, and things have not been easy so far. Forced to contend with injuries to some of his biggest names and a defense that has failed at crucial times, the Red Bulls have already lost three times and have earned less than a point a game. That won't cut it.

Yes, the job is difficult and might require a settling-in period, but it's probably not too early to wonder if it's beyond the capabilities of a rookie head coach.

Grade: D

Ryan Nelsen, Toronto FC

Nelsen's hiring was far from the standard fare; at the time that new club president Kevin Payne picked Nelsen, the Kiwi was still an active player for Queen's Park Rangers in the English Premier League.

Eventually Nelsen negotiated his release from QPR, ending uncertainty that threatened to derail TFC's season before it started. Now five games into the new year it's clear Nelsen is having an effect on the club. Toronto is still not an obvious playoff contender, and there remain holes in the lineup that might ultimately keep them from reaching that mountaintop, but a new spirit in the team is obvious. TFC has beaten a preseason favorite, Sporting Kansas City, and earned draws against two of the Western Conference's early leaders, the LA Galaxy and FC Dallas. Something seems different, and Nelsen deserves credit.

Grade: B

Marco Schallibaum, Montreal Impact

After just one season under American Jesse Marsch, Montreal owner Joey Saputo decided to bring in a more continental influence with the Swiss manager. The shift in philosophy in paying early dividends, with the unbeaten Impact (4-1-0) leading the Eastern Conference on the back of a counterattacking style that seemingly fits their talent. Schallibaum entered the league as an unknown, but deserves pushing Montreal out to a fantastic early start.

Time will tell if the Impact is the real deal, and if their aging core of stars can hold up for the full season, but for now, Schallibaum's performance is practically unimpeachable.

Grade: A-plus