After long road back, Holden takes in return to lineup
Just days after Stuart Holden completed his loan move to Sheffield Wednesday, Owls manager Dave Jones wasted no time in testing the effectiveness of his new midfielder. With Wednesday in the thick of a relegation battle to remain in the English Championship, Jones started Holden against fellow strugglers and local rivals Barnsley.

But even beyond the implications for the Owls remaining in the English second tier, this was no run-of-the-mill start for Holden. As he took the field, he recalled the three knee surgeries and the hours of rehab he'd endured over the past two years just to get to this point. Granted, he had made three appearances for club side Bolton Wanderers prior to his loan, but this would be his first league start since a tackle from Manchester United defender Jonny Evans sent him to the sidelines in 2011. He also took a moment to soak in the atmosphere generated by the nearly 30,000 fans in attendance.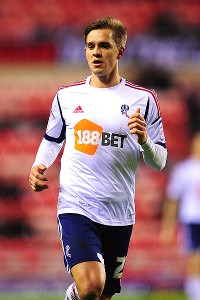 Stu Forster/Getty ImagesStuart Holden made three appearances for Bolton before cracking the starting lineup while on loan to Sheffield Wednesday in the English second tier. He had not started since suffering a knee injury in 2011.
"That was when I knew I was back essentially," Holden said via telephone from his apartment in Manchester. "I want to be starting. I want to be back and playing every single game. It's the natural instinct of a competitor. Just to be in that environment again, it made me feel I'm back from injury and ready to push on now and take it to the next level."

It has been an agonizing wait for Holden ever since that day two years ago when Evans' studs sliced open his knee and fractured the end of his femur. But as Holden recalled his long journey back to playing competitive soccer again, he revealed that the tackle and the days that immediately followed weren't the low point. Nor was the second surgery he endured the following September, when he went in thinking he was going to have a pin removed only to wake up to the news that he had required microfracture surgery and would be out for a minimum of six months.

Rather, the darkest days came last summer. As the workload on Holden's knee began ramping up toward its maximum, pain began to return, and it wouldn't go away.

"No matter how slow I was doing things, my knee was getting to the point where it wasn't really responding as I hoped," Holden said. "I feared the worst."

The suspicion was that the discomfort was meniscus related, but given Holden's history the fear was that there might be a recurrence of the articular cartilage injury, known in medical terms as a chondral defect. It didn't take much for worry to morph into thinking about all kinds of unpleasant scenarios. A chondral defect meant perhaps another microfracture surgery. That would mean starting over from scratch. Or perhaps not at all.

As James Hashimoto, the physical therapist who oversaw Holden's rehab in the U.S., put it, "I'd trade two ACLs for a chondral injury."

So the decision was made last July to fly Holden out to Los Angeles and have arthroscopic surgery in an effort to determine the source of the pain. As it turned out, the issue indeed turned out to be related to Holden's meniscus and other debris floating around his knee.

"When we heard it was just a meniscus problem and a cleanout, it was like, 'Let's go party,'" Hashimoto said.

Holden's rehab progressed from there, although Bolton remained understandably cautious. His sessions were strictly monitored, with everything from the distance covered to the total impact on his knee being measured. An expected return in October soon bled into November, then December.

"It might not have been as quick as I would have liked, but looking back on it now -- and I maintained a level head as I was going through it -- I just needed to listen to the people that knew best and I'm feeling really good now," Holden said. "I'm happy for all that."

Holden was also happy to have the support of family as well as girlfriend Karalyn West throughout the process. After living in Wilmington, Del., during his sessions with Hashimoto, the couple moved to Manchester to live with Holden's brother Euan -- currently a midfielder with League One side Bury -- as well as their Yorkshire terrier named Toby.

In a bid to take his mind off his injury, Holden had also poured energy into outside business interests and made an effort to read more. At West's urging, Holden has been reading "Unbroken," the story of Olympic runner Louis Zamperini, who while serving in World War II survived being stranded at sea.

"She thought it was fitting how I've been called 'unbreakable,' not in the bone sense but just in how I keep coming back," he said.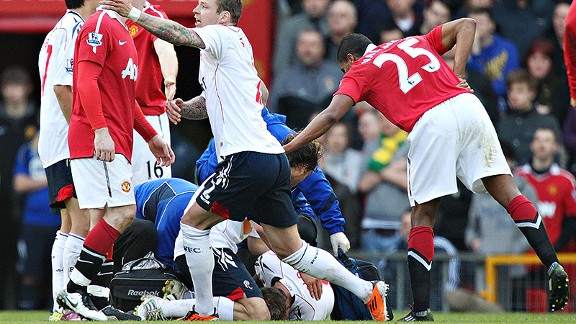 John Peters/Getty ImagesManchester United's Jonny Evans sliced open Stuart Holden's knee and fractured the end of his femur. Holden underwent three knee surgeries in the two years since.
But as much as Holden attempted to distract himself, there was no escaping the all-consuming nature of his injury, especially when his entire day was centered around two workout sessions. Even away from the gym, Holden couldn't help himself, poking and prodding and testing the knee in an obsessive quest to gauge his progress.

"I used to bust his chops about it," Hashimoto said. "I'd be like, 'Dude, the knee is still there.'"

What finally did rein in Holden's compulsion was simple progress. The midfielder was at last cleared to play in January, when he made a pair of appearances as a substitute in the FA Cup. He made his first league appearance against Peterborough a month later, also as a substitute. But with Bolton hanging around the playoff places, playing opportunities with the first team dried up, and with reserve matches only doing so much to move Holden along, manager Dougie Freedman made the decision to loan him out for a month.

Holden is quick to add that there is no intention of the loan turning into a permanent move. Bolton has been in talks with Holden about a new contract with the player stating that all that's left is "an end-stage negotiation."

For now, Holden is intent on doing everything he can to make the most of his loan spell. That isn't as easy as it sounds. When a player arrives on loan and is immediately put in the lineup, it means someone else is on the bench, so loan players aren't always welcomed warmly. But given Wednesday's desperate circumstances, not to mention the loan's short-term nature, Holden has been received well.

"The day before the game, I was still trying to familiarize myself with everybody completely because I didn't want to be out there on Saturday not prepared," he said. "In the sense of footballing, the transition is fairly easy. They guys make you feel welcome, they help you on the pitch. I'm an experienced player I think at this point. I know how to carry myself on the pitch and learn things and pick things up. It's in the middle of a relegation fight in the Championship. It's end-to-end football, nonstop action. In the sense of getting my feet wet in the deep end, that's the best way."

And lest anyone think Holden's injury has made him any less willing to go into 50-50 challenges, that hasn't been the case, no matter how uncomfortable that might make his girlfriend and brother.

"With one or two of the tackles, I've gotten a bit wincey," admitted Euan, who along with West was on hand for the Barnsley match. "But Stuart always ends up getting back up, so it's a nice relief. He's so fresh off his injury, but it's still great to see him not hesitating one bit to get stuck into those challenges. That's probably the best part about it."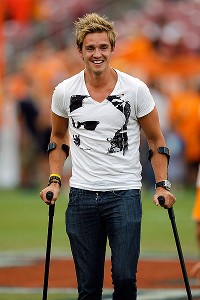 Bob Levey/Getty ImagesStuart Holden's knee didn't heal as hoped at first, but he maintained a level head through it all.
Whether the pace of Holden's recovery will allow him to rejoin the U.S. national team any time soon is an open question. There is no doubt that when fully fit, Holden's skill set and versatility would be embraced by manager Jurgen Klinsmann with a full bear hug. Too often during World Cup qualifying the U.S has struggled to keep possession, especially on the road, and Holden would certainly help in his regard while also providing the kind of defense Klinsmann values.

Yet as encouraging as it is to see the U.S. international back on the field, Holden has yet to go a full 90 minutes in a league game and logged just 58 minutes in the Owls' 3-2 win Saturday over Blackburn Rovers. Sheffield Wednesday has four more games until Holden's loan expires April 24, and while a recall for the June World Cup qualifiers seems out of reach, a Gold Cup call-up might be the perfect time to gauge Holden's progress, assuming he continues to get regular minutes.

For his part, Holden stated that while he and Klinsmann have exchanged texts at times during his rehab, he has not heard from the U.S. manager since his loan began. That said, he has an eye firmly fixed on Brazil.

"I've always had the goal of representing the U.S. at another World Cup, and I firmly believe I can be on that plane for Brazil next year," he said.

Holden is under no illusions as to what it will take to get there, however; games -- lots of them -- and everything that entails.

"It's just repetition at this point," he said. "My strength is there, my fitness is there, it's just building on that. You can always get fitter; you can always get stronger in little ways like that. And that's what's going to come in games. Getting knocked off the ball, riding a challenge, going to shoot and someone slide tackling you; you can't replicate that in rehab and training as much as you want to. Those are things I'm looking to get more of and in each game just getting better and more comfortable, and just getting back to the level I was at two years ago."

As long as Holden remains unbroken, he may just get there.