For well-traveled Freddy Adu, next stop is Brazil
Last month, Freddy Adu arrived in Salvador, Brazil, to meet with officials of what is now his latest club, Bahia. He had worn out his welcome in Philadelphia after two troubled seasons with the Union; the team's management was just unwilling to keep paying him a star's wage (rumored to be upward of $500,000) to play like a journeyman.

Whether Adu was misused by his coaches, bored by the competition or weighed down by the city's excellent cheesesteaks, he delivered a total of seven goals and two assists in 35 league appearances, hardly the kind of résumé you expect from a guy who dated pop singer JoJo and had a $1 million contract at 14. So, in a now very familiar scene, Adu packed his soft-sided suitcase of promise and headed to the airport.

Contemporary stories about Adu are likely to call him "well-traveled" in reference to the many club jerseys hanging in his closet -- Bahia is his ninth club, in his seventh country -- and although being itinerant is not at all unusual in professional soccer, it's pretty remarkable when you consider he's only 23.

Adu, of course, has been part of the soccer conversation in America for more than a decade. That's what makes his age seem so surprising. He's only two years older than Neymar -- they are, by almost any definition, contemporaries -- yet the two players feel like the products of entirely separate generations. Which I suppose they kind of are. Now they will share a league, and Adu claims it will be the one that finally fits his game. "The way I play, I never thought of myself as playing a quote-unquote American style," he told Brazilian journalists, as if the "quote-unquote American style" was something anyone in the room could articulate.

He went on: "I always based my game on the Brazilian style because I love that. I love being able to express yourself, and here you're allowed to express yourself, you're allowed to play, you're allowed to enjoy football."

Maybe Brazil's improvisational, offensive style will be the best fit for Adu, who has a reputation for creativity, and who does at times play with flair atypical to the American game, which tends to encourage grit, effort and long balls aimed at heads by handing out orange slices and approving nods from Michael Bradley. Brazil's league is also known for favoring the individual over the collective, where people would prefer you nutmeg a defender three times while samba dancing as opposed to just passing the ball around him — and that kind of me-first soccer might well bring out Adu's best.

But the second part of his quote is ridiculous. What soccer league or national team doesn't allow players to "play" and "enjoy football"? (OK, maybe North Korea.) He's saying, essentially, that coaches in the U.S., Portugal, Greece, Turkey and Monaco didn't know how to integrate his Brazilian-ish skills. Ignoring the fact that Turkey's league is pretty wide open, and that Portugal's league is chock-full of Brazilians, it's hard to read the subtext there as anything other than: I'm only happy when I can do what I like to do. (Whatever that is.)

"It has to be the right situation," Adu said, almost explicitly. "I've been in teams where I've been used in different positions that I'm not used to."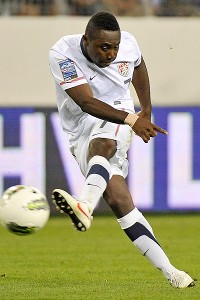 Frederick Breedon/Getty ImagesAdu captained a US Olympic team that failed to qualify for London 2012.
Let's be honest. Tossing aside a few standout performances for various U.S. national teams — in particular, for the U23 team during qualifying for the 2008 Olympics, when he looked world-class, and most recently in the 2011 Gold Cup final for the senior USMNT, when he was critical to both U.S. goals — Adu has played generally unremarkable soccer at every stop of his world tour. His outstanding moments are exciting, but also few and far between. That's a problem.

Yet Adu is probably one of the five most famous American soccer players of all time, and he continues to represent some platonic ideal of America's soccer future in which we're not satisfied with tying Honduras and alleged national team talents such as Jeff Agoos and Jonathan Bornstein have been reallocated to diversions more appropriate for their skill sets; for instance, ultimate Frisbee, or jam band circle dancing.

Adu was a prodigy at 12, the first pick of the 2004 MLS SuperDraft at 14 and, when he appeared as a substitute in DC United's first game of the season, on April 3 of that year, the youngest person to play for a major U.S. professional sports team since 1887.

So what happened? The thing that often happens with prodigies: Expectation overwhelmed reality. Interest in Adu in those early years was rabid. European clubs were said to be lining up for his rights, and the soccer media tripped over themselves to find the right words to summarize his talents. In a Sports Illustrated profile from 2003, a year before his MLS debut, the 13-year-old sounded practically apocryphal (like Forrest Gump, even): "In his first organized basketball game two years ago, a jayvee contest for The Heights School in Potomac, Freddy scored 28 points. On the first golf hole he ever played, a 370-yard par-4, Freddy reached the green in two and two-putted for par. In his first art competition as a fifth-grader, his drawing won the top county prize."

Really, it's everyone's fault. And by that I mean every one of the dozens or hundreds or, being generous, thousands of people who obsess about American soccer enough to latch on to the image of a 12-year-old boy (and that's what a 12-year-old is: a boy) and attach to him all kinds of hopes and dreams that aren't really even about him, specifically. Because we've all wanted and still want so badly for the U.S. to be taken seriously for its soccer, and one way to do that is to start producing the kinds of players that everyone wants because they're really special and not just tall or fast or hustle-y.

And I'm as much to blame as anyone. I had the extremely good fortune to attend the 2003 Champions League quarterfinal between Real Madrid and Manchester United at Old Trafford. This was an all-time-classic of a game, a 4-3 Real win led by a hat trick from (fat Brazilian, not Cristiano) Ronaldo so good that the United fans gave him a standing ovation when he left the pitch.

So it was more than a little odd when, a half-hour before kickoff, United's PR man fetched me from the press box. The previous day, each of us in a small American press contingent had been granted a short sit-down with Sir Alex Ferguson, and I think it's fair to say that my nerves resulted in some dunderheaded journalism; I could barely form questions, and, in the end, it was Sir Alex (even ruddier in person, by the way) who did the interrogating. He was curious about American soccer, in the slightly condescending way that the childless are curious about your children, and when he asked me what player he should be aware of, I mentioned Freddy Adu, then 13.

A day later, in the moments leading up to the most anticipated game of the season in Europe, it was this subject that United's PR man wanted to pick up. "Sir Alex would like to hear more about this American boy," he said, and handed me a phone. On the other end was Ferguson, who you'd assume would have bigger things on his mind. No, the manager informed me that he had remembered the name I told him and had spoken with a scout, who apparently had said the right things; Ferguson wondered whether I knew how to get in touch with Adu's parents.

You can imagine that this was a shocking thing to experience. And I immediately shared it with my fellow Americans in the press box. One of them, Sports Illustrated's Grant Wahl, wrote about it in his online column, and it briefly made news in England, to the extent that a profile of the wunderkind in the Sunday Times of London a few weeks later led with Sir Alex's interest in Adu, attributed to a conversation he had had with yours truly.

If you've ever heard that Manchester United was at one point interested in Freddy Adu, this is why. As far as I know, that's the extent of it. But it became part of his legend.

Now here we are, 10 years later. And if Sir Alex were to corner me tomorrow and ask for an update, I'm not sure I could tell him much more, even though I've seen Adu play many times. He can be good, and also bad. He's sometimes quick, but often slow. He is, and has been for some time, more enigma than anything else.

Upon signing with Bahia, Adu tweeted to his 414,000 followers that he'd been quiet of late.

For those wondering why I was away from here for a while I needed time away to reflect and clear my mind. Havnt been myself for a while and

— Freddy Adu (@FreddyAdu) March 29, 2013
Needed to get that love I had for the game as a teenager back. Thank God for this feeling I have now and can't wait to get back on the field

— Freddy Adu (@FreddyAdu) March 29, 2013



It is very possible that Freddy Adu will finally feel at home in Brazil. Maybe he'll find happiness. Maybe he'll score goals. Maybe — and this is my hope, truly — the words he uttered, at age 13, in that Sports Illustrated story will prove prophetic. "A lot of people have been hyped up to be great, but disappeared. I promised myself I wouldn't be one of them."

Freddy Adu, America's once and future star, will be 24 in June.