MLS notebook: Minor changes have FC Dallas living right
There are numerous reasons for FC Dallas' quick start to the season, one that has seen them grab 12 points out of a possible 15.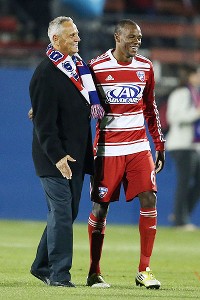 Matthew Emmons/USA TODAY SportsSchellas Hyndman has improved FC Dallas' chemistry by tweaking team preparation during the week.
With the arrival of forwards Kenny Cooper and Eric Hassli, FCD is no longer overly reliant on Blas Perez to score goals. The arrival of Brazilian utility man Michel has added balance to midfield. The team is no doubt healthier and more disciplined than last year's side that missed the playoffs, and the early schedule has thrown Dallas a few breaks, with Real Salt Lake being shorthanded when the two teams met a couple of weeks ago.

But minor changes to the way manager Schellas Hyndman does things throughout the week appear to be paying off as well. It used to be that players would arrive at the team's training facility at 9:30 a.m. for a 10 a.m. practice. Once practice was over about two hours later, players would then go their separate ways.

Not anymore. There are mandatory weight training sessions twice a week, as well as meetings in which the players are placed into small groups by position and then break down video together. With the help of a nutritionist, meals are prepared for the players, and language classes are provided as well. All told, a day that used to end at noon now ends at around 2:30.

"What we've done is we've made it a more involved day to continue to build on the chemistry," Hyndman said. "The more you give into something, the harder it is to let it go. The harder you work on the field, and the more you sweat, and the more you bust your butt, the harder it is in those last five minutes to say, 'Screw it, I'm done.'"

Given that over a dozen new players joined the team in the offseason, the video sessions appear to be of particular importance.

"It's a little more comfortable setting because you're able to air out some grievances, where you're only with your positional peers as opposed to the whole team which might be tougher to do," defender George John said. "It's been a positive experience in terms of hashing out some difficulties that have occurred during games. I've enjoyed it and I think the guys have enjoyed it as well."

Of course, it could be argued that there really isn't much cause and effect between the changes Hyndman has instituted and the results given how many moving parts there are to a team's success. But in a league as parity-driven as MLS, it stands to reason that a little more cohesion on the field can make all the difference, and that the investment in cultivating locker room harmony is time well spent.

"I think this is a team that does have good team chemistry," said Hyndman. "It comes down to we're working awfully hard, they're buying in it. Now that they see the results, they're like, 'OK, we've got to keep doing this.'"

As long as the wins continue, it won't be a hard sell.

Rosell raises his game: Ask Sporting Kansas City midfielder Uri Rosell about the start of his season, and the words come out in staccato fashion.

"Improve, improve, improve," he said.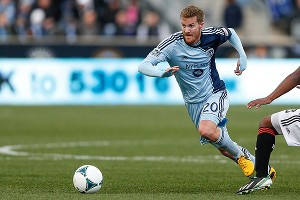 Brian Garfinkel/Getty Images
Based on the campaign so far, and in particular last weekend's 2-0 win over the Montreal Impact, Rosell looks to be heeding his own advice. Benny Feilhaber might have gotten most of the accolades for his two-assist performance, but it was Rosell who helped anchor the midfield with a near perfect blend of distribution and tackling.

"Because [Rosell's] defensive responsibility is huge, he's got to be the conscience of the team," Kansas City manager Peter Vermes said. "But because he's so good with the ball, he can relieve pressure, giving guys like Feilhaber the chance to be a little higher up the field. That's where I want him to be anyway, closer to goal so he can help us with solutions in the attacking third."

It's not a surprise that the Barcelona product -- yes, that Barcelona -- brought with him the kind of on-the-ball skill one would expect from a graduate of La Masia, the club's famed youth academy. But in a league as physical as MLS, the 20-year-old quickly realized that in addition to gaining first team experience, other parts of his game needed to be honed.

"Here, it's a good opportunity for me to grow up, to see another league," he said. "I think it's a really [physical] league, and I think it's good for me to improve these aspects. Here, I can do it."

One reason for Rosell's optimism is the strength and conditioning program that the team has put him on, and while Vermes has noticed some physical changes, there have been additional benefits as well.

"A guy starts to lift weights, he sees some development, and he cuts his sleeves off a little bit because he's feeling confident," Vermes said. "That confidence goes with your everyday walking around. He's become more confident in his strength and power, and that makes him more tenacious in the tackle and also durable, which is something you not only need in that position but in our league."

Rare are the moments when a player with Rosell's pedigree comes to MLS, and last summer Vermes admitted he was surprised to hear that there was a midfielder available who was "a miniature version of Sergio Busquets, without the experience."

But Vermes soon learned that Rosell possessed the kind of self-awareness to realize that his odds of progressing to Barcelona's first team were slim. The midfielder also had interests outside of the game, with intentions of attending an American university as well as learning English. Once he arrived in Kansas City, Rosell soon impressed the SKC staff to the extent that he was signed to a contract in August, even though that meant giving up on his Barcelona dream.

"It's complicated," Rosell said of his decision to leave Barcelona. "I stayed there for six years, and I have all my family, my friends. It's difficult when I came here. But in life, everybody needs to [follow] his road, and this is mine."

It's one that looks to be paying off. Rosell made a few appearances last year, including one in the playoffs against Houston. But when Julio Cesar was released, the job was Rosell's to win, and given Vermes' desire to build out of the back, the Spaniard looks to be a perfect fit. Five games into the regular season, Rosell has done nothing to dispel that impression.

"Everybody uses his qualities," he said. "And I think for the mentality of Sporting Kansas City, the way they want to play, I think I can help them and they can help me."